Alternative United Voices book launch gives aspiring writers and artists a glimpse of university life
Montreal's Outreach High School Network teams up with Concordia and the yolk literary journal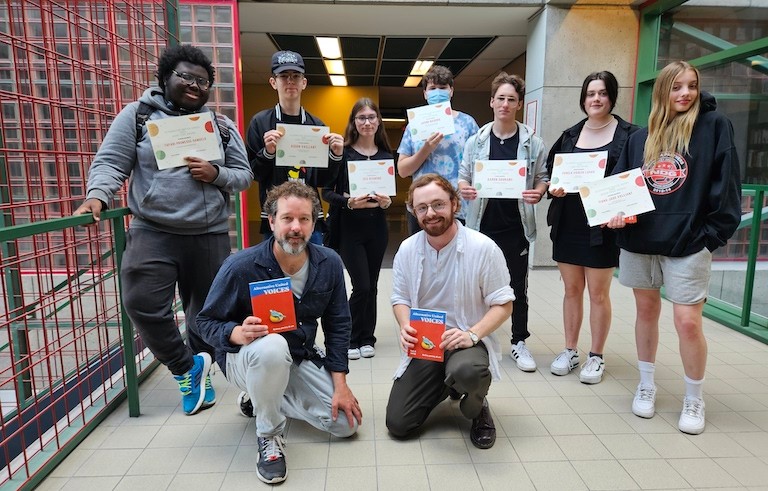 Top row from left: Tafari Promesse-Samuels, Aiden Vaillant, Isis Redmond, Jacob Magera, Aaron Gourarii, Canela Vierick LaPaix, Tiana-Jade Valliant. Bottom row: Colin Throness, Curtis John McRae | Photo by Marie-Laure Mahood
Colin Throness is a graduate student in English and creative writing at Concordia. He is also a project development officer in the English Montreal School Board's Outreach Network.

"I used to hate writing," says Tafari Promesse-Samuels, who won a short-list prize for a creative writing contest held recently in affiliation with Concordia.
"I thought writing was awful. I thought it was the most boring thing I would have to do in class."
Promesse-Samuels is a student at Focus, one of 11 alternative high schools across Montreal that caters to students with diverse needs and strengths.
He and roughly 20 of his peers were visiting the English and Creative Writing Department for the launch of their schools' creative writing contest and anthology, Alternative United Voices. For many of them it was a glimpse into what will hopefully be their future classrooms.
For the past eight years, I've been organizing an annual writing contest and publication open to students from across the English Montreal School Board (EMSB)'s Outreach Network.
The idea behind the contest is not only to encourage creative writing, but also to offer them a greater sense of community with other Outreach students and a chance to compete at a high level — a rare opportunity for small schools. The resulting anthology allows us educators to showcase their remarkable talents.
Each year, we try to bring something new to the contest. For this edition, I reached out to my former peer Curtis John McRae, MA 22, editor-in-chief at yolk literary journal, to see if he'd be interested in judging the contest. He agreed enthusiastically, encouraging students to create work based around the theme of belonging and offering to publish the winning submission.
McRae reached out to English professor Stephanie Bolster, who graciously offered to host the launch in Concordia's Department of English and give us a tour of the Mordecai Richler Reading Room.
A platform for writers and visual artists alike
Voices also features a stunning array of visual art, an element of the book that flourished over the years thanks to the involvement of Heather Hardie, BFA 13, who teaches art at several alternative schools. Hardie collaborates with other Outreach teachers to gather a wide variety of student artwork, and each year she selects a piece that she can adapt for the cover, giving the publication a slick, professional look.
McRae was so impressed by the visual narrative of this volume's cover art by Maya Hertsman from Venture High School, he convinced us to open up the awards to visual artists.
"I thought it was important to represent all the genres of work within the list of finalists," McRae says. "Maya's series, for example, tells as much of a story as any of the written work." Hertsman's art will appear in yolk as well.
Perhaps the most rewarding aspect of organizing this initiative is witnessing how creating art empowers students to engage in their schools and discover their capabilities.
"Our students are often quite vulnerable," Hardie says. "They need teachers who will teach from a place of compassion."
Aiden Vaillant is a student from The Hub. He won a long-list prize for a handful of unique visual art pieces. "Ever since I was a child, instead of doing my work, I drew," Vaillant shares.
Hardie says her art classes are less about creating flawless masterpieces and more about taking creative risks and having a good time: "When kids are allowed to relax and have fun, they can let go of the performance anxiety that stifles creativity so that amazing things can happen."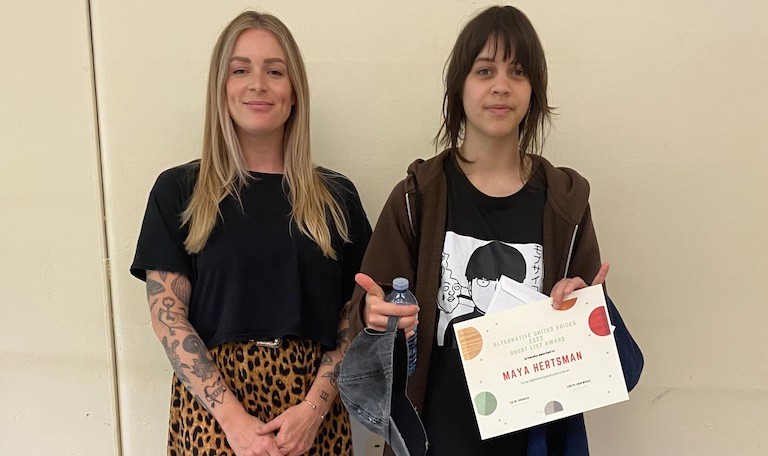 Heather Hardie with her student, Maya Hertsman, who created the cover art for
Voices
.
Aspiring writers on writing
As always, the students shone at the launch, offering readings from their work before the prizes were announced. When asked about their relationship to the written word, they had a variety of responses.
"Sometimes when I write, I think it's not me that's doing it, it's a part of my mind," says Andy Morais, one of the short-list finalists from Outreach High School. "I'm just the editor and the harsh critic. I don't try to come up with what's right. It's just what my brain has to do."
Promesse-Samuels says he came to enjoy writing more when he started improving. "Looking back, it was actually kind of fun. After getting this top award, I don't think I want to stop writing now."
Jacob Magera, a finalist from Perspectives II, says that writing was an important therapeutic tool for him: "Earlier this year I was in a psych ward, and writing was one of the faucets I used to get everything off of my chest and help me get through the tough times."
In the end, Tiana-Jade Valliant took home the grand prize for a short story that McRae called "a riveting account of a young individual dragged into the dark underbelly of society.
"Tiana has fused all of the elements of what makes a good story into this short piece, and I found myself hooked from the very first sentence."
Valliant, who will be starting the Studio Arts Program at Dawson College this fall, spoke about the roll of the creative arts in education: "I think it's so important. It allows you to be vulnerable, to really be yourself, to create what's really coming from the soul. It can benefit you in multiple ways. You can build a career out of this."

Find out more about Concordia's Department of English.
Learn more about Alternative United and read the Voices publications.
---