Concordia university team wins the Electric Aircraft Technologies Symposium student design challenge
An innovative concept combines hybrid-electric propulsion technology with solar panels for a small commuter plane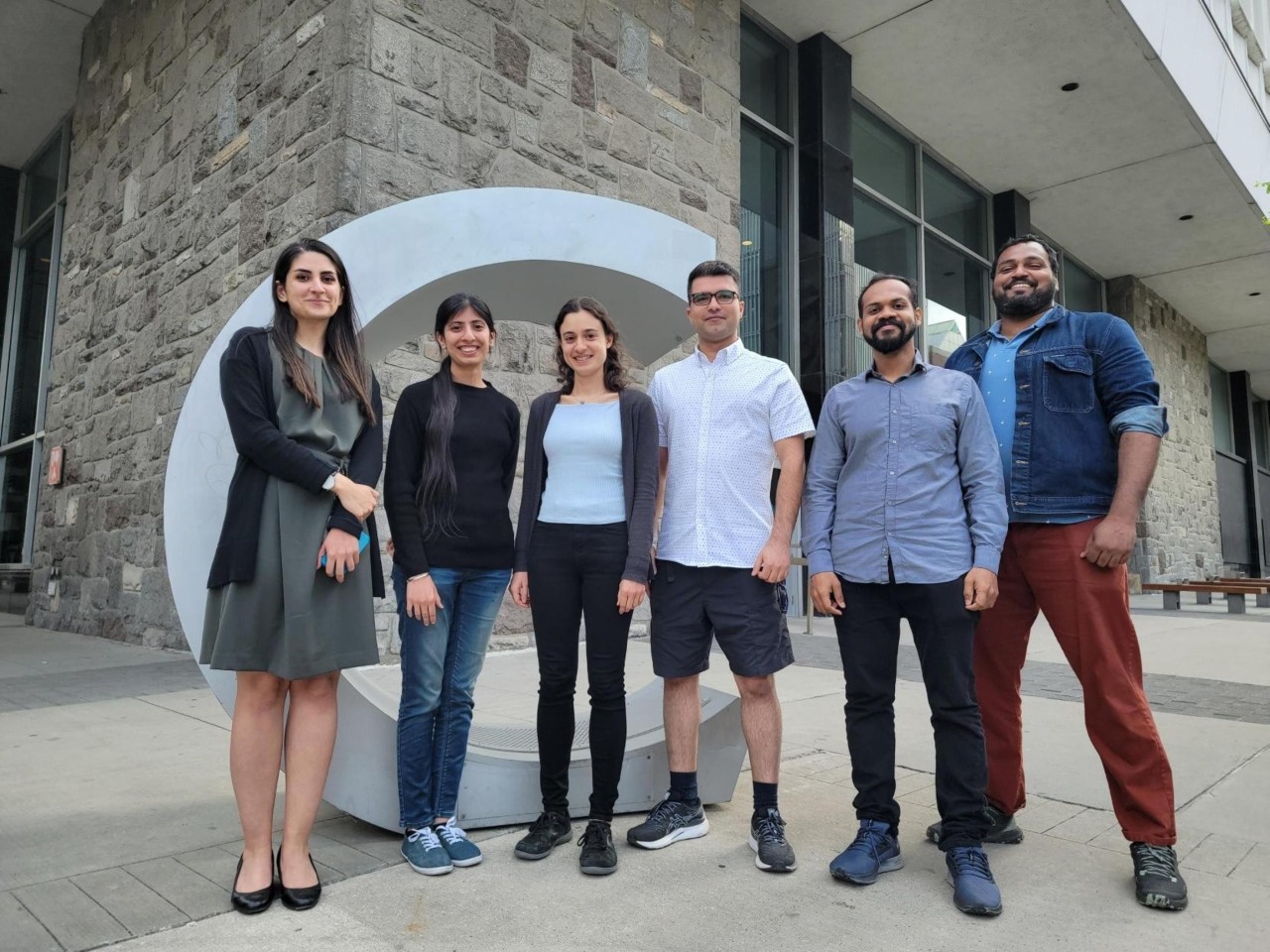 Gala Licheva: "Initial results indicate that hybridizing the propulsion system and using solar power can reduce carbon dioxide emissions up to 20 per cent."
Andrew Jeyaraj is an engineering grad student at Concordia and a member of the winning Electric Aircraft Technologies Symposium student design challenge team
Our team of Concordia engineering grad students recently won the student design challenge at the 2023 American Institute of Aeronautics and Astronautics / Institute of Electrical and Electronics Engineers – Electrified Aircraft Technologies Symposium.
The goal of the challenge was to study how carbon dioxide and noise emissions can be reduced by implementing hybrid-electric propulsion technology on an existing aircraft. We proposed an innovative concept where solar panels would be placed on selected parts of the aircraft to supplement the electrical power that is usually drawn from the engines.
The team dubbed the aircraft concept SOAPHiA, which stands for SOlar Auxiliary Power Hybrid-Electric Aircraft. It's a forward-looking proposal that uses projected improvements in solar-panel and battery technologies to target an entry into service by 2035.
We also studied the benefits of powering the aircraft's flight control, air-conditioning and ice protection systems using electrical power and its impact on fuel consumption and carbon dioxide emissions.
The Concordia team is made up of grad students Gala Licheva, Vijesh Mohan, Parush Bamrah, Mohammed Mir, Hasti Jahanara, Nikta Tabesh and me, all from Susan Liscouët-Hanke's Aircraft Systems Lab.
Licheva, BEng 22, was lead on our project. As part of her master's research, she is working on developing models for hydrogen fuel cells as alternative propulsion systems for future aircraft.
'Combining hybridization, electrification and solar power is promising for smaller aircraft'
What inspired the team to enter the competition?
Gala Licheva: The joint conference is a preeminent forum for the dissemination of research pertaining to aircraft electrification. It is attended by the international aerospace community featuring both academia and industry.
The design challenge proposed by the organizers is in line with the research focus of the Aircraft Systems Lab, and the team was motivated to apply the tools that had been developed in the lab. Furthermore, our supervisor encouraged us to participate as a teamwork exercise to strengthen collaboration and integrate new students into the lab.
What were the biggest challenges the team faced with this project?
GL: One of the major challenges we faced was in overcoming communication barriers. In a multidisciplinary team of specialists, it's already challenging to channel each area of expertise toward the overall objective. Communication barriers further complicated our efforts, especially when we had to link each person's analysis, expertise and tools to design the aircraft.
We overcame this challenge by having weekly team meetings to troubleshoot and ensure everyone was on the same page and that technical bottlenecks were addressed. We also had to develop some of our analysis tools, such as cost analysis, from scratch, which took some time. Plus, we developed a tool to estimate carbon dioxide and noise emissions.
What was the most promising discovery during the project?
GL: Initial results indicate that hybridizing the propulsion system and using solar power to supplement the power supplied to the aircraft systems can reduce carbon dioxide emissions of the reference Dornier 228 aircraft by up to 20 per cent with future battery and solar cell technologies. This is promising as it now opens the possibility of investigating specific operating scenarios for commuter aircraft to see in which cases it would be beneficial to have solar power on the aircraft.
Furthermore, since the concept is forward-looking, it will also allow us to identify to what extent battery and solar cell technology need to be developed to reduce the emissions of retrofitted commuter aircraft.
How could this project and others like it change the future of aviation?
GL: Overall, the SOAPHiA concept has shown that innovative approaches that try to combine synergistic concepts such as hybridization, electrification and solar power are promising for smaller aircraft.
The methods used to develop the SOAPHiA concept, especially the way in which we linked different disciplinary analyses such as solar power, systems analysis and safety, have proven to be versatile and can be used to develop future aircraft concepts that will pave the way to a sustainable aviation future.
What is next for you and the team?
GL: The team will now work on improving the concept and studying details such as aircraft operations, tailoring the concept to other aircraft categories and developing the multidisciplinary analysis framework that we used to design and analyze the SOAPHiA concept.
Pratt & Whitney, who sponsored the competition, is now interested in discussing a follow-up project with us.
How could interested Concordia students get involved in developing these concepts?
GL: Through my time at Concordia, I have always been encouraged to be a part of many student design teams who participate in competitions. Space Concordia and Concordia SAE Aero are good pathways into working on multidisciplinary design problems. I joined the rocketry division of Space Concordia and am working on the recovery system of our liquid-powered rocket.
Concordia students who are interested in working on these types of multidisciplinary aircraft concepts can also get in touch with Susan Liscouët-Hanke or visit the lab's website.
Find out more about Concordia's Department of Mechanical, Industrial and Aerospace Engineering.
---