Humanitarian worker and First Peoples Studies graduate receives the Governor General's Academic Silver Medal
Highest-ranking undergrad student Marie-Geneviève Nightingale will accept her award from where she's stationed in East Africa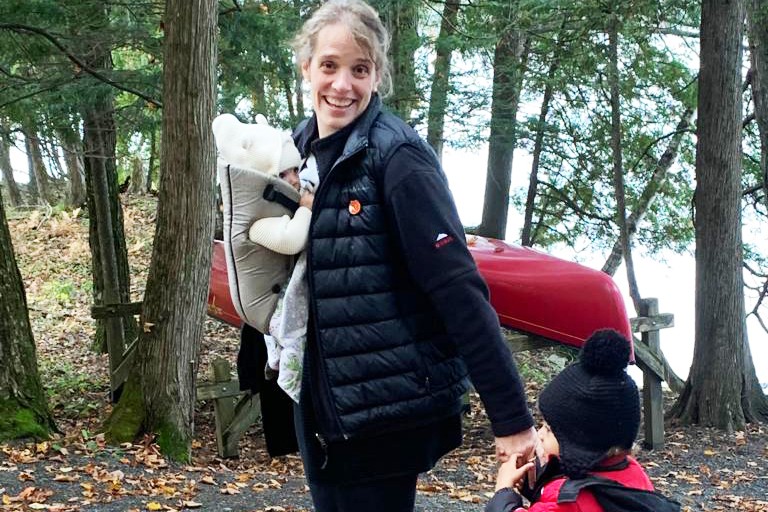 MG Nightingale completed her BA across two parental leaves on either side of a humanitarian mission in Thailand.
Governor General's Academic Medal winners are typically honoured on stage at Concordia's convocation ceremonies. But this year's silver-medal recipient Marie-Geneviève (MG) Nightingale will be celebrating from her home in East Africa instead.
Nightingale has been an international humanitarian worker for two decades — and she recently completed her BA in First Peoples Studies at Concordia between placements overseas.
Despite her unusual path, Nightingale's outstanding scholarly performance earned her the silver medal as Concordia's highest-ranking undergraduate as well the Rytsa Tobias Memorial Medal (presented by the Tobias family in memory of Rytsa Tobias, BA 51) as the top graduating BA student.
A month after finishing her degree, Nightingale left to continue her work for the International Committee for the Red Cross, this time as their protection coordinator for Somalia.
"I work with the Red Cross to make sure that the victims of armed conflict have better conditions of life," Nightingale says.
Her job has stationed her in several high-conflict areas, including in Kuwait, Rwanda, Algeria and the Democratic Republic of the Congo. Protection work, she explains, ranges from pushing for improved conditions for prisoners to reuniting families separated by war to holding militia rebels to the rules governing weapon use.
In 2019, after her first nine years with the organization, Nightingale got pregnant and decided to return to Canada. That's when she began her studies at Concordia.
"I thought I'd take advantage of the leave to basically make up for what I should have learned in high school," she explains. "A lot of the information about the history of Canada and the richness and diversity of Indigenous peoples is left out of Canadian curricula."
Partway into her degree, Nightingale left on a mission to Thailand with her husband and young son. But she returned when she got pregnant again, at which point she was able to finish the program.
'Follow your heart and hope you get lucky'
Nightingale expresses her gratefulness for the relationships she built over her time at the university, as well as the richness of information she learned from her professors and peers in the program — the cultural diversity across Indigenous nations, the long history of Indigenous political resistance and the extent of "jaw-droppingly awful" atrocities the church and government committed against Indigenous communities.
Now living in Nairobi, Kenya, Nightingale embarks from there for stretches of time to work on protection efforts in Somalia.
So while she can't join her peers at the upcoming spring 2023 convocation on June 20, she thanks everyone who helped her along the way and offers the following words of encouragement to the next generation of Concordians:
"My dad used to always say, 'Follow your heart and hope you get lucky.' I think that that's important — for studies, for work, for a lot of facets of real life. If you find a subject that you're passionate about, go for it.
"If you find a prof that you think is awesome, try and take all their classes. If you find an author that really turns your crank, read their stuff. And if you find an industry compelling, do your darndest to work in it. You never know until you try."

Find out more about Concordia's First Peoples Studies program.
Follow all the news and information about Concordia's 2023 spring convocation ceremonies.
---