Meet Concordia Stinger athlete and vegan Samara Ben Sabat
On World Vegan Day, the rugby player shares her experience as an elite athlete with a plant-based diet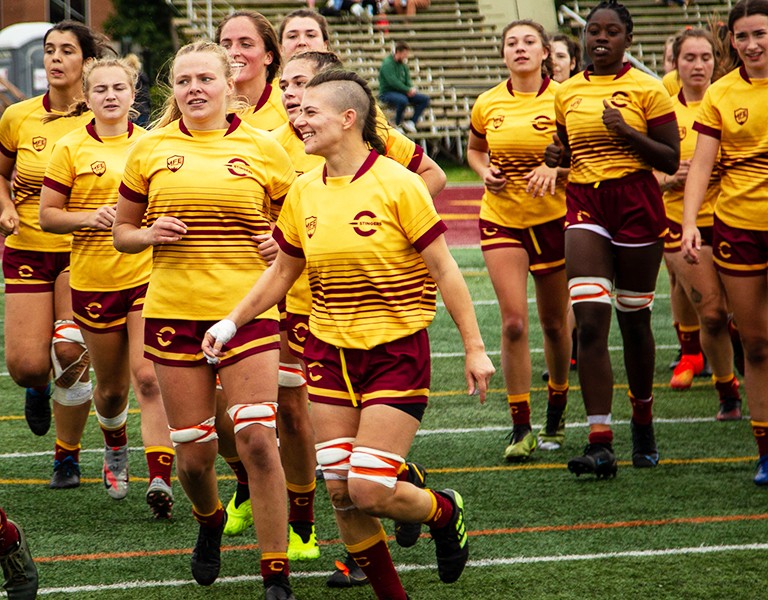 Samara Ben Sabat: "I suffer far less from feeling weighed down by a meal, which allows me to perform better."
Did you know that November 1 is World Vegan Day?
Established in the United Kingdom in 1994 to commemorate the 50th anniversary of the Vegan Society, Vegan Day marks a moment each year when vegans can celebrate and bring attention to their way of life.
In celebration of Vegan Day, we tracked down Samara Ben Sabat, a vegan and member of the Concordia Stingers women's rugby team. We asked her about what it's like to be a vegan as an elite athlete.
Have you always been a vegan or was it an informed choice?
I was actually raised pescatarian. Because I was exposed to alternative options to meat, conversations arose throughout my life that led me to do more research. As I learned about modern animal agricultural practices and mass production industries, I became more and more concerned with the ethics of eating animal products as well as the impact of all this on the environment.
As an athlete, do you think being a vegan has helped or hindered your performance?
To be honest, I don't think being vegan has had any effect on my athletic performance. The only consideration that is worth mentioning is that I suffer far less from uncomfortable gas, bloating and feeling ill or weighed down by a meal, which of course allows me to perform better and without distraction.
What do you eat on a typical day and how do you make sure you get everything you need?
I don't have a set meal plan that I always stick to. I like to experiment with recipes and try different things to keep it interesting. As a vegan and an athlete, I eat relatively healthy. I stick to whole grains and try to avoid preservatives, but I never skimp on flavour. It's important for me to eat a lot of calories and I make sure to have food that I'll enjoy. I do buy some special products like chickpea pasta to add an element of protein and nutrition to high-carb dishes.
I tend to eat a breakfast sandwich with fake egg in the morning. This accounts for protein, vegetables and carbs. Otherwise, I try to cook well-rounded meals so every dish contains veggies, carbs and protein. I eat a lot of tofu, beans, vegetables and carbs. My sides are usually vegetables and I try to snack on something providing nutrients, such as hummus or peanut butter. I am also religious about my protein shakes, and regularly take a multivitamin and Omega-3 supplements to compensate for any lacking intake.
Do you ever miss meat or other foods?
Yes! I think that's part of the game. Mostly for desserts, but plant-based options are becoming increasingly satisfying to replace any cravings I may have. Cutting something out of your life or diet is always the same. You may miss it, but your belief that the alternative is a better option is more important to you. Over time, you often miss it less and less and eventually you prefer your new lifestyle.
What would you tell someone considering veganism?
I would tell them to go for it. I feel better in my body, have solved my digestive issues, and am able to sustain my high-intensity training and lifestyle on a vegan diet. Some people need a transition to veganism, and sometimes that can be slow, but any step toward a more ethical lifestyle is a step in the right direction.

Learn more about Concordia's Sustainable Food System Plan and how the university is working with Aramark to provide a plant-forward style of eating on campus.
---