Concordia's School of Irish Studies kicks off its 2022-23 lecture series
OCT 21: Gavin Foster discusses Ireland's civil war 100 years later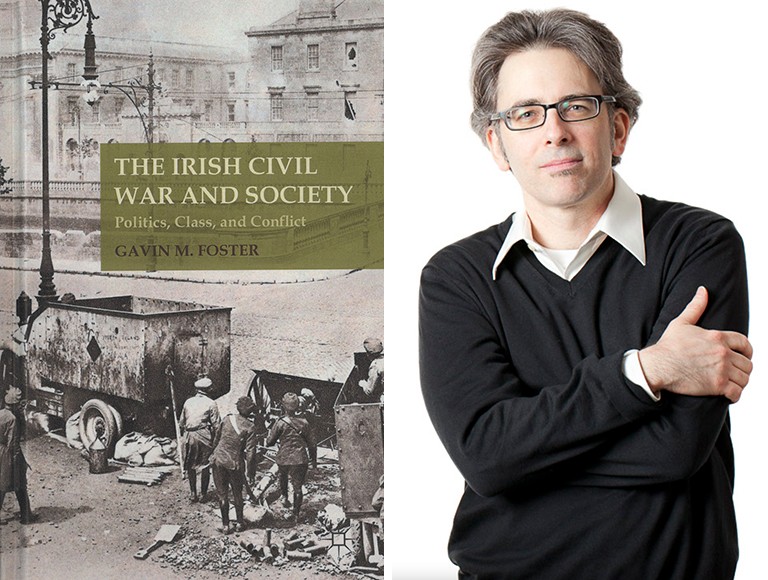 Gavin Foster: "The Irish Civil War was the end of the revolution and the beginning of the modern Irish state."
Concordia's School of Irish Studies is marking two important events this year — a return to its popular in-person activities and the 100th anniversary of the Irish Civil War.
Both will come together at the kickoff to their 2022-23 lecture series on October 21. Gavin Foster, associate professor of Irish history, is presenting the annual St. Patrick's Society Lecture, The Irish Civil War: History and Memory in Conflict, shining light on an important but controversial part of the country's history.
Foster, a historian of modern Ireland, focuses his research on the Irish Revolution in the decade bookending the First World War. By 1923 Ireland was partitioned into two new territories: the Irish Free State, a semi-independent dominion in the British Commonwealth, and a six-county unit called Northern Ireland, which remains in the United Kingdom to this day.
"The settlement, 10 years after the beginning of this period of turbulence, was quite controversial for Irish revolutionaries. The Irish independence movement was rhetorically committed to an Irish Republic — that is, a fully sovereign, independent country that would have covered the whole island. But what they got was less than a republic and less than the whole island. That ignited a split and the civil war." Foster explains.
"The Irish Civil War was thus both the end of the revolution and the beginning of the modern Irish state — a complex moment that connects these two periods."
Foster's book, The Irish Civil War and Society: Politics, Class, and Conflict, was awarded the American Conference for Irish Studies 2015 James S. Donnelly, Sr. Prize for Books on History and Social Sciences. He is currently working on a new book that examines the memory of the revolution's bitter ending through oral history interviews.
Research quality and diversity
Foster's lecture is one of several on tap for coming months from the School of Irish Studies, which is housed in the Faculty of Arts and Science. On November 4, John Borgonovo from University College Cork will present The exile and repatriation of Father Dominic O'Connor: Irish Civil War Memory and Accommodation, with more events to follow.
"I am so proud of the quality and the diversity of research the school offers," says principal Gearóid Ó hAllmhuráin.
Foster, who has been keeping busy with conferences, contributions to online projects, and interviews thanks to the civil war's centenary, says he's looking forward to his lecture.
"It will be a fairly broad picture of the historical event, its context, its aftermath and also a consideration of its memory legacies."

The 15th Annual St. Patrick's Society Lecture by Gavin Foster takes place on Friday, October 21, at 7 p.m. at the Henry F. Hall Building, Room 1070, 1455 De Maisonneuve Blvd. W. The event is free but space is limited and attendees must register in advance.
---