New documentary by a Concordia professor recounts the hidden history of Quebec's Irish population
Gearóid Ó hAllmhuráin's Lost Children of the Carricks premieres on January 24 at the D.B. Clarke Theatre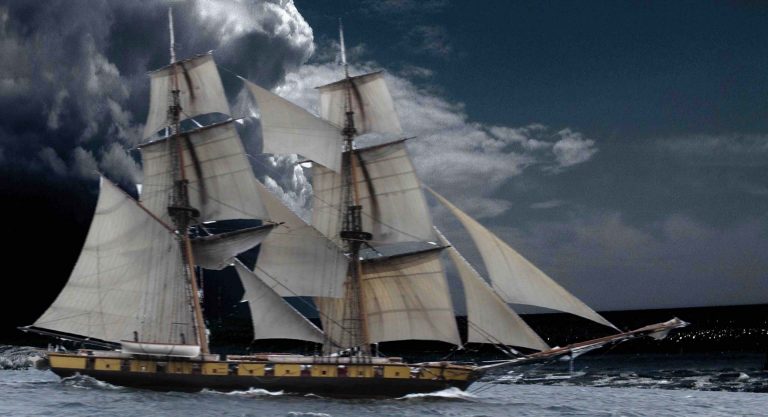 Quebec has a large population of people who can trace their roots back to Ireland. But what do we know about the journey that led them there?
A new movie, Lost Children of the Carricks: Defying the Great Irish Famine to Create a Canadian Legacy, provides fresh insight into the question.
The documentary was written and directed by Gearóid Ó hAllmhuráin, a professor in Concordia's School of Irish Studies and Johnson Chair in Quebec and Canadian Irish Studies.
It offers a personal story of the grueling journey made by immigrants who arrived from Ireland in the mid-19th century and how these stories have carried down through the generations that followed those who survived the trip.
Lost Children of the Carricks will premiere at Concordia's D.B. Clarke Theatre on January 24, as a fundraiser for the Canadian Irish Studies Foundation. It is also the opening screening for the 28th season of the Ciné Gael's Montreal Irish Film Series.
"I wanted to make a film through the eyes of a single family to help people understand that history ties us all together. And I wanted to show the interconnectedness of events through a broader context," Ó hAllmhuráin says.
He discovered one family who made the journey from Ireland to Quebec and set out to tell their story.
A family's journey
Irish immigrants who travelled to Quebec to escape the Great Irish Famine (1845-1852) were often put on board "coffin ships," so named because many of them foundered while crossing the Atlantic.
The family Ó hAllmhuráin focuses on in the film are descendants of passengers on the Carricks of Whitehaven, a two-mast brig that wrecked off the Gaspé coast in May 1847.
Of 173 people on board, fewer than 50 survived.
Patrick Kaveney and Sarah MacDonald were two of them. Their five young daughters perished in the wreck. Along with their teenage son Martin, Patrick and Sarah started their life anew on the isolated Gaspé peninsula.
Five generations later, they are survived by Georges Kavanagh, a francophone historian who has spent his life researching his family's heritage.
The film brings Kavanagh back to Ireland for a family reunion in rural Sligo 168 years after the wreck of the Carricks.
'First trilingual film to tackle this subject'
Both language and music play a major role in the film. Ó hAllmhuráin himself is a widely recognized Irish traditional musician and paid close attention to the soundtrack for the film.
In terms of language, "This is the first trilingual documentary film to tackle this subject," Ó hAllmhuráin adds. "The film focuses on Irish Gaelic, French and English as the languages of Irish immigration to Quebec."
He notes that many people are unaware of the number of Irish people who chose to embrace francophone culture and language, and made that transition directly from a Gaelic-speaking milieu in rural Ireland.
"This was a profound cultural journey that had extraordinary long-term consequences for Irish people on both sides of the Atlantic," Ó hAllmhuráin says.
"For a tiny country that lived for so long in the tailwind of Great Britain, Irish people know intimately what it means for a nation's food source to dry up, to be dislocated from land, family and community, to be unwelcome in new countries, to be feared and chastised for wanting to preserve their language, religion and heritage.
"We know what ordinary people face when their country is stripped of its natural resources to feed the engine of an insatiable global power. Ireland's history echoes the experience of dislocation and deportation that continues to mark the lives of countless thousands today. The 70 million strong Irish diaspora scattered around the world testifies to this reality."
Keeping the flame alive
At the heart of the film is a story of survival and reunion and of how the Irish became such an integral part of Quebec society.
"There is an old tradition of leave-taking in the west of Ireland," Ó hAllmhuráin explains in the film. "Before departing home, and clachán (village), immigrants brought their fire to the fire of a neighbour, in the hope that one day they would come home to reclaim it and, with it, their place in the old world."
"For hundreds of thousands who fled Ireland during the Great Famine in the 1840s, that homecoming would never take place," he says.
"This is a story of remembrance that took five generations to create, and 168 years to bring home to a fire that waited for its makers in the West of Ireland."

Buy tickets to the January 24 premiere of Lost Children of the Carricks: Defying the Great Irish Famine to Create a Canadian Legacy at Concordia's D.B. Clarke Theatre (1500 De Maisonneuve Blvd. W.).
---