'Build yourself to be titanium strong'
Graduates and honorary doctorate recipients celebrate Concordia's first in-person convocation ceremonies since 2019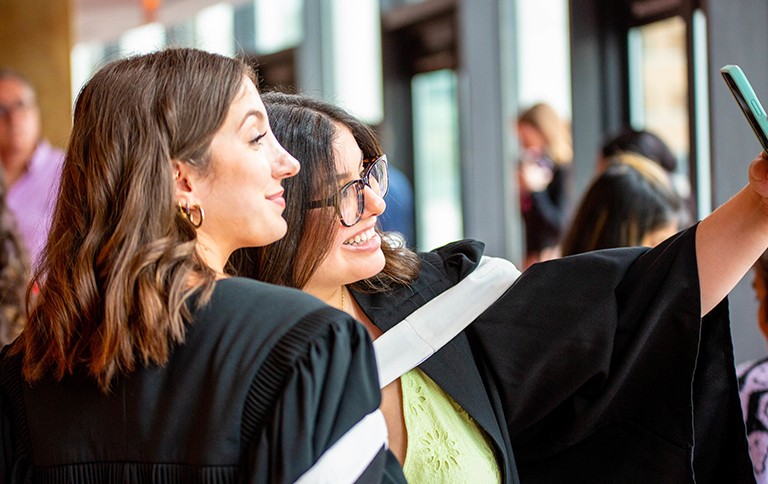 "Tonight we are in the heart of the city's Quartier des spectacles, where local and international dancers and musicians rumble across this stage daily to create the most enchanting ballets and orchestras," valedictorian Joia Duskic shared with her fellow graduating Faculty of Fine Arts students on June 7.
"In this remarkable space, we are here to celebrate a significant milestone in the lives of the Faculty of Fine Arts students who are bound to become the practitioners, performers, curators, archivists, writers and museum workers of tomorrow."
Duskic's reference to the venue — Montreal's Place des Arts — was meaningful. New grads from fine arts and Concordia's other three faculties and School of Graduate Studies participated in eight spring 2022 convocation ceremonies on June 6, 7 and 9 — the university's first in-person convocations since 2019.
"Despite the many challenges and continuous curveballs life threw at you these past two years, you did it," Concordia's chancellor Jonathan Wener (BComm 71) told the fresh graduates.
The thousands who attended convocation were among the more-than 6,200 students who earned new Concordia diplomas this year.
"Savour the privilege and good fortune in being here today as we celebrate together," Concordia President Graham Carr encouraged the new alumni.
"As you bathe yourselves in this ceremony, in this rite of passage to the next phase of your lives, be inspired to commit to how you too can apply the privilege of a great education to make a difference in the world in these troubled times."
Honorary doctorates and valedictorians
At the convocations, the university honoured nine honorary doctorate recipients from fields as diverse as climate mitigation, Indigenous art and philanthropy.
"I learned from my grandmother to expect to see greatness and beauty from yourself and others. There is no such thing as mediocre lives," Olivette Otele told Faculty of Arts and Science graduates on June 6 as she accepted her Doctor of Laws (LLD). Otele is the newly appointed distinguished research professor at the School of Oriental and African Studies at the University of London in the United Kingdom.
"What you consider failure is a possibility, just as much as success. Success is also about taking your time, failing, reflecting, getting back up, getting out of your comfort zone, trying again, learning, sharing and, most importantly, giving back to others. Always."
Acclaimed Canadian choreographer-dancer Margie Gillis, who was named a Doctor of Fine Arts recipient in 2020, was on hand to receive the honour at the Faculty of Fine Arts ceremony on June 7.
"Breathe in deeply and create action that holds and supports the world you want to see manifest in your lifetime. The visions you are aching to birth will be as real as prayer and substance, though they may unfold in unique ways as yet to be seen," Gillis advised the graduates.
"All of you are now creating a needed new world vision. Peace, global responsibility, sustainability and equitability are not just concepts — they are real and urgent necessities."
The Faculty of Fine Arts convocation included graduates from 2020, 2021 and spring 2022. The other faculties commemorated spring 2022 grads and will honour their 2020 and 2021 classes in ceremonies later this summer.
Julie Gichuru, chief public affairs and communications officer at the Mastercard Foundation, received an LLD from the John Molson School of Business on June 9. "Trust your gut. Do what your soul tells you," she urged the grads.
"Learn. Better yourself. Grow. Build yourself to be titanium strong. Stay focused. Keep moving step by step. Know yourself. Build your village. And remove toxicity, without apologies."
The convocations also featured valedictory messages from exemplary students.
"This day does not mark the end of our growth but the beginning of our flourishing in the real world," graduating computer science student Benjamin Lofo Follo told the Gina Cody School of Engineering and Computer Science Class of 2022 on June 7.
"Try, fail, adjust. Our world has yet to run out of opportunities to improve, and it's up to us to learn from these situations in order to adjust the trajectory for the better."

Visit Concordia's Graduation and Convocation website to learn more and watch videos of the ceremonies.
---