Concordia organizations collaborate to bring free sustainable menstrual products to students
The new initiative targets issues of financial access, environmental impact and gender equity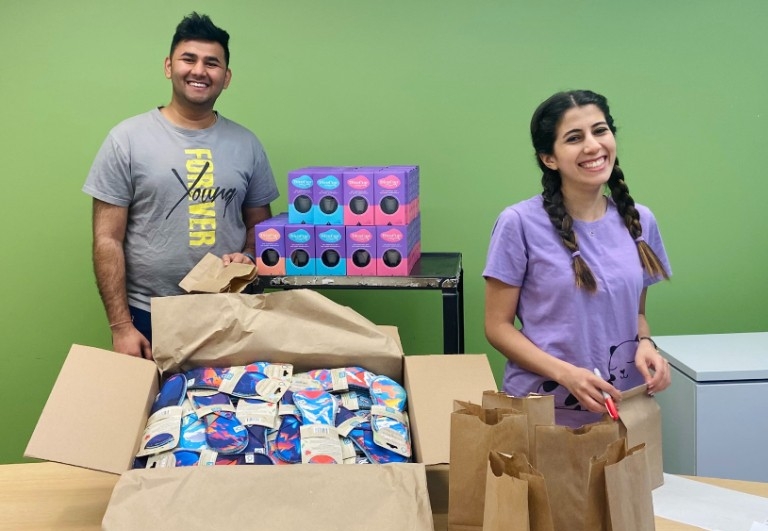 Concordia peer wellness ambassadors Vatsal Trivedi and Mehrnaz Mirzaei pack products for distribution as part of the Menstrual Equity Project.
Concordia students can now get free, sustainable menstrual products through the Menstrual Equity Project. It's a student-led collaboration between Concordia Health Services, the Zen Dens and the Concordia Student Union (CSU), with support from the Sustainability Action Fund.
Students can make an online request for either two cloth pads or a menstrual cup, and products will be available to pick up at the Webster or Vanier library reserves.
The project aims to reduce barriers to accessing sustainable menstrual products while advocating for their widespread distribution across Concordia, to support a culture of menstrual dignity for all.
Promoting equitable health and sustainability
Menstrual products are necessary for about half of the population, but consistently accessing and affording them can be a challenge. According to a 2019 survey by Plan International Canada, 15 per cent of people who menstruate in Canada have struggled to pay for menstrual products and are worried about their ongoing ability to afford them.
Thirty-five per cent of respondents have had to sacrifice something else in their budget to afford these products. Additionally, 86 per cent of people surveyed said they had begun their period unexpectedly without readily available products.
Disposable menstrual products also have a significant environmental cost. A person will use an average of 13 disposable menstrual products each cycle, which corresponds to 169 products per year — all of which could end up in a landfill. On the other hand, reusable pads or cups can last for years to reduce personal costs and environmental impacts.
"Menstrual equity is linked with sustainability since it tackles issues such as accessibility, inclusivity, social responsibility, affordability and gender equity," notes CSU representative Chris Vaccarella.
Meeting menstrual needs
The Menstrual Equity Project was initiated by a group of peer wellness ambassadors with funding from the Sustainability Action Fund, a student-run fee levy group that finances projects that contribute to a culture of sustainability at Concordia. After learning that the CSU had committed a portion of its budget for the same cause, the groups combined forces and resources for a greater impact.
"The kindness of individuals offering a pad or tampon under washroom stalls inspired me to address the issue within the larger Concordia community," says wellness ambassador Jennifer Lee. "Menstruation can be an inconvenience, but it doesn't need to be an additional stress factor."
The project identified three pillars to promote menstrual dignity at Concordia: empowerment, advocacy and the free product distribution.
To meet the empowerment goals, workshops taught participants to sew their own cloth pads, using recycled materials from the Concordia University Centre for Creative Reuse and Atelier Adopt Fabric.
The group also launched a survey to assess if the menstrual needs of Concordians were being met, which indicated that many Concordians struggle to access and afford menstrual products, including on campus. They also found overwhelming support for programs reducing menstrual inequities.
"All Concordians, whether they menstruate or not, are impacted in some way when they encounter the program," says health promotion specialist Gaby Szabo. "Whether it challenges their internal stigma and biases or triggers a sigh of relief that their needs will be met — it's about time!"
Jillian Ritchie, wellness coordinator at Concordia, shares Szabo's enthusiasm.
"This effort brought together so many people at Concordia who had been working on menstrual equity but who hadn't yet collaborated," Ritchie notes. "We hope the collective push will contribute to long-term change."
Concordia students can now request their free menstrual cup or two free pads online.
---