The Concordia Centraide Campaign 2021 raises nearly $218,000 — and counting
The university community continues its impressive and vital support for Montrealers in need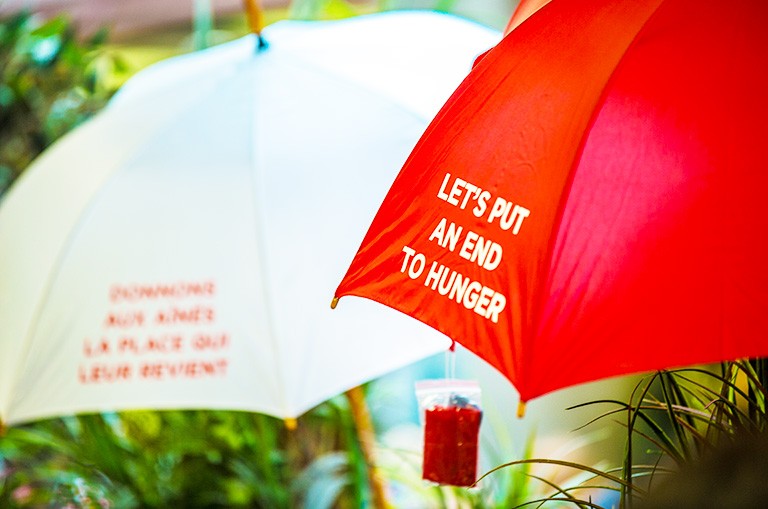 While Concordians may miss the pasta lunches, bake sales and other in-person Centraide fundraisers from years past, they haven't let their disappointment get in the way of their generosity.
As chief financial officer Denis Cossette announced at the closing event on November 16, the Concordia Centraide Campaign 2021 raised $217,997 and counting. That figure surpassed the goal of $200,000 as well as last year's total at this point of the campaign.
Donors can contribute to the 2021 campaign until December 31.
Concordia President Graham Carr reminded the event's remote attendees that the approaching winter will put an added strain on the social services Centraide of Greater Montreal provides vulnerable members of the Montreal community — who will be hit even harder this year due to the COVID-19 pandemic.
Carr gave special thanks to co-chairs Nadia Bhuiyan and Philippe Beauregard as well as Cosette, Suzanne Kaye, project coordinator in the Office of the President, Loredana Carbone, manager of research events and engagement in the Office of the Vice-President Research and Graduate Studies, and the others who contributed in many ways.
"As someone who has the privilege to serve on the board of Centraide itself, I want to thank everyone for their volunteerism, their support and their donations, which makes a tangible difference in the lives of tens of thousands of our fellow citizens here in the Greater Montreal area," he said.
Bhuiyan, vice-provost of partnerships and experiential learning, also thanked the 25 members of the campaign committee, the leaders campaign co-chairs, and the internal partners and sectors: CUPFA CUFA, ACUMAE, University Advancement, University Communications Services and Human Resources.
"Like last year, we were all proud to see how the Concordia community came up with great online fundraising events, trivia night, silent auction and pet photo contest, and many other events," she said.
She also expressed her gratitude to the Centraide team that supported Concordia, including Côme Bardi.
Bardi explained that Centraide supports some 350 local community agencies and projects and helps out about one in five Montrealers, more than 800,000 people in total each year. The organization's investments include the development of a much-used telephone helpline and support for the 211 phone line, which helps individuals find social and community resources.
"Remember: every dollar counts," Bardi said.
Cossette, a Leaders Campaign co-chair, reported this year 399 donors so far have given to the campaign, including 64 leaders — those who donate $1,200 or more. Since the Hewitt Foundation matches leadership gifts, the total impact of Concordia's gift is about $225,000-plus.
"I've been associated with Centraide for many years, and each year I continue to be very proud of the contribution and support you give," he said of the Concordia community.
This year, all donors of $20 or more were automatically registered for the raffle draws. Referring to an online wheel that included all the eligible names, Philippe Beauregard, chief communications officer, announced the seven prize winners.
Florence Figols, a part-time instructor of contemporary dance in the Faculty of Fine Arts, won the top prize, an Apple watch, worth about $470.

Donors can continue to give to Concordia Centraide Campaign 2021 until December 31. Look in your inbox for an email from centraide@unclic.com sent on or after October 12 or send an email to centraide@concordia.ca to learn how to give using payroll deduction or a one-time gift.
---