Life on campus — with Ka Pong Law
The manager of the Centre for Instructional Technology talks about keeping agile and finding comfort in watering plants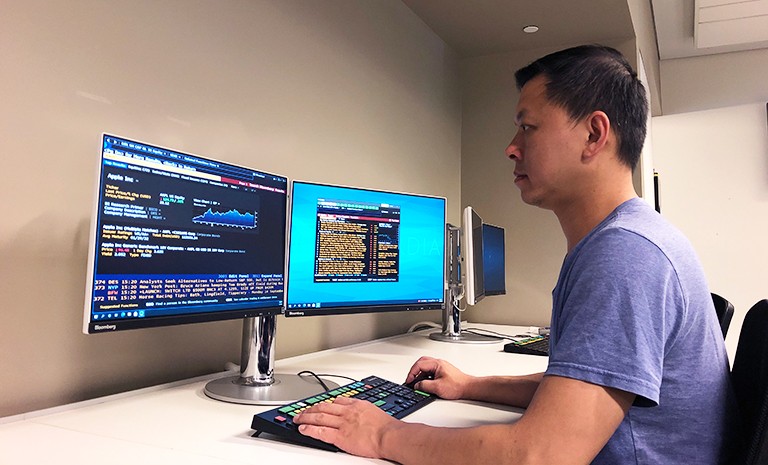 Life on campus is a series profiling inspiring faculty and staff who have been working on the Sir George Williams and Loyola campuses throughout the COVID-19 pandemic. To nominate someone you know, send an email to now@concordia.ca.
Ka Pong Law has been working on campus in some capacity since the onset of the COVID-19 pandemic in March 2020.
Over the past 15-plus months, he has faced and overcome many obstacles, not least of which is that one of his family members is immunocompromised.
Yet ask the manager of the Centre for Instructional Technology in the John Molson School of Business if he ever has difficulty maintaining public health measures on campus, and his response is a resounding no.
"As soon as I walk into the building, the check-in station in the lobby not only serves as a way to confirm that I don't have COVID-19 symptoms, it also prompts me to disinfect my hands with sanitizer and put on a procedure mask," Law explains.
"Those steps remind me that we have to be vigilant and protect ourselves during our stay on campus."
Keys to success
Law is on the Sir George Williams Campus at least once a week to consolidate as many tasks as possible. His onsite work includes receiving equipment, checking in on the John Molson School computer labs and testing software.
He also tries to take advantage of chance encounters with John Molson School faculty.
"Since part of my work involves supporting teaching, I'll ask faculty about their remote teaching experiences and their feedback on the services that my unit offers," Law says.
The shift to online teaching hasn't been without its own struggles, though. At the beginning of the campus closure, Law remembers his colleagues asking if students could continue using specialized business software for their courses and how his team would train faculty to employ online teaching tools.
"Communication was key. We were in constant communication with all the stakeholders," he recalls. "Whenever it was possible, we consulted with other groups and checked if a solution already existed before we explored elsewhere."
One of his team's many successes was the creation of an easy-to-understand step-by-step guide on how the John Molson School can incorporate various university tools to help with teaching and other administrative tasks.
"We also repurposed a lab management software that was meant for in-person settings," Law says. "We tweaked it so that our students could access the labs remotely. Other labs in the university are now using the same software."
Bringing joy to others
Among Law's biggest takeaways from the past months is recognizing he's part of a dedicated team able to remain agile in challenging circumstances. He's also developed an appreciation for taking care of his colleagues' plants.
"It's relaxing after a good day of work and very rewarding when people notice that their plants survived many months," Law says. "It's about doing these little things that bring joy to people."
Thinking of the months ahead, Law is looking forward to a time when people can once again pop into his office to ask a question or have a quick chat. And while he'll have to adjust to seeing more faculty, staff and students on campus, he's confident everyone will be able to keep safe.
"If we all do our part, get the vaccine and follow the COVID-19 safety protocols, I trust that we can maintain a safe workplace environment," Law says.

Visit Concordia's COVID-19 information page to keep informed of latest developments.
---