Concordia launches a Graduate Certificate in Teaching in Higher and Continuing Education
Applications for fall 2021 are open until July 15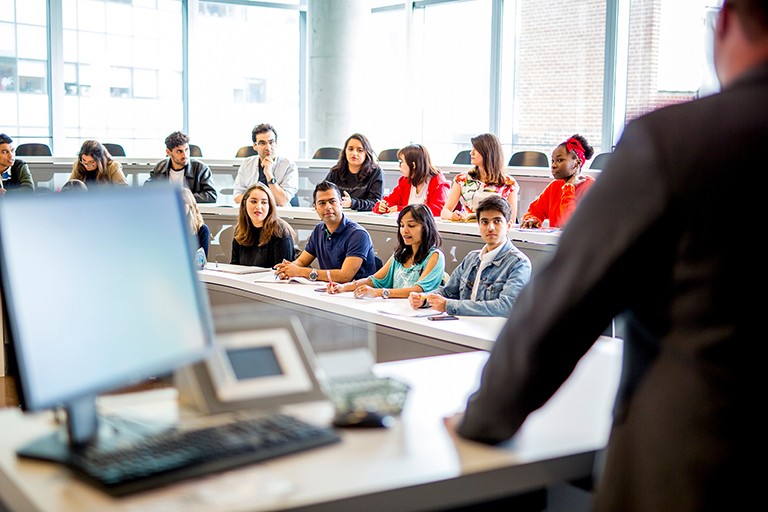 Photo captured before COVID-19 pandemic.
The School of Graduate Studies will soon be offering a new Graduate Certificate in Teaching in Higher and Continuing Education. The program will equip graduates to teach in CEGEPs, universities and continuing and professional education environments.
"This program is specifically designed for people who have other things going on," says Saul Carliner, program director and professor of education in the Faculty of Arts and Science.
"It offers a flexible approach that combines self-study work with group sessions and can be taken online. Students complete the program through part-time study as we offer one course at a time."
Students will acquire the foundations and necessary skills to launch a teaching career in higher and continuing education. They will develop a course in their area of specialization and build the facilitation skills needed to confidently handle a variety of classroom situations online and face-to-face. An optional internship will provide them with an opportunity to apply their newly acquired knowledge and skills in a real course context.
Carliner adds that students can tailor the program to their needs. It has a flexible structure that allows them to choose between a microprogram and the full certificate. For the microprogram, students will complete three online courses on the foundations of teaching and learning. Those who choose to obtain the graduate certificate also complete an internship to add an experiential component.
The program is available to anyone who is currently a graduate student or has completed a master's degree. Applications are open until July 15 for the first cohort starting in September.
Apply by July 15 for Concordia's new Graduate Certificate in Teaching in Higher and Continuing Education.
---