Concordia University Centre for Creative Reuse helps build, draw and sew community feeling
Care package-derived works are on display to celebrate the used material depot's 4th birthday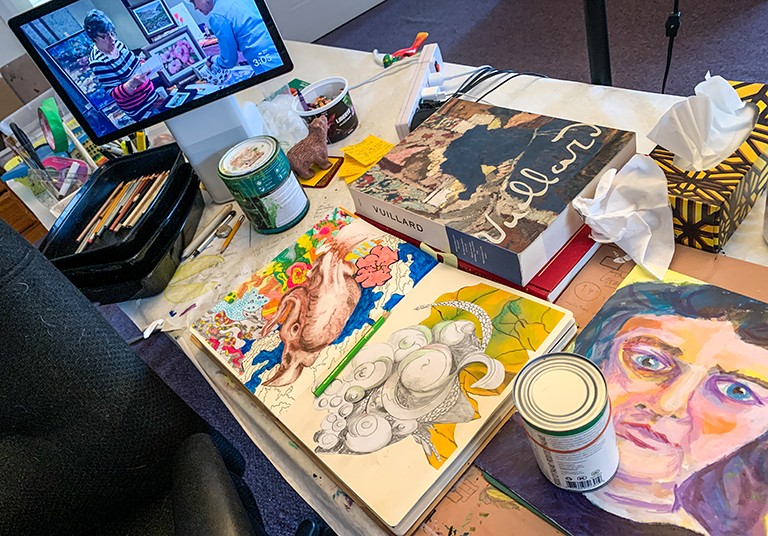 All photos by Lisa Graves and courtesy of the artists.
Concordia fine arts student Christine White joined dozens of other creative souls who took part in the Collage session hosted by 4TH SPACE on January 27. It was one of five co-inspiration and creation sessions organized by the Concordia University Centre for Creative Reuse (CUCCR).
Though COVID-19 rules meant a virtual gathering, White found the experience far more tangible than the standard Zoom event. "I benefitted from the hands-on activity, since so much of my work is done on a screen these days," she says.
"As we pondered concepts of abundance and access, people shared tips as to how they make art sustainably. This knowledge-sharing allowed for a sense of intimacy and camaraderie that isn't always present online."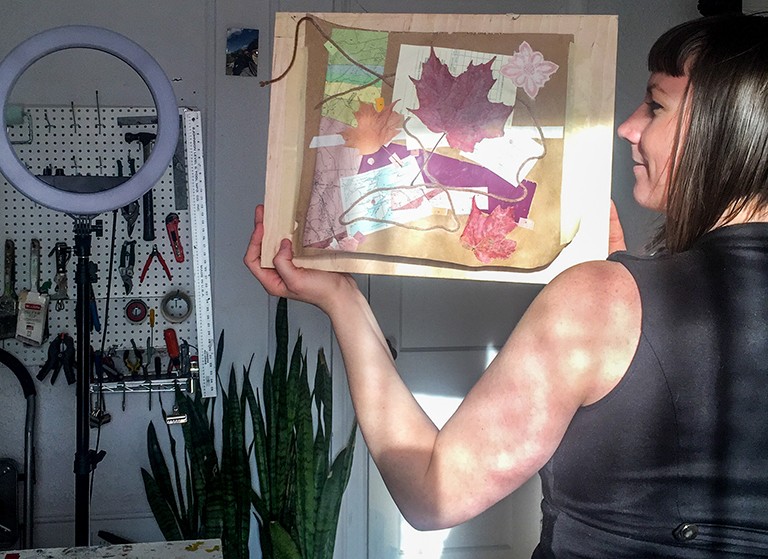 Christine White: "I benefitted from the hands-on activity, since so much of my work is done on a screen these days."
Snail-mail inspiration
White was among those who requested a Creative Care Package from CUCCR last December. The initiative was born of a collaboration with the Dean of Students Office, which was missing its community members kept off campus by the global pandemic.
The goal was to reach out physically but safely by sending arts and crafts materials right to the homes of those keen to work on a creative project with others. Hundreds registered to receive one of five different themed packages: Sew, Collage, Draw, Tinker/Build and Mystery.
"I had signed up for the mystery package. Sliding out various neatly stacked flat pieces, little bits bounced across the wood floor. I was impressed by the colour palette, which was clearly no accident," White says.
Anna Timm-Bottos (MA 17) is CUCCR's founder. When she and her team first came up with the idea for care packages, they weren't sure if people would want "a little gift of random things from the depot shelves," she says.
"We would have been happy to send out two or three hundred, but we were pleasantly surprised that more than 600 people signed up. It was really heart-warming."
Visual artist and founder of ArtWill Studio Deirdre Potash (BFA 82) brought her own materials to the session she attended. She learned about the Tinker/Build event from one of her students who had attended an earlier one.
Despite leading similar creative events herself, Potash was impressed and inspired by the CUCCR approach.
"This event really hit the nail on the head," Potash says. "It was warm, encouraging and nurturing. A great ambiance. I really loved the way the leader took chances with his own live creative process."
That leader was CUCCR's own Arrien Weeks (BFA 06). He and Timm-Bottos curated and packed all the envelopes, organized the events and found different leaders depending on theme.
"I think participants appreciated the informal nature. There was no stress. You could show up anytime during those 90 minutes and either be fully engaged or turn your camera off and just make or hang out with us," Weeks says.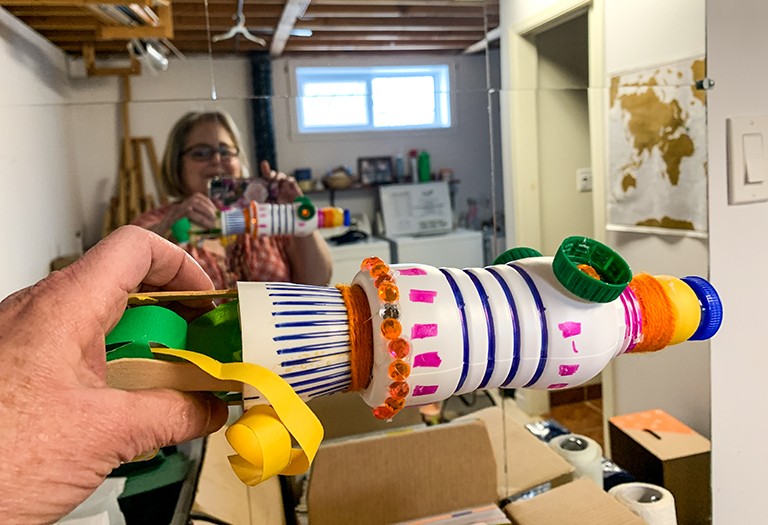 Deirdre Potash: "I have a lot of experience with these sorts of events, and this one really hit the nail on the head."
Stay home and celebrate
Timm-Bottos and Weeks are now displaying photos of the different creations that participants sent in. The showcase also serves as a celebration of four years of creative reuse at Concordia.
"This isn't a formal event like what we've done for our past birthdays," Timm-Bottos notes. "This year is more about the heartfelt, community vibe."
In this case, simple also means accessible. Since the creation workshops were open to all Canadian postal codes, participants were not just Montrealers. "We sent packages across the country, to as far away as Whitehorse (Yukon)," Weeks says.
Participants also ranged in age, Timm-Bottos reports. "There was a woman who joined every single session with her child. At the end of each, they turned on their camera and the little one showed off what they had made with us."
Would they do it again? Weeks says yes — but maybe without mailing the care packages.
"Most people had plenty of their own materials. What we did hear is that people want to mend or transform broken items in their homes."

See the creations and learn more about the Concordia University Centre for Creative Reuse through its webpage. You can also read more about how the group is helping to advance the Concordia Sustainability Action Plan.
Join one of the new Mending & Making Thursdays. Since the first session will be on March 25, four days after CUCCR's birthday, bring best wishes if you plan to attend!
---