New researcher-in-residence is rethinking the Concordia Library as a sensory experience
Katherine McLeod: 'I've always been pulled toward literature that is moving'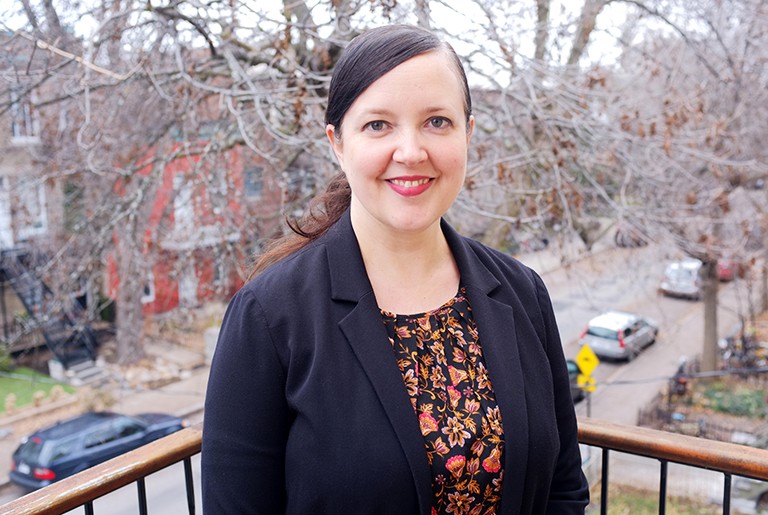 Katherine McLeod: "The library is a generative space of learning."
What does it mean to listen to the library? What types of sounds are held within its collections?
These are two of the questions Katherine McLeod will investigate as the latest participant in the Concordia Library researcher-in-residence program. Now in its fourth year, the program supports the library's efforts to foster a strong research culture and promote evidence-based librarianship.
McLeod is an affiliate assistant professor in Concordia's Department of English and a researcher with the multi-institution partnership of SpokenWeb. She produces monthly audio content for its ShortCuts series on the SpokenWeb podcast feed.
She also co-edited the book CanLit Across Media: Unarchiving the Literary Event with Jason Camlot, professor of English, and is now writing a monograph about archival recordings of women poets reading on CBC Radio.
As researcher-in-residence for the 2020-21 academic year, McLeod will be "listening to the library" through a sensory-based investigation into the university's audiovisual collections. Her objective is to make audible the sounds held within the Concordia Library collections and, simultaneously, to hear the library as something physical.
In addition, McLeod will develop a set of practical teaching modules designed for specific analogue recordings, as well as workshops and research-creation performances using recordings, in person or online, to bring students, researchers and the public into the library's spaces.
'The library is a generative space for learning'
What inspired you to research Canadian literature through sound, performance and archives?
Katherine McLeod: I've always been pulled toward literature that is moving — and by that I mean literature that either moves the reader or that moves off the page and into performance.
In graduate school, I wrote about poetry that moves on the page in ways that call for the reader to listen, and that led to my focus on listening in my postdoctoral research at the University of Guelph and at Concordia with SpokenWeb. All of this has brought me to my current project, a feminist listening to women poets on CBC Radio.
What are a few misconceptions about your research?
KM: Since my research focuses on poetry, it can be thought of as mostly literary. In fact, it is research that integrates perspectives from sound studies — the gendered voice on the radio, performance studies — concepts of ephemerality and embodiment in radio and literary archives, and public humanities — how to produce audio-based criticism about audio research.
One reason I applied for the Concordia Library's researcher-in-residence position was because it would be an opportunity to expand the interdisciplinary sides of my research since the library is a space for the meeting of disciplines.
What type of listening will your research project entail?
KM: I'll be undertaking two types of listening: close listening to recordings, analogue and digital, held within the library's collections, and then a distanced listening to the library itself.
When we think of the library, an image of books probably comes to mind, but there are so many audiovisual materials in the library's general collection.
During the COVID-19 pandemic, we are distanced from the physical space of the library. But the challenge of listening to the library from a distance is all the more important. Now more than ever we can benefit from the library extending its sounds and its knowledge beyond the physical building.
What do you hope students, researchers and the public will gain from the workshops and performances that you will be developing during your residency?
KM: The public-facing side of this residency will be mostly virtual, depending upon the feasibility for in-person events over the year. Either way, the objective for residency events will remain the same: to rethink the library as a sensory experience.
I'll also be writing blog posts and producing audio dispatches — Listening to the Library — as one of the digital experiments hosted by Concordia's Library Innovation Labs.
What attracted you to Concordia Library's researcher-in-residence program?
KM: The library is a generative space of learning. That is something that I learned while teaching the library as a space to my students.
In ENGL 260 - Intro to Literary Study at Concordia, I would assign students excerpts from Alberto Manguel's The Library at Night, which prepared them to "read" the space and to ask questions: What do full or empty shelves mean? Where is the knowledge located? What does it mean to think of the library as power, myth, imagination or home? And how can a library be a space of creativity?
For me, it is important that these questions emerged experientially from teaching in the library because it is this sense of it as a space of vitality that I hope informs what I create in this residency.

Find out more about Concordia Library's researcher-in-residence program and connect with Katherine McLeod at katherine.mcleod@concordia.ca or on Twitter: @kathmcleod.
---