Concordia's student groups find creative ways to promote engagement during the pandemic
DON'T MISS: a costume contest scavenger hunt, Women in Engineering fitness sessions and more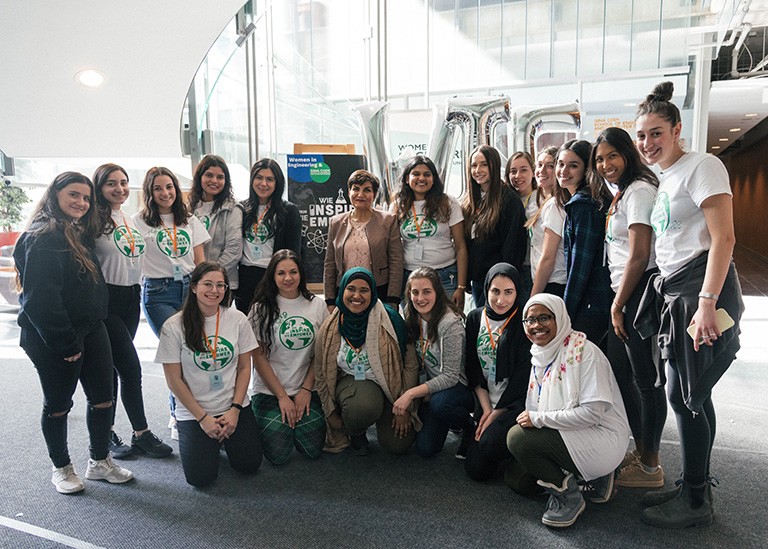 Last year's Women in Engineering conference, with Gina Cody standing in the centre.
Meeting new people, making friends and participating in various activities are some of the perks of taking part in a student club.
In addition to being a great way for Concordians to make connections, they are a huge part of what makes the university experience so memorable.
With courses shifted online and the cancellation of most on-campus activities, you may be left questioning how it will be possible to socialize outside of Zoom class.
Luckily, clubs across the university have been adapting to the COVID-19 pandemic and have planned different ways to enrich the student experience, even if it's from home.
Recently, the Arts and Science Federation of Associations (ASFA) planned their annual Orientation events entirely online. Though ASFA's frosh week usually consists of activities like go-karting and bouncy castles, this year was organized differently.
"We did online Zoom games including game shows, games of clues using Zoom breakout rooms, online scavenger hunts and different first-year preparation workshops," says Kristen Karlsen, student life coordinator for ASFA.
"We got great feedback from people saying they were still able to make friends, and everything went much better than they were expecting."
Karlsen confirms that all ASFA events will be held online for the rest of the year.
"Our next events will be virtual Halloween parties," she notes. "It will include ice breaker games followed by an online Halloween trivia and a costume contest scavenger hunt where participants will join from home."
Beyond Zoom
Concordia's Women in Engineering (WIE) have also been brainstorming ideas to creatively deliver their networking and conference events that are usually held on campus.
"It was a big summer of planning," says Alessandra Bernard, president of WIE.
"A lot of our events can easily be conducted online, including panels and presentations with Q&As, but we want to go beyond that."
For their annual conference event held in March, Bernard explains how the team is thinking about using Hopin, a virtual venue for live organized events.
"Students are on Zoom calls for classes all day long, so coming to an event at night on Zoom might be less attractive," she says. "That's why we're exploring new platforms to make our events more interactive."
Bernard explains that conducting programming remotely has given student groups the chance to work together and collaborate across different faculties. Later in November, WIE plans to host a Women in Tech week. The event will be cohosted by Women in STEM at Concordia, Space Concordia, John Molson Women in Leadership and others.
"We're all working together to try and do something on a larger scale to get more students involved, instead of hosting the same type of events separately."
WIE's next virtual public event Get Fit with WIE is this evening (October 14) at 6 p.m. Concordians have the chance to participate in a workout session with personal trainer and junior industrial engineer Kiara Licursi.
"This is a good way to get started and create some interaction within the Concordia community," Bernard adds. "We're trying to do fun and insightful things, but also helpful things."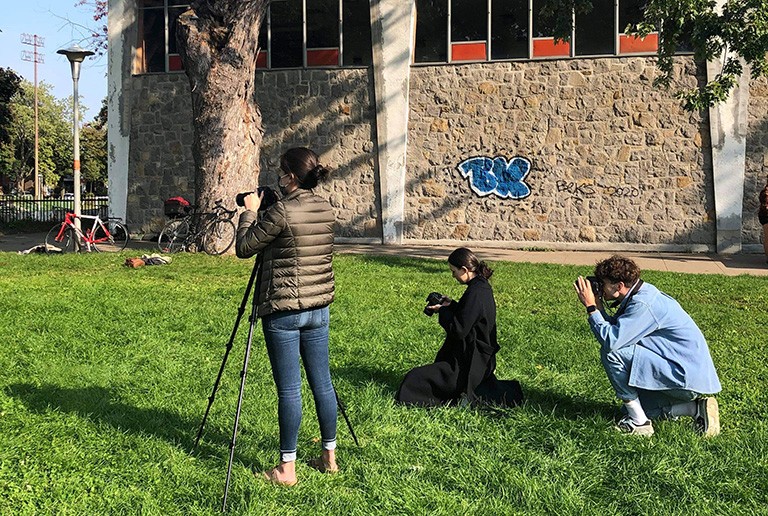 Concordia's new student club, In-Focus Media.
Clubs helping clubs
Similarly, Concordia's new student club In-Focus Media has been working on ways to help other clubs promote themselves along the way. As a photography- and videography-focused club, In-Focus Media gives students an outlet to practice skills beyond the classroom all while expanding their portfolio.
"Our motivation behind starting this club last January was to offer affordable and creative graduation pictures and professional headshots for students," says Pénélope Carreau, one of the founding executive members of In-Focus Media.
"We had plans and booked appointments, but the online transition changed everything."
More recently, they started offering their services remotely and focused on helping other clubs either through pictures, editing footage or creating promotional videos.
"We recently took headshots for the new Garnet Key Society members in a park," Carreau adds. "Everyone had their masks on, and we were all social distancing because that was the only way we could get professional pictures."
The In-Focus Media team met virtually throughout the summer to make plans in case things were to change again.
"We work together on different projects and use the resources each one of us has in their homes to be able to work as a team and help each other out," Carreau says. "We're a fairly new club with six members at the moment, so we're actively looking to recruit new students."
The group hopes to welcome different levels of experience and offer an outlet for students to learn and work on projects as a team.
"I find that being involved in student clubs allows me to connect with people, which is something I think we could all really use during these times."

Find out more about the different student groups at Concordia.
---