Concordia's 2020 Orientation events aim to prepare new students for a fall term like no other
From online scavenger hunts to academic tips on demand — choose a mix of virtual programming that's right for you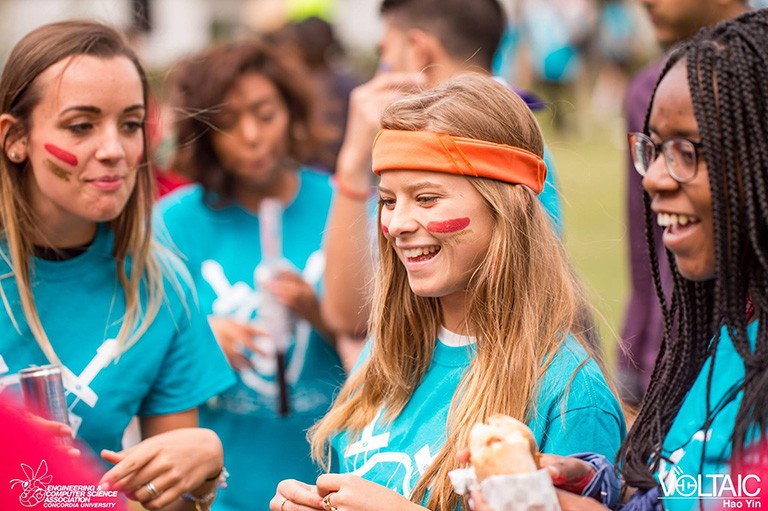 This year, due to the COVID-19 pandemic and campus closures, Frosh events are taking on a new life, online.
You've been excited about attending university for months, maybe years, and now it's getting real. Your first term is in sight.
Although this is likely not the start you had imagined, Concordia is committed to helping you make the transition to your new program as smooth as possible thanks to a wide range of Orientation events organized by the university and its student associations.
Student-led Orientation and Frosh 2020
Orientation has many components, and Frosh is one of them. But what is Frosh exactly?
Frosh focuses on social festivities, such as mixers, BBQs and big outdoor events. It's about mingling and making friends. These activities generally take place before classes start and have a cost associated to them. This year, due to the COVID-19 pandemic and the university's campus closures, Frosh events are taking on a new life, online.
The Commerce and Administration Students' Association, the Engineering and Computer Science Association and the Arts and Science Federation of Associations, for example, are all set to hold online Frosh events. Plans are already underway for welcome Zoom gatherings, online mystery games, scavenger hunts and even a cross-faculty online talent show. Registration for these events is required, so stay tuned for more details in the coming days.
The Concordia Student Union (CSU) usually opts for a two-week Orientation period at the beginning of the fall term that includes a series of social events and activities for new and returning students.
Given the current reality, the CSU team has also decided to switch their programming to an online delivery. They have also extended their Orientation period throughout the month of September to better support students with the transition to an online fall term. Their events are designed to connect new students with the community and help them learn about groups and resources available at Concordia.
Similarly, the Fine Arts Student Alliance will be hosting virtual Orientation events at the beginning of term that aim to be inclusive, fun and creative.
The Graduate Students' Association (GSA) caters to all grad students and provides resources and services to improve the quality of life of its members throughout the year. Connect with the GSA on September 3 at the virtual Graduate Student Orientation.
University-wide events
Orientation events organized by the university, while still fun and interactive, focus on informing students about resources and support for academic success. This year, 40 units from across Concordia will come together to offer new students a virtual university-wide Orientation on September 1 for undergrads and September 3 for graduate students.
"Orientation provides new students with the remarkable opportunity to become acquainted with all that Concordia has to offer, before the term has even begun," says Rima Oassey, psychology student and Welcome Crew mentor. She attended in fall 2017. "It sure alleviates so much unnecessary stress!"
This entirely online approach to Fall 2020 Orientation not only allows live interaction with staff and students, but it also enables the content to be accessible on-demand for 90 days after the live events. This means that you can log in as many times as you'd like throughout the fall term to pick up useful study tips that you may have missed on the live Orientation day.
"When I attended Orientation, I learned how to effectively take notes using the Cornell System and how to identify and single out important information given by a professor or from a textbook," recalls Navid Reza, undergrad computer engineering student and Welcome Crew mentor. "To this day, I apply those skills I acquired from Orientation in my classes."
The full Orientation experience
While university-wide Orientation days are open and relevant to all new students, it's important to note that many academic departments and programs host specialized Orientation and welcome activities for specific subsets of students.
New undergrads and graduate students are strongly encouraged to attend both the Concordia-wide Orientation as well as the more targeted events to get the full experience. Keep an eye on your inbox for invites to these specialized events sent to you directly from your academic department or program.
And if at any point you're looking for tips on adjusting to university life, you can always ask the experienced student mentors from the Welcome Crew.
"The Welcome Crew mentors were able to share exactly what I needed to know as a new student, all while creating an extremely welcoming and inviting atmosphere," Oassey adds.
"That's what I aim to do for new students this year at Orientation. Hope to see you there!"

Register now for Concordia Fall 2020 Orientation activities.
---