Concordia's Fall Orientation takes place virtually on September 1 and 3
Find out what online programming is in store for incoming undergrad and grad students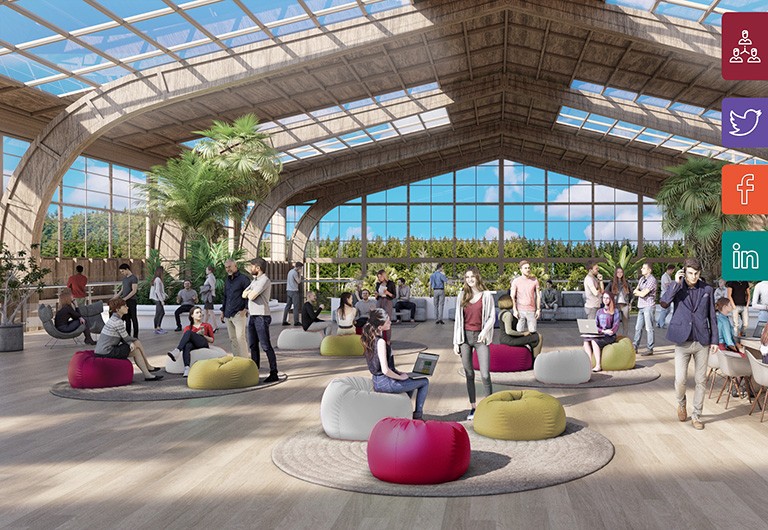 Virtual Orientation will be broadcast live on September 1 and 3, and content will remain accessible to students, on-demand, for 90 days afterwards. | Pictured: The virtual lounge.
Forty units from across Concordia will come together the week before classes start to offer new undergraduate and graduate students a virtual orientation.
This entirely online approach to Fall 2020 Orientation will be powered by vFairs, a virtual event platform that not only allows for an interactive live experience, but also makes the content accessible to students, on-demand, for 90 days after the live event.
There will be two main event days:
Undergraduate Student Orientation*
Tuesday, September 1
8:30 a.m. to 3:30 p.m.
*Parents of undergrad students welcome
Graduate Student Orientation
Thursday, September 3
8:30 a.m. to 3:30 p.m.

These two days will replace the following Orientation events that would typically take place the week before classes start in the pre-COVID context:
Discover Concordia and Start Right (Student Success Centre)
WISE YUL (International Students Office)
Graduate School Base Camp (GradProSkills)
Parents Tent (Advancement and Alumni Relations)
Student-led orientation and frosh activities will still be hosted by the various student associations with support from the Dean of Students Office. Dates and details of these events are coming soon.
What students can expect
Students will be able to choose from a variety of activities throughout the day to pick up tips for starting university on the right foot. They can attend live or pre-recorded presentations covering topics such time management, online learning, getting involved in student life and navigating the MyConcordia portal. Graduate students will be able to take in condensed versions of GradProSkills essential academic skills workshops to help set them on track for a positive grad school experience.
Students will also have the opportunity to gather information from 40+ virtual kiosks (full list below) and connect one-on-one or in a group setting with Concordia staff, student mentors and student associations. And although students will be "attending" Orientation on their computer or phone, there will still be plenty of opportunities to meet and chat with other new students in the virtual lounge, all while filling up their virtual swag bag.
Students are encouraged to pre-register for their Orientation event. Registration and the complete schedule of events will be available on the Orientation website shortly.
The full orientation experience
While these two virtual orientation days are open and relevant to all new students, it's important to note that many academic departments and programs host specialized orientation and welcome activities for specific subsets of students. New undergrads and grads are strongly encouraged to attend both the Concordia-wide orientations as well as the more targeted events to get the full orientation experience.
If your department or unit hosts a specialized orientation activity or welcome event for new students, and you'd like it to be published on the central Orientation website, please fill out this form.
Complete list of virtual kiosks
Present at both the Undergraduate and Graduate Student Orientations (September 1 and 3):
4TH SPACE
Access Centre for Students with Disabilities
Birks Student Service Centre
Campus Security and Emergency Services
Career and Planning Services (CAPS)
Career Management Services (John Molson School of Business)
Concordia Book Stop
Counselling and Psychological Services
Concordia Student Union Off-Campus Housing and Job Resource Centre
Dean of Students Office
Réussir en français (Département d'études françaises)
Exploring Sustainability at Concordia
Financial Aid and Awards Office
Health Services
Indigenous Students Resources and Initiatives
International Students Office (ISO)
Concordia Library
LIVE Centre
Multi-faith and Spirituality Centre
Navigator Program
Office of Rights and Responsibilities
Ombuds Office
Parents Association and Advancement and Alumni Relations
Recreation and Athletics
Services for New Students
Sexual Assault Resource Centre
Student Accounts
Student Advocacy Office
Student Learning Services
Welcome Crew

Present at Undergraduate Student Orientation (September 1):
Institute for Co-operative Education (Co-op)
FutureReady
eConcordia
Concordia Student Union (CSU)
Arts and Science Federation of Associations (ASFA)
Fine Arts Student Alliance (FASA)
Engineering and Computer Science Association (ECA)
Commerce and Administration Students' Association (CASA)

Present at Graduate Student Orientation (September 3):
GradProSkills
Graduate Funding and Awards
Teaching and Research Assistants at Concordia (TRAC) union
Graduate Students' Association

Spread the word about Concordia's Fall 2020 Online Orientation!
---