'Concordia represents a life of service to community, to colleagues and especially to our students'
The 47th Long Service and Retirement Luncheon honours 250 staff and faculty members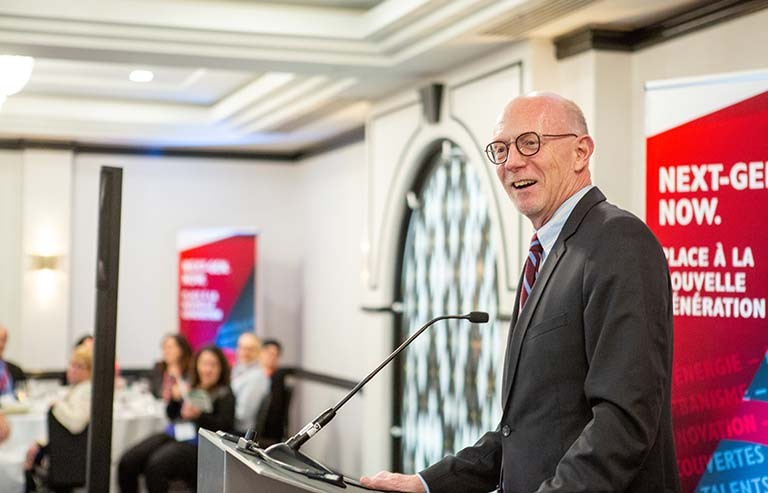 "The beauty of being at Concordia is appreciating the stalwart contributions of so many members of the community over such long periods of time," said President Graham Carr, addressing the audience at the Long Service and Retirement Luncheon.
This year's event, held on December 9 at the Loews Hôtel Vogue, celebrated 250 honourees who have given 20 years or more of service to Concordia, as well as retirees.
"The reputation of the university has never been stronger than it is right now," Carr added.
Anne Whitelaw, interim provost and vice-president, academic, also spoke at the event. "Your enthusiasm for the university is remarkable. Your care for our students and their experience at the university is outstanding," she told the attendees.
"You make it the great place that it is today."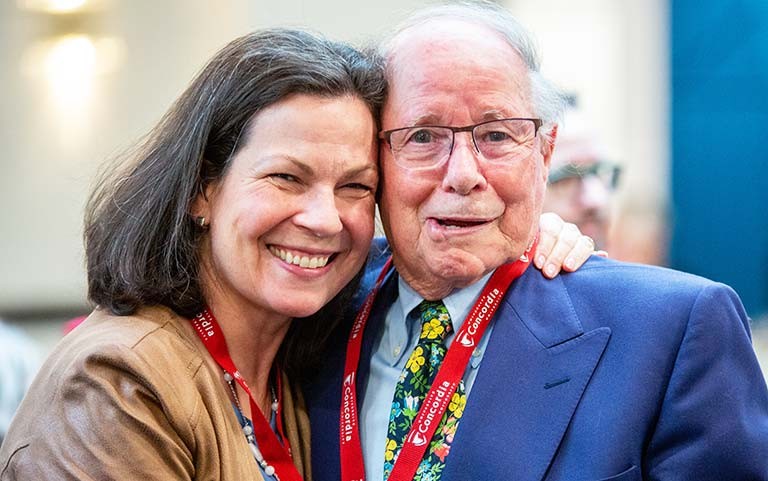 Mathematics professor Fred Szabo (pictured here with Anne-Marie Croteau) celebrated 55 years at Concordia.
Driven by helping people
Gui Li, a developer with Instructional and Information Technology Services (IITS), is celebrating 20 years at Concordia. "I like it here," he says with a smile. "That's why I've stayed for so long."
Li supports technology program development at Concordia and he's met, at least virtually, hundreds of Concordians.
"I'm looking at this list of names in the program and I recognize so many of them because I've answered their requests for support. I don't always know what they look like. That's why it's great to attend this event where I can put some faces to the names of people I've met over the years."
For Li, it's helping people that motivates him and keeps him happy. This can be challenging sometimes, he notes, as a lot has changed in terms of technology since he started in 1999.
"At the beginning of my career it was totally different than it is today. I have to constantly learn new skills to keep up with the different technology that Concordia has implemented over the years."
But he thrives on the challenge and adds that overcoming these obstacles is a lot easier when you have a great team. "It is great to work with people you've known for so long," he says.
"We're able to tap into each person's expertise and experience, and we collaborate to be able to get the job done."
Passing on knowledge, curiosity and wisdom
Also celebrating 20 years of service is Mingyuan Chen, associate chair and professor in the Department of Mechanical, Industrial and Aerospace Engineering.
"Coming to Concordia was the best decision I ever made in my life," says Chen, who adds that supporting students is his top priority. He supervises many at the graduate level and makes a point to stay in touch with alum after they move on from the university.
"They are very appreciative of the education they received. I know because they call back to ask for my opinions. I still answer questions from former students when they have issues in their work."
One of the biggest changes Chen has observed in his two decades of teaching at Concordia is the degree to which students are connected to and concerned with broader societal issues through technology.
"They are equipped with more knowledge to be prepared to face the challenges of the future in their work," he says.
But, he emphasizes the ongoing importance of the personal exchange between students and their professors, as well as between faculty.
"Education is more than just passing on information," he says.
"We need to pass on the knowledge, the curiosity, the wisdom that people have developed over the years."
Chen adds that what he really appreciates about working at Concordia is having the space and resources to grow as an educator and a researcher.
"The environment here provides us with everything we need, as well as the encouragement to experiment, try things out and get things done."
Finding family at Concordia
Donna Caputo's three decades at Concordia all started with a three-week work-study experience in her youth.
"I worked in what was then called building engineering. And then I finished high school and the department called and asked me to come back!"
She worked there for nine years, before moving over to the Department of Art Education, where she stayed until 2005. She currently works in the Office of the Dean of Fine Arts as coordinator of research administration.
Caputo says the students are what has kept her around for so long.
"They're the reason we are here," she says. "When I started out, I was basically the same age as the undergraduate students, and they often invited me to their social events. One of them is still my best friend."
Caputo also met the love of her life while working at the university.
"I started when I was 19. So much of my life and who I am is because of Concordia. I grew up here. Everyone in my surroundings comes from here. Not only did I gain friendships, and work experience, but also family."
'A part of something bigger'
Sandra Betton is associate dean of professional graduate programs in the Office of the Dean of the John Molson Business School. She began her career at Concordia 25 years ago.
Betton remembers liking the feel of the university from the moment she arrived.
"I liked that students weren't just a number, that people cared about them. And that as a faculty member, you weren't just an employee, you were part of something bigger — a community."
Betton has been working at JMSB since she started. She was the chair of the Department of Finance for two terms, which is where she started to learn about how the university works from an administrative perspective.
After that she became MBA director. "That was fun because I started to have more interaction with students," she says. That job eventually led her to her current position.
"Every role has given me a different perspective on what it takes to make this place tick.
I really like interacting with students because you have the chance to change a life."
In terms of how things have shifted over the years, she says students are more focused on finding work beyond graduation.
"Given the pace of change, that makes a lot of sense," she says. And it's that rapid change that makes Betton want to carry on doing what she's doing. "It's not the same job year-to-year."
One thing that does remain constant, she adds, is how nice the students are.
"They care about the world, they're not just out for themselves. They understand that offering a hand to someone else doesn't mean you're lowering yourself."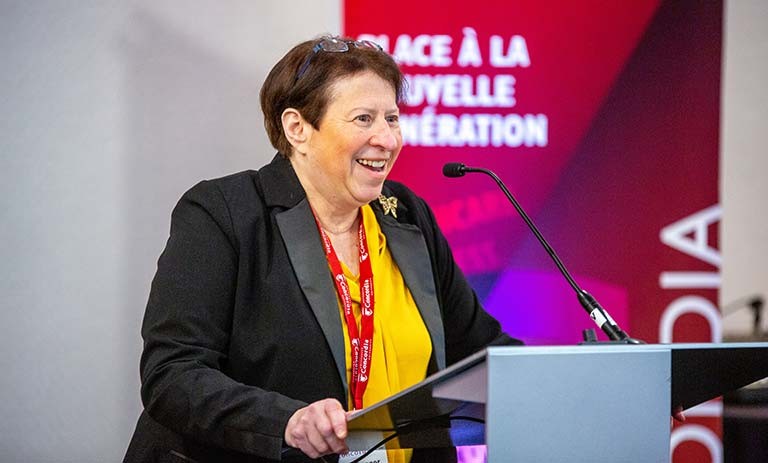 Miriam Posner (BSc 74, MBA 89): "Concordia is a place filled with endless learning opportunities."
'A truly great achievement'
Honourees at the 47th Long Service and Retirement Luncheon were represented by Miriam Posner (BSc 74, MBA 89), who also spoke at the event. Posner is celebrating 45 years at Concordia and currently works as manager of planning and academic facilities for the Faculty of Arts and Science.
"I am thrilled to share this milestone with all my 20-plus-years colleagues. And don't we all look great?" she said, addressing the crowd of her peers.
"The truth is we have, over the years, contributed each in our own special way to what the university is today and in preparation of its future," Posner added.
"Concordia is more than a place of work. For me, it represents a life of service to community, to colleagues and especially to our students. It's where long-lasting friendships are made and a place filled with endless learning opportunities."
An alumna herself, Posner earned an undergraduate degree in biochemistry in 1974 from Sir George Williams University, just before it merged with Loyola College to become Concordia. She later earned an MBA while working at the university.
"Concordia allowed me as an employee to enrich my community outreach skills, to hone my negotiation leadership skills and to further my studies," she told the audience.
"Collectively and individually we all have so much to be proud of. Just look at where the university is today. New programs, exciting research, new buildings and well over 50,000 students. A truly great achievement."

Learn more about Concordia's Long Service Awards.
---