Concordia's Liberal Arts College alumni celebrate 40 years of 'great books, great ideas and great careers'
A panel of successful grads discusses the value of an education in the humanities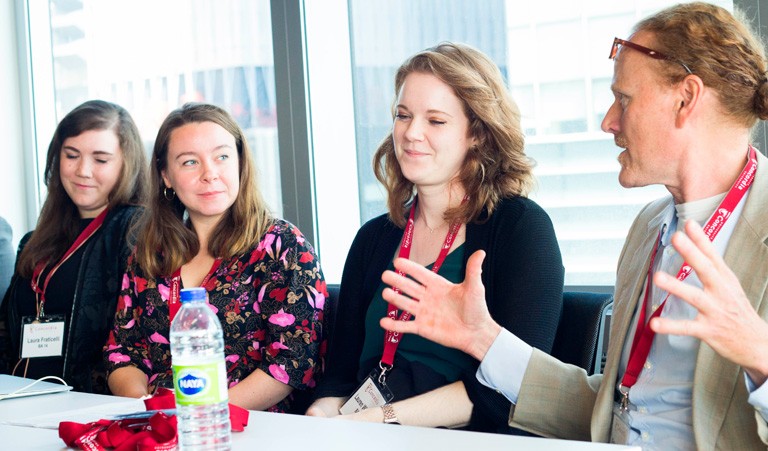 From left: Laura Fraticelli, Chanel Blouin, Lauren Williams and Peter McQueen. | Photos by Ariela Freedman
Before Laura Fraticelli (BA 14) started her undergraduate degree at Concordia, she didn't know what career she wanted to pursue.
"I was having a complete existential crisis," she says.
Today, Fraticelli is team lead for casting at Ubisoft Entertainment. She ended up following her passion for stories and enrolled in the Western Society and Culture program in Concordia's Liberal Arts College. The program name has changed to Liberal Arts which will be in effect for the 2020-2021 academic year.
She credits her experience there with helping her choose her way forward.
"It requires a lot of mental agility to work in a multidisciplinary field like the video-game industry, where you're interacting with so many different kinds of people. It's a matter of critical thinking, artistry, creativity and being on your toes all the time. These are skills I learned at the Liberal Arts College."
On September 20, as part of the college's 40th anniversary celebrations, Fraticelli joined 13 other alumni for a day of panel discussions on the career paths they pursued following a liberal arts education.
Celebrated alumni
The guests included a researcher with the National Inquiry into Missing and Murdered Indigenous Women and Girls; a Montreal city councillor; award-winning musicians, artists, journalists and writers; and professors from Harvard University, the University of Pennsylvania, Warwick University, the University of Toronto and Concordia.
The Liberal Arts College offers an integrated Bachelor of Arts degree program in Liberal Arts with an intensive study of great books in literature, religion, philosophy, social and political theory, art, music and science.
With small class sizes and discussion-based seminars, the Liberal Arts College also offers a trip to New York City, an annual talent show and theme weekend, a theatre production and a literary journal.
Ariela Freedman, professor at the Liberal Arts College, says the panels were designed to demonstrate the different job opportunities available to students — especially in light of the ongoing conversation about the value of a degree in the humanities and social sciences.
"The panellists collectively and powerfully answered the question of what is valuable in a humanities education. They are exactly the kinds of graduates that make Concordia proud," she adds.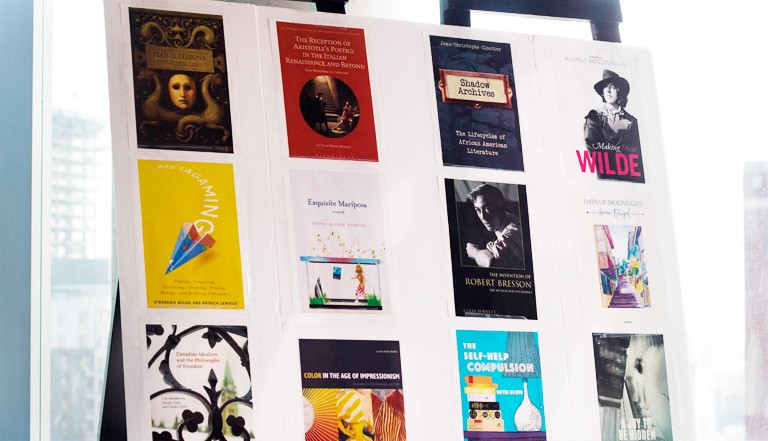 A poster showing books written by Liberal Arts College alumni.
'Encouraging and inspirational'
Mark Russell, principal of the Liberal Arts College, says student response to the panels was overwhelming. "They felt that our alumni were informative, encouraging and inspirational and that the accounts of various career trajectories were exactly what they needed to hear," he says.
"Our alumni are strong ambassadors for the Liberal Arts College, and their stories demonstrate that a liberal arts education is about great books, great ideas and great careers."
Fraticelli says she continues to draw from her Liberal Arts College experience in her personal and professional life.
"I feel like this education has never left me."

Learn more about Concordia's Liberal Arts College.

---