Germany's Looted Art Commission recommends return of a Munich Museum painting to Jewish dealer's heirs
The announcement is a watershed moment for the Max Stern Art Restitution Project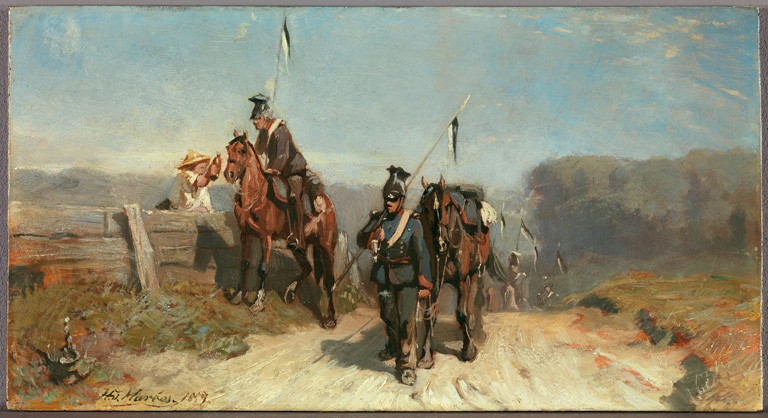 Ulanen auf dem Marsch, by Hans von Marées (German, 1837-1887).
The Advisory Commission on the Return of Cultural Property Seized as a Result of Nazi Persecution, Especially Jewish Property (formerly known as the Limbach Commission) has determined that a painting held by the Neue Pinakothek, be returned to the Max and Iris Stern Foundation and its three beneficiaries — Concordia University and McGill University in Montreal and Hebrew University of Jerusalem.
Since its acquisition in 1986, "Uhlans on the March" by Hans von Marées (1837-1887) has been in the Neue Pinakothek — whose nineteenth century holdings are considered among the most important in the world. A German Romantic Age painter, von Marées is described as the greatest classicist of his time, after Ingres.
The von Marées is the 21st work returned to Stern's heirs — owing in large part to the invaluable assistance of New York State's Holocaust Claims Processing Office which formally presented arguments before the commission. At least two-thirds of the ten-member commission voted in favour of the restitution with two conditions applicable to the foundation for the next ten years.
The conditions are, firstly, that should a previous Nazi-era owner of the painting who was a victim of Nazi persecution be confirmed, the foundation will make reparations; and secondly, that access be granted to all documentation under the purview of the foundation in the event that new findings counter any facts presented to the commission. The foundation welcomes these conditions which are consistent with its transparent practices in claim settlement spanning nearly twenty years.
Despite the consensus of an overwhelming majority of members, a minority opinion was also included in the report that speaks to the ongoing reluctance among certain German factions in their interpretation of the scope of Jewish persecution during the Nazi period. Notwithstanding the position of this slim minority, the report duly recognizes Stern as a Jewish businessman who was a victim of Nazi policies as far back as 1933.
"The commission's formal acknowledgment of an earlier persecution narrative makes this landmark decision all the more meaningful for us", noted Clarence Epstein. "Our restitution project will re-evaluate all business transactions of the Düsseldorf gallery starting from 1933 and substantially supplement its current list of claimable works. With this decision and having successfully recovered works in museums of Düsseldorf, Stuttgart and Weinsberg, we are immediately moving forward with several additional German museum claims".
On September 12th at the Canadian Embassy in Germany, in the presence of Ambassador Stéphane Dion, the German Friends of Hebrew University will be hosting a special event in support of advancing scholarly research on Max Stern and his family. Participating in this event will be members of the Canadian-Israeli-German Stern Cooperation Project based at Munich's Zentralinstitut für Kunstgeschichte.

---