Concordia's 10 Public Scholars wrap up the year with a multimedia event
APRIL 3: The PhD candidates will showcase their research to the Montreal community and pass the torch to a new cohort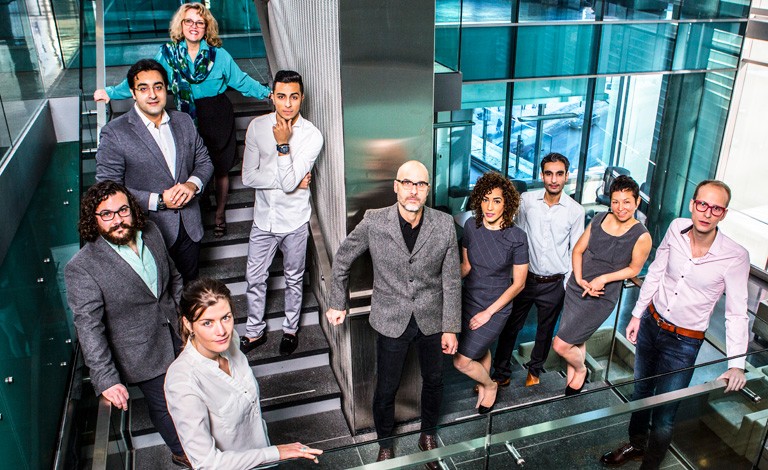 What do an entomophagy specialist, a designer of satellite antennas and a queer film studies researcher have in common?
They are all part of the 2018 Public Scholars cohort and will host a year-end pop-up event at the new 4TH SPACE exhibition space on Sir George Williams Campus.
The Concordia Public Scholars Program was designed with the Montreal Gazette to bridge the gap between academic research and the community. It is now part of Concordia's key initiatives to support its strategic directions, including Embrace the City, Embrace the World, for a next-generation university.
On Wednesday, April 3 from 2 to 6 p.m., "When Disciplines Converge" will blend multimedia displays, cutting-edge technology and the latest developments in the Public Scholars' research.
"It will feel a bit like a knowledge fair and there is a big emphasis on interactivity," says Nikola Stepić, a PhD student in the Humanities program, working between the fields of film studies, English and art history.
"We're a group of 10 people with very different approaches to work and the dissemination of our research. I'm really looking forward to seeing what my colleagues will do."
A varied cohort
The presentations will range from Stepić's research on how cities contribute to the formation of sexual identity to Amir Hooshiar's surgical robots, Maya Hey's studies on fermentation and Laura Shine's work on edible insects.
"I'm looking at the consumption of insects and how novel foods are promoted and normalized," explains Shine. "Culturally, insects have such a strong connotation for most people — they're so strongly associated to disgust, to things that are horrible. So putting them in your mouth is really intense."
Shine adds that her space at the pop-up will be highly interactive.
"Participants will be offered tasting samples and asked to design, with a variety of craft materials, what an interesting or acceptable insect food would look and feel like."
Stepić's work meanwhile looks at how cities are represented in queer cinema.
"There is a way to look at architecture, at the skeleton of a city, through the prism of gender," he says.
"I'm interested in the city as a kind of interface of sexuality and desire — everything from bars and the different establishments that scaffold it, fashion, interior design — different ways in which sexuality can be mediated by cities in film. I'll be screening different video materials, and I'm looking forward to meeting and discussing with fellow cinephiles."
Benefits and challenges
Since their arrival in early 2018, the public scholars have attended a number of workshops, written articles and op-eds and engaged with the public by putting on different events.
"My experience was very informative. I really enjoyed the workshops. It was interesting to meet and work with other scholars that are from all kinds of different disciplines," says Shine.
"It was both a benefit and a challenge. We didn't always see things in the same way but that can be really productive and lead us to question ourselves."
Stepić concurs.
"We challenged each other to think beyond our own vernaculars," he says. "There are a lot of moving parts to the Public Scholars Program, and it challenged us to communicate our research more clearly to people outside our own particular disciplines."

Meet the 10 Public Scholars at "When Disciplines Converge", on April 3 from 2 to 6 p.m. at 4TH SPACE in the J.W. McConnell Building (1400 De Maisonneuve Blvd. W.) on the Sir George Williams Campus. The event is free and open to the public.
Find out more about Concordia's Public Scholars Program.
---