How can social science and humanities skills lead to success in the job market?
Concordia undergrad Maria Stawnichy is helping her peers transform their education into a career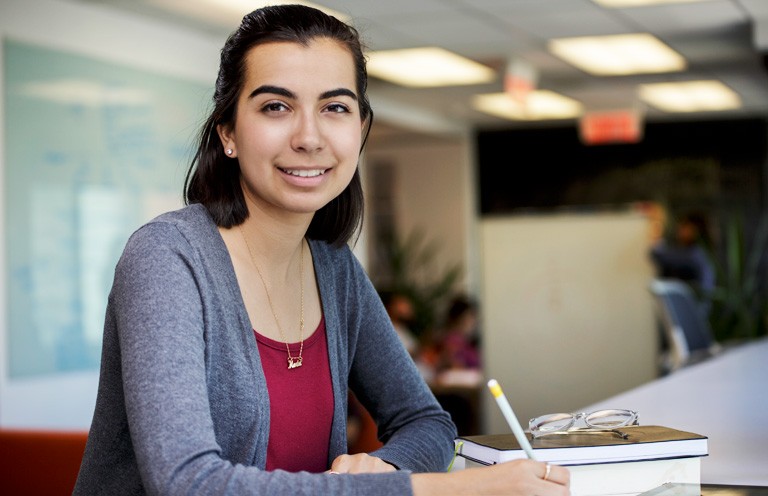 Maria Stawnichy: "You don't need to go to a fancy cocktail event to advance your network. Look to the people who are already around you." | Photo by Concordia University
Worried about translating your degree in social sciences or the humanities into a real-world job? Concordia student Maria Stawnichy may have a next-generation solution for you.
In her role as an administrative assistant at the Concordia Student Union Advocacy Centre, Stawnichy is used to helping students navigate the sometimes-overwhelming job market questions that await them after graduation.
She regularly counsels students who don't know where to begin when thinking of a job after graduation. Some of the skills Stawnichy focuses on include those typically associated with the humanities and social sciences.
"I think one key element in the job market that's often overlooked is emotional intelligence," says Stawnichy, a third-year undergraduate student in the Human Relations Program in the Department of Applied Human Sciences.
"There are a lot of things being created due to new technology, but the one thing that can never be replaced is that human element," she says, pointing to the task of negotiating a business contract as one example.
"To analyze — what is their need right now? What is my need? Can we compromise or collaborate on certain things? What's the line that I won't cross? What are their boundaries? All these things require emotional intelligence."
A different kind of job symposium
University wasn't always in the cards for Stawnichy, who instead wanted to tour the world. But after taking a year off to travel after high school, she applied to Concordia on a whim, which wound up being a life-changing move.
"Once I got to Concordia and experienced the hands-on learning, smaller classrooms and teachers with real-world experience beyond textbooks, I was so happy I made the decision," she says.
Stawnichy recently took the skills she's been learning in the classroom and put them to the test.
On October 5, 2018, she organized an all-day symposium called Essential Career Skills, designed to help students prepare for life after university.
"I was jealous of all the career fairs at the John Molson School of Business," she says. "So, one day, instead of complaining, I decided to do something about it."
She began by conducting her research, putting together an interview template and approaching students around campus to learn which job skills mattered most to them. Three topics kept coming up — interviewing, career strategy and networking. Stawnichy built her event with those themes in mind.
"Networking is really important, and it's something that people don't always think of as accessible. You don't need to go to a fancy cocktail event to advance your network. Look to the people who are already around you and who are interested in the work you do."
'Tangible results'
Seminars offered during the symposium included tips on acing a job interview and ways to learn what recruiters and managers are looking for.
"The most challenging part of putting this event together was ensuring that students would leave feeling they could apply what they learned in the workshops. I wanted to ensure they would see tangible results," Stawnichy explains.
Based on the feedback she received, she accomplished her goal.
"I heard from a student that this was the first career workshop he had been to that focused on the importance of interpersonal skills in the workplace, rather than just the technical skills. He said it was a really eye-opening experience for him, and I'm so glad."
And Stawnichy has no plans to slow down.
"My goal is to get a job working at Concordia after I graduate. I like it so much here, I want to stick around!"

Find out more about Concordia's Department of Applied Human Sciences.
---