Your first-year tip for January: 'Use apps to boost your performance'
Mentor Zarin Arshy recommends 11 apps for academic success.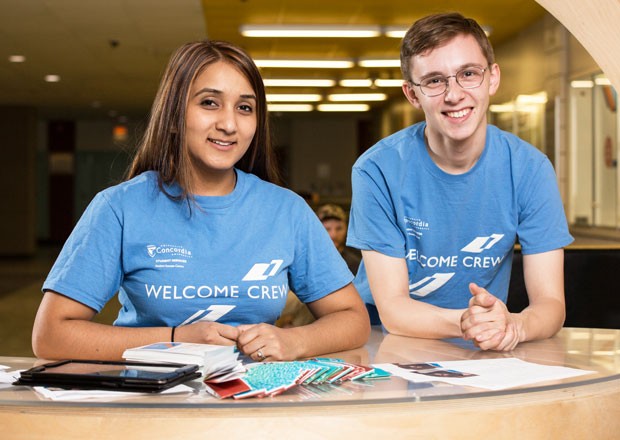 Most of us spend a great deal of time on our phones, sometimes for entertainment, and occasionally for distraction. But why not use our phones to maximize our success?
Here's a list of apps to help you succeed in university life.

1. The Concordia app
One of my most-used apps, is… drum roll, please… Concordia's new app.
It houses campus maps, account services, information about nearby food spots, library hours and computer availability — all seamlessly presented with key icons on the homepage.
The ever-so-sweet cherry on top is the shuttle-bus schedule. It allows you to track the location of the shuttles as they travel between campuses, so you'll always know if you have time to run to Tim's and grab that Boston Cream donut, after all.
Another new feature on the app is 'Ask Meagan'. It fields queries from Concordia students about everything from staying healthy to studying to socializing on campus. Every week, Meagan will tackle one of your top student questions — and connect you to fun and helpful Concordia resources.

2. Studentcare mobile
The Studentcare app is another essential for any student covered by the Concordia Student Union (CSU) or Graduate Student Association (GSA) health plans.
File health, dental, and vision claims by taking a picture or uploading one from your library of documents or receipts. You can also keep track of your claim history and view many details related to your coverage in the app.
International Students, check out: Modavie Blue Cross Mobile

3. Alertus
An app with an appropriately informative name, Alertus sends weather, security, or emergency-related notifications from Concordia.
Given Montreal's infamously unpredictable weather, this app is tremendously useful in case of power failures, as well as for staying up-to-speed on any emergency. Remember to enter "concordia" as the organization code and you are good to go.

4. (OFFTIME)
Sometimes staving off the gratification of checking your phone is just too difficult. These are the moments we need to unplug, and (OFFTIME) does just that. It restricts or blocks, depending on your preferences, incoming calls, texts and notifications for a specified period of time. It also tells you how much time you spend on other apps so you can determine where to cut back, if needed.
Similar alternative app: ClearFocus

5. CamScanner
CamScanner uses your phone's camera to scan any page or image. This comes in extremely handy any time you need to quickly submit formal documents, scan receipts, or borrow a classmate's notes. Use the batch mode feature to take multiple pages of scans and save them as one convenient PDF or image file.
Similar alternative app: Office Lens

6. SimpleMind
Big project coming up? Use SimpleMind to map it out. This brainstorming, or mind-mapping, app allows you to clearly categorize your ideas in a flow chart. Use it to develop your argument for an essay or lay out the role of each member in a group.

7. Google Duo
When we're away from home, we draw solace from speaking with loved ones. Google Duo is the latest in video-chatting technology. The app claims the highest image resolution of any video app, making your fam just a little more lifelike on your screen.

8. Slack
There are numerous group-messaging apps out there, but few are helpful for organizing tasks, subdividing topics, or effectively searching through long, endless threads. (How often do you wake up to see your group chat has 182 new messages?)
Slack is optimized for group productivity, and used by many professionals. You can create subcategories of chats, called channels. For example, for large group assignments, it may make sense to create a channel for sharing links to references, another channel for scheduling meetups, and another for discussing results.

9. Pocket
If you find yourself constantly running low on data, Pocket is a simple and effective way to save articles, links, and videos to revisit offline. This is perfect for students with longer commutes, or for doing some light reading on the campus shuttle. And, Pocket syncs between devices.

10. Alarmy
I have found nothing more effective to disrupt a deep sleep than this app.
Basically, Alarmy only allows you to turn off a blaring alarm if you solve a math equation. If math is not your forte, you can opt to take a photo of a certain location of your home, scan a barcode, or shake your phone off with a set number of movements.

11. Brain.fm
On a happier note, there are also apps designed to help you fall asleep better. Brain.fm claims to provide music designed for the brain. Within 15 minutes of listening to serene sounds, your focus will be improved, and you'll be able to take a nap or just relax. It's also perfect when you need a little bit of background noise to tune out your surroundings and get to work.
Similar alternative apps: Tide, Calm

Other apps to check out:

Check out Concordia's new app.
---