Can't sleep? Your brainwaves could be the answer
Concordia research clarifies who stands to benefit from insomnia treatment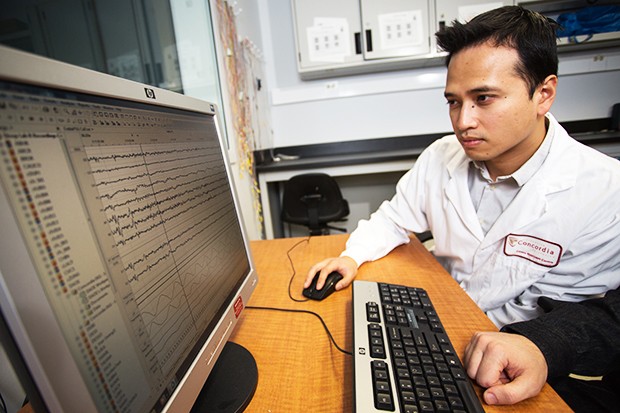 Thanh Dang-Vu: "Your brainwaves might be the clue to what type of insomnia treatment works best for you"

Insomniacs, we feel for you.
Did you know that some psychologists offer a recognized and legitimate professional treatment — called cognitive behavioural therapy for chronic insomnia (CBT-I)?
"However, it is difficult to access this treatment in the public health-care system, so patients often have to consult in the private system and pay over $600 for a series of CBT-I sessions," says neurologist Thanh Dang-Vu, associate professor of exercise science in the Faculty of Arts and Science.
"More than half of patients will improve with this treatment, but that also means that it doesn't always work. This is why it's important to identify which patients are likely to respond to CBT-I."
Hoping to learn more, Dang-Vu and Jean-Philippe Gouin, associate professor of psychology, designed a study to help identify candidates who will respond well to CTB-I. Their preliminary findings were published recently in Sleep Medicine.
The article was co-authored by Concordia researchers Benjamin Hatch, Ali Salimi, Melodee Mograss, Soufiane Boucetta, and Jordan O'Byrne.
"We found that certain brainwaves produced during sleep (called 'spindles') may help identify a type of insomnia that is less responsive to standard psychological treatment," explains Dang-Vu, Concordia Research Chair in Sleep, Neuroimaging and Cognitive Health at Concordia's Center for Studies in Behavioral Neurobiology and the PERFORM Centre.

Back at the sleep lab…
The study followed 24 chronic insomniacs who underwent six weeks of CBT-I treatment in small groups and spent nights at the PERFORM Centre Sleep Lab before and after the treatment.
"We recorded their brainwave activity during sleep, and particularly their sleep spindles, using an electroencephalogram (EEG)," says Dang-Vu, who is also a medical doctor and the associate director for clinical research at the Institut universitaire de gériatrie de Montréal.
Results revealed that patients with lower spindle activity have poor responses to CBT-I.
"This information could help us identify which patients to prioritize for this form of therapy," says Dang-Vu.
"In addition, future treatments that would enhance sleep spindles, such as certain medications or even brain stimulation techniques, could be useful for those not currently responding to CBT-I."
His findings also fit with an overarching theory of insomnia, which posits that insomniacs are in a psychophysiological state of hyperarousal.
"As CBT-I has been developed to target the psychological components of hyperarousal rather than its physiological components, it would be expected to be less effective for individuals with reduced spindle density."
Dang-Vu's study is ongoing and his team is seeking more participants with chronic insomnia. "We will be adding different measures such as memory tests and brain function using imaging. All participants will be able to follow a CBT-I treatment program during the course of the study."

Read the cited report, "Sleep spindles may predict response to cognitive behavioral therapy for chronic insomnia."
If you suffer from insomnia and you are interested in participating in the study, please contact insomnia.concordia@gmail.com or call 514-848-2424 ext. 2284. For more information about the study, you can also visit the website.
---