Italian sculptor Edoardo Malagigi: 'All refuse can play a narrative role'
NOV. 6-10: The artist takes up a week-long residency at Concordia's Centre for Creative Reuse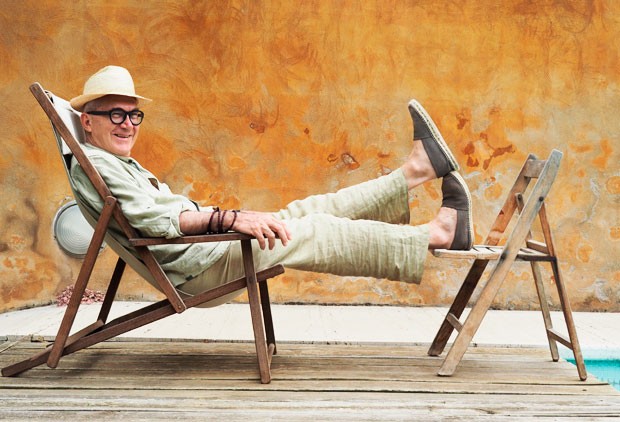 Italian artist Edoardo Malagigi is known internationally for his artful reinventions of waste.

Edoardo Malagigi sees huge creative potential in what we throw away.
For the internationally renowned Italian artist, discarded rags, packaged foods and chocolate coin foil wrappers can all be the stuff of large-scale sculptures.
"Edoardo Malagigi's work brings a playful way to engage the public in conversations about our habits regarding waste and reuse," says Arrien Weeks, depot coordinator for the Concordia University Centre for Creative Reuse (CUCCR).
Malagigi is joining the CUCCR from November 6 to 10 as the first in a series of Faculty of Fine Arts residencies funded through the Strategic Directions Concordia In Residence Appointment (CIRA) program.
"His work couldn't fit more perfectly with the centre's desire to change the culture of reuse at Concordia," says Nicole Macoretta, event organizer.
"We are really excited to learn from Edoardo's process and to give students a leading role in the outcome of this artist residency."
The CUCCR was created last year after receiving funding through a Big Hairy Ideas grant from the dean of students. The centre collects used, discarded materials around campus and repurposes them for new creative pursuits.
"We're asking what the life-cycle of a project is. Could projects be disassembled and (made) available for reuse?" asks Weeks.
"We want all artists to consider the life cycle of materials for artistic making, and to reuse materials in new ways."

'I hope to share ideas'
During his stay, Malagigi will work intensively with fine arts students in the CUCCR, using their materials to plan a large-scale art work that will be constructed on a second visit in 2018.
"I hope to share ideas with students and faculty that can lead to practical development and realization during the coming months," Malagigi says.
There are several events open to the public. On Monday, November 6, Malagigi will discuss past work, social design and sustainability. On Wednesday, November 8, he will take part in a round table discussion on collaborative artmaking. And on Friday, November 10, he will lecture on process and future plans with students.
"I believe that today, we need to endeavour to create a substitute for the idea of the traditional palette of colors," says Malagigi.
"In this way, certain categories of refuse might take its place: iridescent or opaque; brilliant or dark — all refuse plays a role in a new form of narration of the present."

Find out more about Malagigi's work by joining his talks and roundtable discussion at the Sir George Williams Campus. Visit the event listing.
---