A new home for your leftover art and teaching materials
Foamcore? Fabric? Felt-tip pens? Donate it all to the Concordia University Centre for Creative Reuse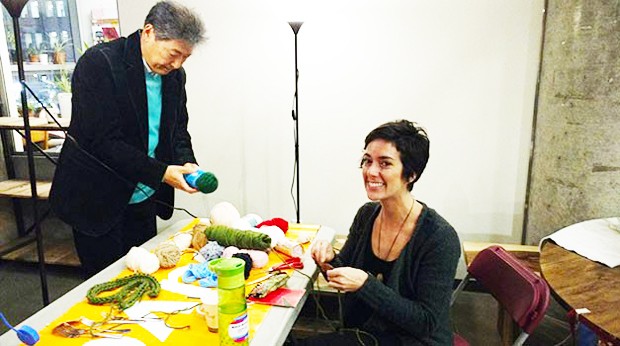 EDITOR'S NOTE: This story was updated in October 2017.
From leftover yarn to extra foam core, your unwanted art and teaching materials can now find a new home.
The Concordia University Centre for Creative Reuse (CUCCR) opened in March 2017. Located in the basement of the Henry F. Hall Building (H-07.13), the CUCCR is a central repository for cast-off artistic and pedagogical supplies that Concordians might otherwise throw in the dumpster.
"We actually pronounce it 'sucker,'" says Anna Timm-Bottos, a master's student in art education and one of the project's originators.

Big Hairy success
Timm-Bottos created the recycling project in partnership with Kathleen Vaughan, an associate professor in the Department of Art Education, and Faisal Shennib from Environmental Health and Safety.
The team received $45,000 in funding from the Dean of Students' Big Hairy Ideas competition last spring.
Timm-Bottos notes that CUCCR reflects the university's commitment to its sustainability policy.
"Aspiring to become a zero-waste campus, CUCCR provides a major step in the right direction," she says.
"Its mandate of re-visioning clean reusable materials creates opportunities and intersections for innovation through interdisciplinary research and collaboration."
All materials will be donated and free for reuse, so now's the time to gather your wool and tubes of discarded watercolours.

The Concordia University Centre for Creative Reuse (CUCCR) is open Wednesday through Thursday between 1 and 5 p.m.
Email CUCCR at reuse@concordia.ca to organize a departmental pick-up of your unused materials or check out how you can make a donation. Or follow CUCCR on Facebook!
---