NEW RANKINGS: Concordia outpaces the Canadian growth rate in research funding
With $50 million in sponsored income, it has the country's second highest revenue increase among comprehensive universities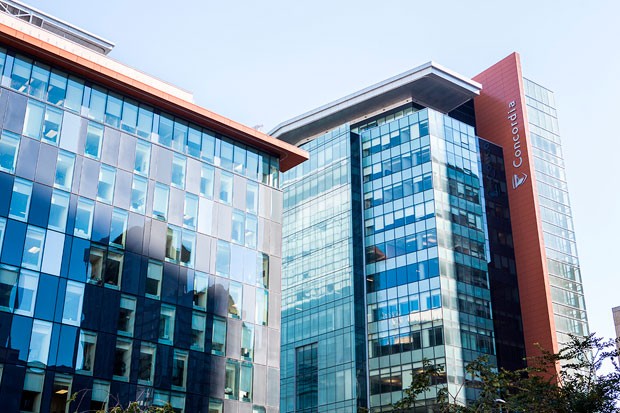 Concordia's growing research profile continues to make waves.
The university maintained its 25th spot on the 2017 Research Infosource list of Canada's Top 50 Research Universities.
The ranking was based on data from the 2015-16 academic year, during which Concordia increased its sponsored research income by 10.9 per cent over the previous year to $50,810,000, outpacing the national average growth rate of 2.2 per cent and the Quebec average growth rate of 6.4 per cent.
This year, Research Infosource also published additional "top 3" lists by institution type for various indicators. Notably, Concordia is ranked an impressive second among universities in the comprehensive category for research income growth.
Christophe Guy, vice-president of Research and Graduate Studies, is thrilled by this news.
"We've put in considerable effort as of late to increase our research. It's a credit to our faculty members, graduate students and postdoctoral scholars, as well as our research administration team, that we continue to see the fruits of our labour," he says.
"I have confidence that we will continue to grow in the coming years. With the Double Our Research strategic direction, we have formally and publicly recognized Concordia's significant output capacity."
This is just the latest academic ranking to recognize Concordia's positive growth this year.
The 2018 Maclean's University Rankings, released earlier this month, saw Concordia gain in six important areas, including Social Sciences and Humanities Research Council of Canada grants and total research dollars.
The 2018 World University Rankings by Quacquarelli Symonds (QS), released in June, saw the university advance by 30 places from last year into the 431-400 range. In August, Concordia was named as one of the world's top 500 universities according to the 2017 Academic Ranking of World Universities, also known as the Shanghai Rankings.

Learn more about the research sector at Concordia.
---