Christophe Guy: 'Concordia's transdisciplinary perspective is unique and inspiring'
The new VP of Research and Graduate Studies shares his vision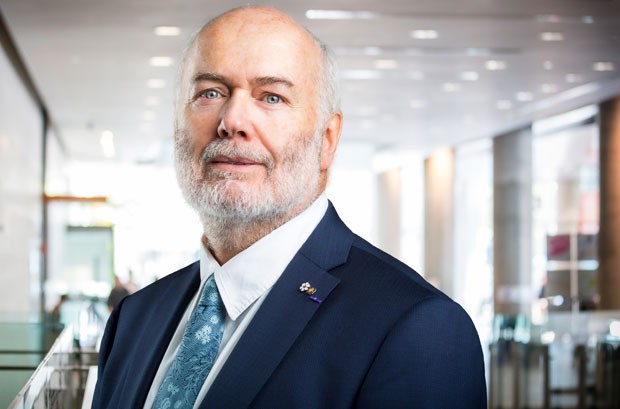 Christophe Guy: "In my time here, my appreciation of Concordia's connectedness has grown even more."

Christophe Guy, vice-president of Research and Graduate Studies, joined the university two short months ago, on August 1. A professor, engineer, researcher and administrator, he is well-known and respected within the Quebec and Canadian academic communities.
Before coming to Concordia, Christophe Guy was chief executive officer (CEO) of the École Polytechnique de Montréal, one of Canada's largest engineering schools. Prior to this position, he was the chief research and innovation officer at the institution.
Over the next five years, he hopes to leverage the responsiveness and flexibility of the university's faculty members and state-of-the-art facilities as well as encourage further collaborations with public and private partners.

'A research-based education gives our students an invaluable foundation'
How did you get here? Tell us more about what brought you to Concordia.
Christophe Guy: My decision to join Concordia was based, in part, on this institution's rising reputation as an innovative and dynamic research and knowledge-creation institution. So far, in my time here, my appreciation of the university's involvement and connectedness has grown even more.
I find the ability of our faculty members to look at challenges from a transdisciplinary perspective — where scholars are able to understand aspects of their colleagues' work in very different fields — to be unique, and quite frankly, inspiring.
I like that Concordia is a multi-faculty research institution, offering varied fields of academic study. This means we're not only making strong contributions in terms of investigations and discoveries; we're also successfully transferring knowledge that can positively impact and inform both government policy and society as a whole.
What is your background? Will you have a research portfolio at Concordia?
CG: I trained as a chemical engineer in France and came to Canada to do my PhD at Polytechnique Montréal. My research started out in the area of chemical reactors, then moved into the realm of the environment when I began investigating the effects of atmospheric emissions and hazardous waste.
For many years, I was involved in big questions about how cities should manage garbage and landfills. For example, in the late 1990s, I participated in the impact study of closing Montreal's Miron Quarry, one of the biggest dumps in North America.
At Concordia, I'll be associated with the new Department of Chemical and Materials Engineering, mainly in a graduate student research supervision capacity.
What is your vision for the research and graduate studies sector at Concordia?
CG: The agility of our researchers, paired with our vibrant two-campus urban location, allows us to use a transdisciplinary perspective to look at new ways to make a difference. Concordians can contribute a lot through our convergence of disciplines, strong administrative support and variety of academic programs.
For me, the key to doubling our research is not just leveraging the responsiveness and flexibility of Concordia's faculty members and state-of-the-art facilities. We must also encourage collaborations with both the public and private sectors and work with recognized international academic partners. All of this provides a solid framework for growth.
Finally, in terms of research revenues, we're going to have to investigate and make a play for alternate sources of funding, such as donations from foundations and other philanthropic organizations.
At the end of the day, though, our responsibility as a university is to train people, and we transfer knowledge and know-how to our students through research. A research-based education gives our students an invaluable foundation in methods and methodology, which will ultimately lead them to being better professionals and contributors to society.
---