Maclean's 2018 rankings: 'Concordia is on a roll'
The university makes gains in research, innovation, student satisfaction and retention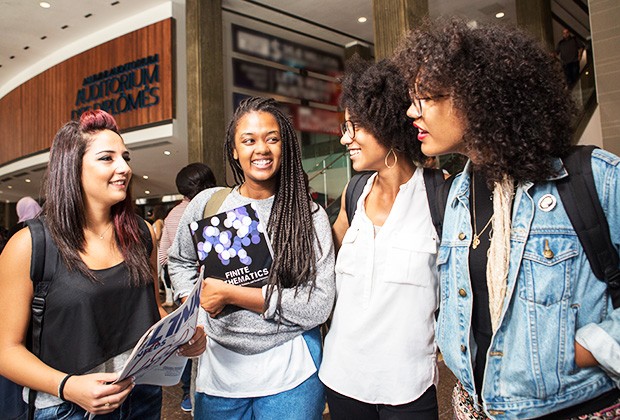 In recent years, Concordia has placed significant effort on improving its services and increasing its scholarships and bursaries — and students have taken notice.
This week, Maclean's previewed its annual University Rankings. The complete edition hits newsstands next Wednesday, October 18.
Concordia placed 10th in the comprehensive university category for the third year running, while advancing in six important areas: student satisfaction, Social Sciences and Humanities Research Council of Canada (SSHRC) grants, total research dollars, library acquisitions, scholarships and bursaries, and reputation.
"The first of the university's nine strategic directions is to double our research, and the jump in our SSHRC grants to second place among comprehensive universities, and to ninth place in total research dollars are a direct result of that," says Graham Carr, provost and vice-president of Academic Affairs.
"It's also gratifying to see our students express their confidence in the route that we're taking. And thanks to our generous donors, Giving to Concordia has steadily grown, directly benefitting scholarships and bursaries."
Concordia also moved up in the Maclean's Student Satisfaction Survey from 12th to 10th place among comprehensive universities, landing in higher positions in seven of the 10 categories compared to last year.
Particularly notable were large improvements in student ratings for mental health services (from 15th to fifth), residence living (from ninth to fifth) and steps to prevent sexual assault (from eighth to fourth).

Reputational boost
As well, Concordia again gained ground in the Maclean's National Reputational Ranking — based on a survey of faculty and senior university administrators, high school guidance counsellors and business people from across Canada.
The university placed in the top 15 among 49 Canadian universities for Best Overall, Highest Quality and Most Innovative. It maintained its position among the Leaders of Tomorrow:
Best overall – 15th (up from 18th in 2017)

Highest quality – 15th (up from 18th in 2017)

Most innovative – 15th (up from 19th in 2017)

Leaders of tomorrow – 13th (13th in 2017)

As a side note, Maclean's also found that Concordia has the third most international graduate student body (49.2 per cent) among the 30 Canadian universities with the largest offerings of master's and PhD programs.
"As a next-generation university, we're on a roll. People outside the university are taking note of the great things happening here which is clearly reflected in our rising reputation," Carr says.
"These results prove that our students, faculty, staff and supporters can take pride in their efforts to make Concordia one of this country's top post-secondary institutions."

Read about Concordia's recent gains in the Center for World University Rankings and the NTU Ranking, as well as the 2017 Shanghai Rankings, QS World Rankings and Times Higher Ed Young University Rankings.
---