Too many blood tests? This Concordia researcher only needs a few drops
Dajana Vuckovic is using mass spectrometry to speed up medical diagnosis and treatment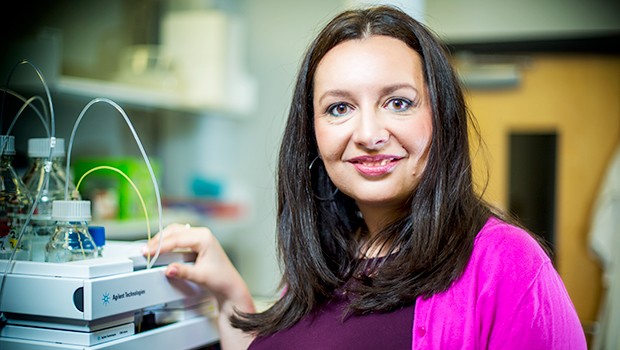 Dajana Vuckovic, an assistant professor of chemistry and biochemistry in Concordia's Faculty of Arts and Science, is improving the amount of biochemical information that can be measured from a few drops of blood.
The desired result? To speed up medical testing, diagnosis and the identification of correct treatments.
As she explains: "Right now, your doctor will send you to do a blood test. Then the results come back, and the doctor asks you to go for a second test. This can continue for several iterations until the doctor can correctly diagnose and treat you." To improve this process, Vuckovic measures hundreds of biomolecules in a single test, rather than measuring a single diagnostic marker as is currently done.
Vuckovic's research team uses mass spectrometry, a technology that allows them to measure incredibly small quantities of molecules — one billionth of a gram of a pharmaceutical drug, say — in a blood or urine sample, or as few as 50 biomolecules in a single cell.
"We are pushing the limits of how many metabolites we can measure, how accurately we can do this measurement and how we can best use this data to determine someone's health status," Vuckovic says.
This exciting new area of research is called metabolomics. It brings together an interdisciplinary mix of researchers from the fields of chemistry, biology, computer science, medicine and statistics.
"The extensive amount of metabolic information will allow us to better monitor a patient's health status. This will help in the development of personalized medicine and personalized preventive health."

'We must make sure that young women have role models'
Vuckovic, who holds the Concordia University Research Chair in Clinical Metabolomics, Biomarkers and Preventive Health, finds analytical chemistry to be an exciting and dynamic discipline — one that touches all aspects of our daily lives.
"It helps us keep our food and water safe, develop safe medication and vaccines, diagnose diseases, solve crimes and measure environmental contaminants."
Vuckovic is currently expanding the scope of her work to examine the effect of food contamination on our health, specifically from compounds called mycotoxins.
She chose Concordia for its vibrant atmosphere — "it's collegial, dynamic, innovative and interdisciplinary" — and points to facilities at the Centre for Biological Applications of Mass Spectrometry (CBAMS) that have allowed her to advance her research.
An advocate for women in science, technology, engineering and mathematics (STEM), Vuckovic was influenced by her own mother, a mechanical engineer in the aerospace and automotive industries.
"She showed me that women can succeed in any field," she says.
"We must make sure that young women have role models, and that they pursue their passion for science and engineering. We must all work to make the accomplishments of female scientists and engineers more visible and accessible to all age groups."
Vuckovic is thrilled to experience her colleagues' evolution first-hand.
"I recently saw my first graduate student receive her degree. It's deeply rewarding to see my students develop into independent young scientists."

Find out more about Concordia's Department of Chemistry and Biochemistry.
---