ON AIR: The next generation of Quebec's business disrupters
A new French podcast series with Les Affaires highlights Concordia's dynamic startup culture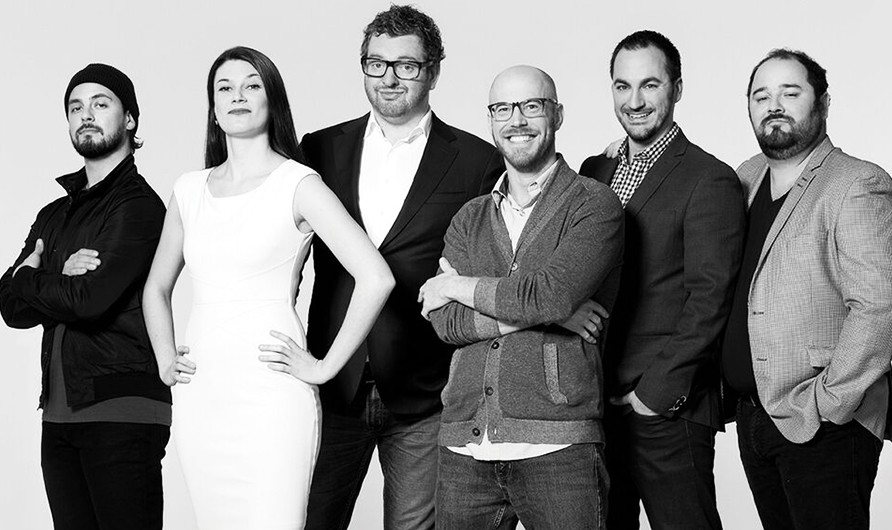 What challenges do millennials face when starting businesses in Quebec?
It's a question that six young Québécois entrepreneurs hope to address in the coming months as part of a French podcast series they're co-producing with the business newspaper Les Affaires.
Dubbed "Les Dérangeants" ("the Disrupters"), the podcast is presented by Desjardins in collaboration with Concordia. It will offer a voice to the new generation of entrepreneurs in Quebec, while providing an unvarnished, honest look at the day-to-day reality of running a startup.
Every two weeks, three of the show's founding entrepreneurs will join Les Affaires journalist and host Matthieu Charest in Concordia's Studio C to interview a special guest and debate a theme related to entrepreneurship in the province.
Their mission, above all, is to shatter one-dimensional stereotypes.
"We often talk about millennials as though they're not part of the business community," says Julie Cailliau, chief editor at Les Affaires and partner with Les Dérangeants.
"In fact, they're often the driving forces behind businesses, and they need to be better represented."
The podcast will run six shows this spring and eight next fall. The first episode, "L'entrepreneur-imposteur," launched online on April 18. It explores the subject of lying in business, and features an interview with Olivier Primeau, founder of Beachclub — the self-described "largest outdoor club in North America."

'Young entrepreneurs have a wealth of resources at Concordia'

As part of their collaboration, Les Dérangeants will air a series of short interviews with Concordia entrepreneurs during future episodes of the podcast. These "Écosystème Concordia" segments will provide snapshots of the dynamic startup culture at the university.
The first one will feature Charles Bierbrier (MBA 03), president and founder of Bierbrier Brewing Inc. and current entrepreneur-in-residence at the John Molson School of Business National Bank Initiative in Entrepreneurship and Family Business.
He will focus his discussion on mentorship. Anne Beaudry, associate professor and director of the forthcoming Graduate Certificate in Entrepreneurship, will discuss the need for professional skills and knowledge training. Sandra Nichol, executive director of the John Molson Executive Centre, will share the successes of Certificate in Business Ownership participants.
With innovation hubs such as JMSB and the District 3 Center for Innovation and Entrepreneurship, Concordia has fostered an ideal environment for creative partnerships over the years.
"We're no stranger to entrepreneurship," says Stéphane Brutus, dean of JMSB.
"Young entrepreneurs have a wealth of resources at their disposal here, ranging from District 3 and JMSB's two new certificate programs to our research centres dedicated to knowledge creation in this area. Our partnership with Les Affaires is a welcome addition to our entrepreneurial community."

Listen to the first episode of Les Dérangeants and find out more about Concordia's John Molson School of Business.
---