And the winner of 2 Canadian Screen Awards is...
Film professor Daniel Cross and a Concordia crew triumphed with the music documentary I Am the Blues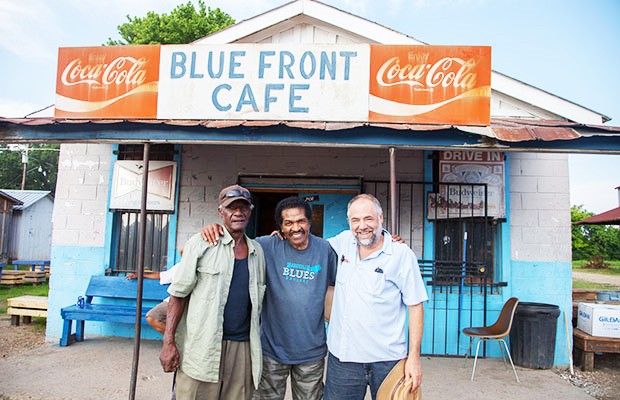 From left: Jimmy Duck, Bobby Rush and director Daniel Cross. | Image courtesy of EyeSteelFilm

Daniel Cross (BFA 91, MFA 98) is a happy man. His latest film, I Am the Blues, won two Canadian Screen Awards on March 12: the Ted Rogers Best Feature Length Documentary and Best Cinematography in a Feature Length Documentary.
Cross is an associate professor of film production at the Mel Hoppenheim School of Cinema and founder of EyeSteelFilm.
A number of other Concordians also contributed to the film's success. John Price (MFA 96) was the award-winning cinematographer, and the sound person was Emmet Henchey (BFA 95), technical director in the Cinema Department. Ryan Mullins (BFA 05, Gr Dip 08) was editor, cook, chief bottle washer, assistant cameraman, driver and everything else.

'The first person is the expert of their own life'
When did your interest in the blues start?
Daniel Cross: In 1979, the World's Largest Winnebago brought old blues musicians to the Vancouver Folk Festival. A friend and I tried to see if we could hunt these guys down.
We met Frank Frost, a harmonica-guitar player, in a park. We took him to the liquor store and he gave us each an empty box and proceeded to buy two cases of vodka. We went back with Frost to the Winnebago, where we met Sonny Terry, Honeyboy Edwards, Reverend Dan Smith, Brownie McGhee, Big Jim Brewer, John Hammond Jr. and Kansas City Red.
We ended up becoming their roadies for a few days. We made sure they went onstage, got plugged in and did their various sets.
The experience changed my life. I always wanted to do a documentary where I could interview old blues musicians.
How did you get this up and running? Why did you choose the areas you chose?
DC: In 2011, Pop Montreal hosted a revue show of artists from the Ponderosa Stomp — a festival that happens annually in New Orleans. For 15 years, a guy named Dr. Ike (Ira Padnos) has put classic blues, jazz and soul musicians that have been lost through time back on stage.
The show was fantastic. I felt like I was in the Winnebago again. So I got in touch with Dr. Ike, who is an anesthesiologist and a musicologist, and he invited me to New Orleans.
He picked John and me up on a street corner and took us from New Orleans to Memphis. We stopped in every little town and met some 80-year-old blues musicians he knew.
When we got to Memphis, Dr. Ike said, "You know, everybody goes this route. If you want to add something unique to this story, let's go from New Orleans to Texas. There's an equally active blues scene there that nobody talks about."
So we did. We filmed for two weeks every summer and winter between 2013 and 2015.
How do you approach just "letting it happen" as a documentary filmmaker?
DC: What I learned at the World's Biggest Winnebago — and what has directed my choices as a documentary filmmaker ever since — is the power of the first-person lived experience.
The first person is the expert of their own life. The idea is, you go meet the people who have lived something. That's your expert and that's who you document. You don't go to textbooks or academics or experts to explain it to you.
You find the people who lived it and you hang out with them. And that's what we did. We just hung out until they liked us.
Was it hard to gain trust, or were people fairly open?
DC: It was tricky at first because most of them were quite poor and had had a lot of bad experiences in their lives — especially with white people. I think they found it unique to have these guys coming from Canada to try to get a story out of them.
What was really important was that we had the thumbs up from Dr. Ike. They totally trusted him.
Bobby Rush is a star, and he took to the idea really quickly. He suggested we travel with him, because his presence would attract the attention of other players.
And it worked. When we went with Rush, a lot of the musicians were excited. They would play and jam and joke and tell stories. That's what I was trying to get — a sense of community.
Your film focuses on what has to be one of the most storied places in America and one of the most legendary styles of music. How did you stay focused and not get sucked into clichés?
DC: We kept it simple.
For instance, we didn't use a drone. We could have gotten these big aerial field shots, but we were determined to reflect the simplicity that was in front of us. The blues is so immediate and direct. No artifice.
We put the tripod back in the van. We sent excess crew home. We went hand-held with camera and boom mic, so we wouldn't interrupt or slow things down.
We also had to be careful of what I call "ruin porn." In the plantation world of Mississippi, the ruins are beautiful. All these little towns where the train went through are almost abandoned. Mississippi was the richest state and it became the poorest one.
We wanted to show it alive.

Find out more about Concordia's Mel Hoppenheim School of Cinema.
---