STEM SIGHTS: The Concordian who sheds new light on biomedical imaging
PhD candidate Diana Consuelo Rodríguez Burbano uses luminescent nanoparticles to advance disease detection.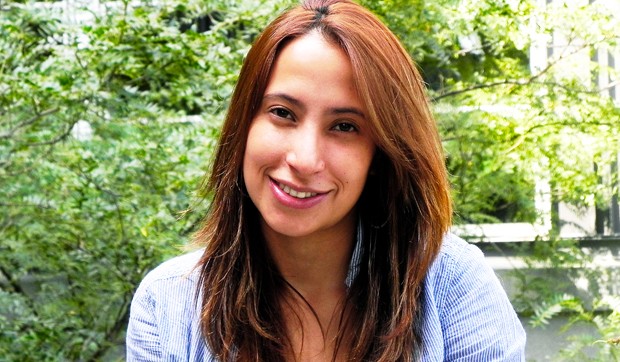 'I really believe that the advance of nanomaterials in biomedicine requires a multidisciplinary research group.'

Remember those cool glow-in-the-dark stars you had on your bedroom ceiling as a child? Or the sea of light sticks swaying with the beat at your favourite concert?
Luminescence is the phenomenon behind both.
Diana Consuelo Rodríguez Burbano is a PhD candidate and member of the Lanthanide Research Group, overseen by John Capobianco, professor of chemistry and biochemistry in the Faculty of Arts and Science.
She is currently working on developing persistent luminescent nanomaterials that could be used for biomedical imaging. These nanomaterials are charged outside the body and release their energy as light once inside. Diana has so far managed to achieve up to five hours of continuous emission from one particular type of nanomaterial.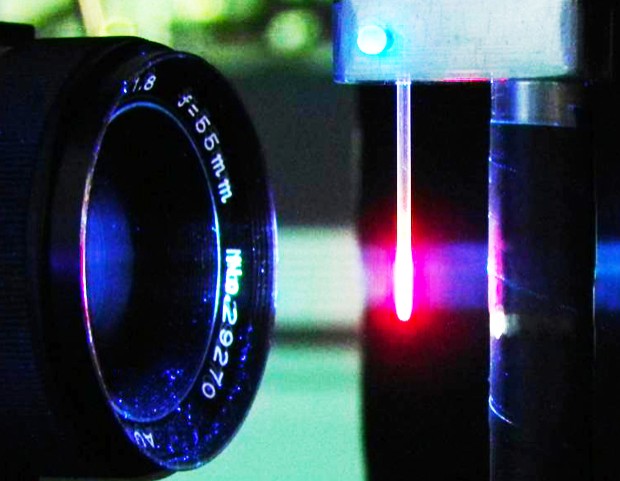 'The advance of nanomaterials in biomedicine requires a multidisciplinary approach'


How does the above image relate to your research at Concordia?
Diana Consuelo Rodríguez Burbano: My research area focuses on persistent luminescent nanomaterials, also referred to as "afterglow nanomaterials." The most attractive optical property of this type of nanoparticle is that it can store energy when exposed to forms of irradiation like ultraviolet or X-ray.
The energy is stored in trapping sites that are found within the nanoparticles. Upon stopping irradiation, the energy stored in the shallow traps is released in the form of luminescence at room temperature. This luminescence persists for a period of time, until all the stored energy in the shallow traps is released.
What is the hoped-for result of your project? And what impact could you see it having on people's lives?
DCRB: Persistent luminescent materials are widely used in emergency and warning signs, luminous paints and textile printing and fibres. However, our research is oriented toward biomedical applications in the development of nano-sized luminescent probes for in vivo imaging.
Imaging a person's body often requires exposing it to high energy radiation and in order to acquire in vivo images, the subject is continuously irradiated with an external source that may cause them damage.
Persistent luminescent nanoparticles can be charged outside the body and used to generate images upon injection into the patient. Currently, there are highly sensitive cameras that can detect and monitor the persistent luminescence signal.
Furthermore, once the light that can be released at the normal body temperature has been completely released, the energy in the deeper traps can be liberated using near-infrared excitation, a harmless radiation for the human body.
The red persistent luminescent nanophosphor we developed has potential as an in vivo imaging probe.
What are some of the major challenges you face in your research? What are some of the key areas where your work could be applied?
DCRB: I really believe that the advance of nanomaterials in biomedicine requires a multidisciplinary research group.
We're looking to design nanoplatforms that ultimately provide accurate diagnostics, early detection and efficient treatment to battle diseases. This requires the expertise of chemists, biochemists, biologist, physicists, materials scientists and the medical community.
It is worth noting that these materials may also have applications in industries that produce displays, sensors, lighting safety devices and optical storage of data.
What person, experience or moment in time first inspired you to study this subject and get involved in the field?
DCRB: My mom is a molecular biologist. She started and completed her graduate studies when I was young. I have a lot of memories of doing my homework at my mom's desk in her lab while she was conducting experiments. Growing up in this environment shaped my personality and influenced my choice to pursue science and academia.
When I decided to work with nanomaterials, a colleague of my mother's suggested I explore the research of John Capobianco.
I love the science behind luminescent, upconverting nanoparticles, but most of all, I love their potential for biomedical applications.
How can interested STEM students get involved in this line of research?
DCRB: In this field, we need the knowledge and high-quality work of all areas of sciences. So, people of every background are more than welcome.
This type of research involves a "think, propose, experiment, evaluate, think more and conclude" approach. So prepare yourself to win the long-distance marathon. Maintain the right pace, learn to let go of frustrations that might arise, never doubt yourself and be open to taking on alternative routes.
What do you like best about being at Concordia?
DCRB: When you enter Concordia, you become part of a diverse, fun and loyal family. You not only receive an outstanding education, which will lead to an exciting career, but you also gain invaluable friends and life-shaping experiences along the way.

Find out more about Concordia's Department of Chemistry and Biochemistry.
---