'We can be proud of the work that we've done'
ACUMAE and Concordia sign an agreement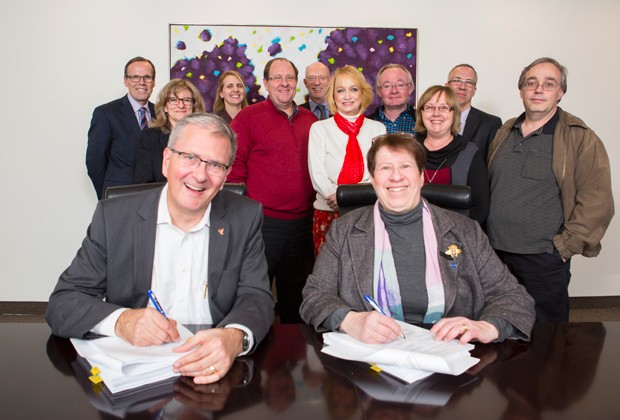 On March 10, representatives from the Association of Concordia University Management and Administrative Employees (ACUMAE) and the university met to sign their new agreement.
Each party expressed a feeling of accomplishment and determination to keep working together in mutually constructive ways.
"Today's agreement reflects a continuation of Concordia and ACUMAE's commitment to building positive working relationships and of recognizing the contributions of our members to the university's strategic goals," says Miriam Posner, ACUMAE president.
Roger Côté, vice-president of Services, agrees.
"We can be proud of the work that we've done to reach this agreement," he says.
"I'm looking forward to building on this achievement during our future meetings."
The agreement was approved by the ACUMAE membership and the university's Board of Governors. It will be posted on Concordia web pages shortly.
Representatives of ACUMAE: Miriam Posner; Joanne Beaudoin; John Dickson; Kathleen O'Connell; Desmond O'Neill. Regrets: Dan Parillo.
Representatives of the university: Alan Shepard, President; Graham Carr; Roger Côté; Sonia Coutu; Greg LeBlanc; Daniel Therrien; Carolina Willsher. Regrets: Philippe Beauregard; Denis Cossette.

---