Optimize your Concordia schedule ... in an instant!
The Class Schedule Builder — created by grads for students — launches March 1. Take it for a test drive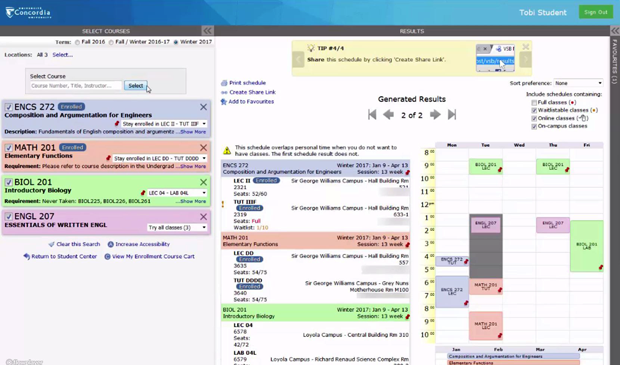 The Class Schedule Builder lets you visualize your week at a glance.

Choosing your courses for next year just got a whole lot easier.
The Concordia Class Schedule Builder officially launches March 1 — and it's a game-changer, says Jean-François Bourgault, manager of the Student Information System (SIS) Planning and Support office.
"Previously, students had to find their own ad hoc way to keep track of what their schedule would look like if they added a particular class," Bourgault explains.
This meant they had to keep trying multiple combinations before arriving at the optimum version. The new tool lays out your schedule in a calendar format, letting you see at a glance what your week will look like given your chosen combination of courses.
The Class Schedule Builder is smart enough to accommodate your particular requirements — and generate multiple possible scheduling options, in an instant.
"Students can choose to filter out evening classes, for example," Bourgault says.
"Or maybe you have a job to factor in and you need to block off the time slot while you're at work — the tool works with your availability and proposes a few different options."

'Students feel confident they're getting the best schedule'
It's that level of flexibility that the developers were going for, says Concordia graduate Alan Weeks (BComm 10). Since founding the company VSB Software Inc. in 2010 with Sean Weeks (BEng 08), the brothers have become software providers to more than 90 university campuses across North America.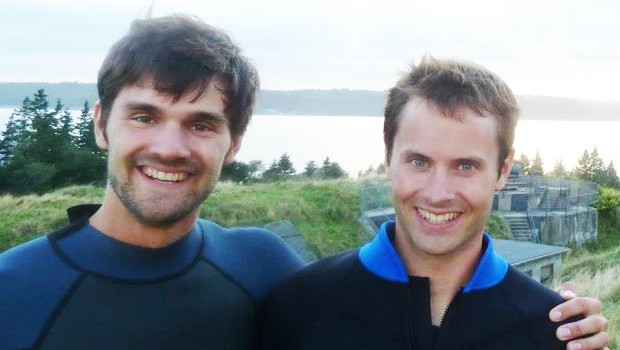 Concordia grads, and brothers, Alan and Sean Weeks, co-founded VSB Software Inc. Developer Sean Weeks began work on the tool while he was an electrical engineering student at Concordia.

"I talked to one student who swore his on-time graduation was owed to us because the schedule builder let him balance work and school," Alan Weeks says.
"Google says the best searches don't just show up in the search — they show up in peoples' lives. I'd like to think that's true for our tool too."
Sean Weeks began work on the software prototype during his days as an electrical engineering student at Concordia. For him, it has been a rewarding journey both professionally and personally.
"I know students feel confident they're getting the best schedule they can."

Soft launch attracts 11,000 users
The new tool soft launched in December 2016 and some 11,000 Concordians gave it a try.
"We've been hearing that students really appreciate the new functionality," says Paul Martin, a business analyst with SIS Planning and Support.
You can search by course number, title or instructor. You'll be warned about potential conflicts, depending on the section of the course you select. The system is also designed to show you the course description, plus information on pre- or co-requisites, or anti-requisites and other enrolment restrictions.
Course information for upcoming terms will be available as of March 1.
"We recommend you spend some time building multiple course combinations before registration opens," Martin says.
"That way, when it's your turn to register, you're all ready go to — you can jump straight to adding courses through the Enrolment Course Cart in your Student Centre."
Registration dates vary by term and according to the number of credits students have left to complete. For the registration date that applies to you, check the Enrolment Dates box on your Student Centre page.

To learn how to use the new Concordia Class Schedule Builder, visit your Student Hub and watch the how-to video.
---