No bottlenecks, please! Student entrepreneurs take the headaches out of event planning
The new Uguud app uses SMS messsaging to make staying in the loop a cinch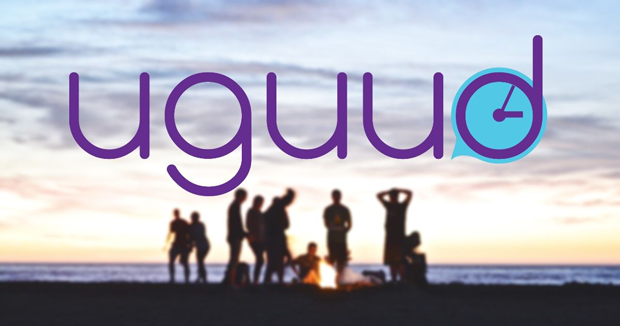 After a frustrating evening trying to rally his friends for a last-minute board game get-together, Tyler Ramsay was vexed.
The third-year software engineering student had tried using Facebook, but only a small portion of his friends saw the post; he tried sending out a group message, but the conversation quickly went off topic; he tried firing off individual texts, but found it too difficult to juggle all the responses.
There had to be a better way.
"I needed a last-minute event organization app that simplified the process, but when I looked around I could not find one that met my needs," he says.
That's when Ramsay approached his close friends and fellow third-year software engineering students Philippe Miriello, Jacob Desrochers and Denis Kefallinos with a plan to create their own app.
Fast-forward to this summer, and Uguud (pronounced "you good") is now officially up and running on both Apple's App Store and Google Play.
"The focus for the app was to avoid many of the bottlenecks other event organization apps encounter," explains Kefallinos. "For example, a lack of timely responses, commitments to attend or sufficient reach."
Uguud does this by making use of a common feature all mobile phones share: text messaging.
Employing a straightforward approach to event management, the app allows organizers to create and send invitations through a push notification or text. Whether or not invitees have the app, they will receive the invite directly to their cell and can respond instantly back via text with a yes or no (no more wishy-washy maybes). Moreover, Uguud allows organizers to communicate with invitees either one-on-one or through broadcast messages.
To date the app has been used by organizers of the CIBC 401 Bike Challenge and Youth for Christ Canada. This fall, the Concordia Student Union plans to incorporate Uguud into its coordination and promotion of Orientation events.
Ramsay is really happy it's starting to get exposure. "It's neat to know that something I helped build is being used to facilitate communication at important events."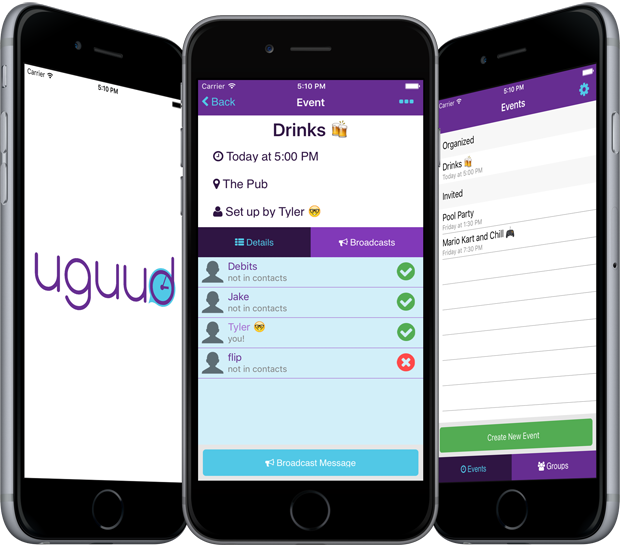 'Better than expected'
Developing Uguud came with some challenges for the young engineers, the first of which was securing funding.
Luckily, Miriello had previously worked with Silent Partner Software, a Montreal tech company, and convinced the CEO to hear out their pitch. It was an experience Kefallinos is not likely to forget.
"When we went in, they told us all to dress really nice. Little did I know that this message was only sent to me, while everyone else — the investor and my friends included — decided to wear goofy-looking Hawaiian shirts to pull a prank on me," he recalls.
"It eased a lot of the tension, and it made the atmosphere of the meeting and our perception of our investor pretty chill."
As fortune would have it, the pitch was a success and Silent Partner Software decided to back the Concordians in their quest to develop Uguud.
For Miriello, it was an incredible validation of their idea and qualifications as software engineering students to take on a project like this. "The funding was better than expected, too, as they also included a location to work and access to their knowledge base."

'Our engineering professors would be proud'
Soon after the app team received funding, the Institute for Co-operative Education — to which the four students belong — approved the development of Uguud as a summer work term. This meant that not only would the students experience the full life cycle of the project, but they would also get to have it be part of their academic record.
The ball seemed to be rolling for the aspiring app developers, but then they hit a snag.
"During our first experience with a client, a national conference no less, we learned that some of the text messages were being blocked as spam by certain service providers," Miriello explains.
"We had to respond quickly, do our research and deliver a patch that made our messages more trustworthy to these companies who essentially held the viability of our service in their grip!"
Now that the app has been revised and officially launched, the group can look back proudly on their efforts.
"The four of us have been working together since we started here at Concordia. We've been a team of friends for three years now," says Kefallinos.
"Last term we even worked together on our mini Capstone project. That experience in particular prepared us for a lot of the challenges that came with working on a single product. We've adopted a pretty solid process, and I think our engineering professors would be proud."

Learn more about Uguud.
Find out more about Concordia's Department of Computer Science and Software Engineering.
---