Mentors pave the way for post-graduate success
A new student-led initiative at Concordia extends a helping hand to incoming PhDs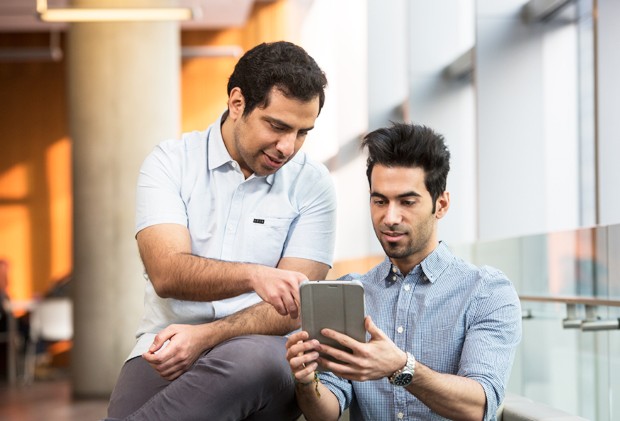 "Usually, mentors want to help others because they've experienced the same challenges first hand," says PhD student and mentor Mostafa Ayoobzadeh (right). | Photo by Concordia University

Like many graduate students starting out in a new program, PhD candidate Mostafa Ayoobzadeh had been more or less left to figure things out for himself — how to register for classes, how to apply for funding, how to find a supervisor.
He was also at a university he didn't know, in a city he'd never lived in, and navigating all of this in his second language. To top it all off, he arrived in Montreal from Iran in the middle of January...
Last semester, inspired by both his own experiences and previous training, the graduate student at the John Molson School of Business, launched Concordia's first mentoring program for PhD students.

It's about more than academics
Part of Ayoobzadeh's own doctoral research project, the program is supervised by Kathleen Boies, the Concordia Research Chair in Leadership Development, and supported by the Student Success Centre and the Graduate Students Association.
It matches new students with volunteer mentors based on their research areas and interests, and it's open to doctoral students from across all faculties.
"Usually, mentors want to help others because they've experienced the same challenges first hand," says Ayoobzadeh, whose major discipline is organizational behaviour.
"Although we understand they are dedicated to their studies, our mentors are also truly committed to helping others."
Participants are encouraged to meet once a month to discuss issues such as adapting to the course load and to university life, but also day-to-day topics such as lodging and getting around the city.
Although the Student Success Centre offers mentorship opportunities to all new students, Ayoobzadeh designed his program for PhD students specifically.
The mentors take part in short workshops at the beginning of the term and are handed a flexible plan, giving them the autonomy to steer the mentorship in the direction best suited to their mentees.
Whether the incoming students are undergraduate or graduate students, the benefits of peer support are the same.
As Yuliya Kondratenko, manager of services for new students at the Student Success Centre, points out, new students are eager to determine their place on campus.
"It's also important for them to start building their community as early as possible. Mentors help them do that."

Fostering a mentoring spirit
Ayoobzadeh was impressed by the number of participants interested in the program. Forty-two pairs from across Concordia's four faculties were matched for the pilot implementation.
He hopes the initiative will help to educate more Concordia students about what it means to mentor and to be mentored.
For now, the student-led program for PhD students is another step towards a stronger culture of support at the university.
"One of Concordia's key institutional values is its fierce sense of togetherness," says Kondratenko. "Fostering a mentoring spirit means giving a helping hand when it is needed the most, and providing students with a sense that they are not going through it alone."

Contact Mostafa Ayoobzadeh to learn more about how to apply to Concordia's Mentoring Program for PhD Students.
Find out more about mentoring offered through the Student Success Centre.
---