128 hot docs from 35 countries: RIDM is back!
This November, Concordia partners with the Montreal International Documentary Festival for film screenings, a Kino VR and more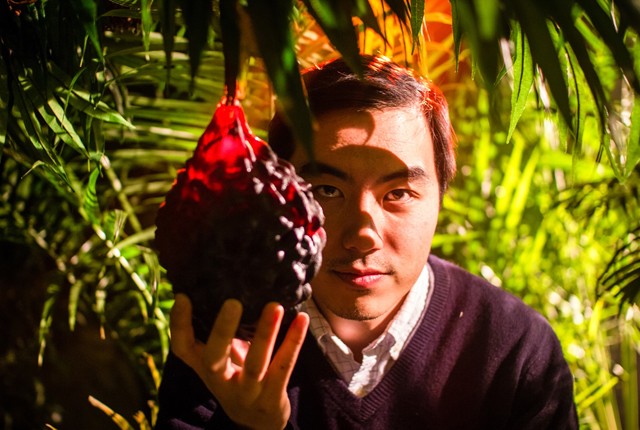 Alumnus Yung Chang (
Up the Yangtze, The Fruit Hunters
) is included in this year's program.

A proselytizing missionary haunts the metro in Montreal, a blind family seeks serenity and a retired cop keeps people from committing suicide — the Montreal International Documentary Film Festival (RIDM) is back for another year and it promises an eclectic mix of film topics and approaches.
The 19th edition will take place from November 10 to 20, screening 128 films from 35 countries at Concordia and other festival venues.
RIDM is Quebec's only festival dedicated to documentaries, presenting the best reality-based films, including the works of established directors and new talents.
Mara Gourd-Mercado, the festival's executive director, says RIDM's partnership with Concordia allows it to benefit from the university's state-of-the-art cinema facilities in a bustling part of town.
"We're screening the opening and closing films at the wonderfully big Alumni Auditorium to reaffirm our collaboration with the university and reach out to the anglophone community. We've built a relationship with that sector of the city, thanks largely to Concordia."
The opening film is the Quebec premiere of Fire at Sea by Gianfranco Rosi. It's an immersive experience in the everyday life of Lampedusa, an Italian island famous for being the European landing point for refugees.
The closing film is the world premiere of Jesse Rosenfeld's Freelancer on the Front Lines, about how the media covers conflict in the Middle East.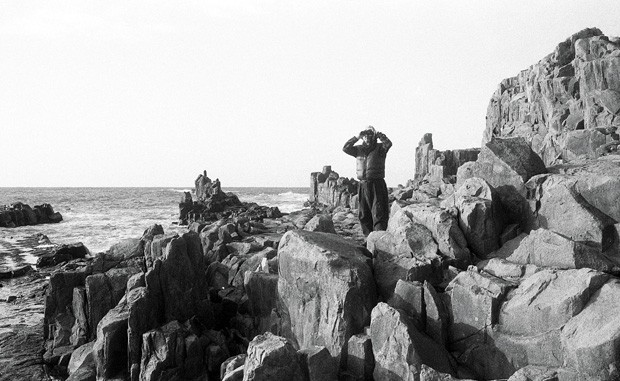 A still from alumnus Yung Chang's latest film,
Gatekeeper
.

6 films from Concordians
The program this year includes films from six directors with ties to Concordia, including alum Yung Chang (Up the Yangtze, The Fruit Hunters).
"It's a great feeling to bring my film Gatekeeper full circle, back to my hometown and to RIDM, the coolest festival in Montreal," says Chang (BFA 99). "After travelling around the world — the highlight being our win at the Los Angeles Film Festival for Best Short Documentary — I'm looking forward to sharing this film with local audiences."
Gatekeeper is in the national short and medium-length competition. It's about ex-cop Yukio Shige, who watches over the Tōjinbō cliffs, the site of numerous suicides in Japan. Working with a team of volunteers and a set of binoculars, Shige has made it his mission to save lives with consoling words.
Chang will be competing against fellow alum and current MFA student Daniel Dietzel (BFA 12). His film 24.24.24 features a static shot of Marché Maisonneuve, filmed over 24 hours. Each hour is visible simultaneously, and sped up, with the image separated into temporal strips.
"I'm preoccupied with what a moment is, in cinema, and what it means on a grander, global scale," says Dietzel, who is excited that friends in Montreal will get to see his film at the festival.
Also competing in that category is the dialogue-free Animals under Anaesthesia: Speculations on the Dreamlife of Beasts, from Brian M. Cassidy and Concordia alumna Melanie Shatzky (BA 02). Shatzky was awarded Best New Talent from Quebec/Canada at RIDM in 2012 for her film The Patron Saints. Part lyrical document, part farce, Animals under Anaesthesia explores the imaginary unconscious minds of its subjects. Images of sex, death and the natural world are made manifest in the murky and disquieting dreams of a dog, cat, pig and rabbit.
"I studied photography at Concordia, where there was a great emphasis on trusting one's own intuitive process in the making of images," says Shatzky. "We were guided in our own ideas without ever expressly being told what to do. Since I graduated nearly 15 years ago, I have carried on with this approach to my filmmaking."
Meanwhile, former Mel Hoppenheim School of Cinema student Carlo Guillermo Proto's film Resurrecting Hassan is in the Canadian feature competition. It's about the Hartings, a blind father-mother-daughter trio who sing in the Montreal metro. They are grieving the loss of their son and brother, the only sighted member of the family.

RIDM will feature screenings of three films co-presented with Cinema Politica Concordia, including
The Prison in Twelve Landscapes
, a documentary that conveys the need for prison justice.

A free soirée of shorts
For cinephiles on a budget, there is La soirée de la relève ICI RDI — a free event focused on short films by up-and-coming filmmakers. Oksana Karpovych, a third-year Concordia student in film production, will present her 14-minute film, André Levesque missionnaire, about a self-described missionary who haunts the Montreal metro.
"When I met him he was holding a plastic statue of the Virgin Mary, dancing to hip-hop music. That got my attention," Karpovych says.
Also screening during the soirée is Les beiges, an 11-minute documentary by Concordia student Étienne Lacelle that won the Pan-Canadian Cinema Student Award at the Festival du nouveau cinéma.
"It's about a gang of car enthusiasts in Aylmer, Ontario who ride around in cars covered in beige house paint," says Lacelle, a fourth-year student in cinema production. "But it's not a race. It's more like a skateboard park, where you drift around."

Concordia students at RIDM's first Kino VR
As part of Doc Circuit Montréal, RIDM's industry conference, the festival will be holding its first ever Kino VR event. It's like a hackathon, but for interactive virtual reality–based content creation.
"The Kino VR will give the Concordia student team the chance to work together with professionals in workshopping, developing and producing a new media project," says Daniel Cross, associate professor and Concordia University Research Chair in Interactive Documentary Filmmaking.
His chair is co-sponsoring the VR event along with the Concordia Documentary Centre.
According to Marco Antonio Luna Barahona (MFA 01), Cross's research associate, this is the first time a big Montreal film festival has done a Kino VR event and the first time a team of university students is participating.
"We will blend the talents of a coder, an artist or animator, a filmmaker and a digital storyteller," says Barahona, adding that it's a private, non-competitive addition to RIDM's calendar.
Cross is also inviting select students to participate with an international panel of experts in creating the RIDM "anti-manifesto" on new media documentary practices.
"It's expected to have international impact — after all, it is their generation that is developing a new digital literacy," he says.

Cinema Politica Concordia joins forces with RIDM
RIDM will also feature screenings of three films co-presented with Cinema Politica Concordia.
They are: Mixed Feelings (Guy Davidi, Norway), about the ways in which Israel's occupation of Palestine is embodied in its citizens; Angry Inuk (Alethea Arnaquq-Baril, Canada), about Inuit activists who challenge anti-sealing NGOs while correcting misrepresentations of sealing and Inuit culture; and The Prison in Twelve Landscapes (Brett Story, USA), a documentary that conveys the need for prison justice. The last two films are in the Canadian feature competition.
All these screenings are at Concordia, either at the J. A. DeSève Cinema, located on the ground floor of Concordia's J. W. McConnell Building (LB), or in the Alumni Auditorium (H-110, Henry F. Hall Building). Check times and exact locations on the RIDM schedule.

Montrealers are always up for a language debate, right?
Never one to dodge controversy, RIDM is screening Quebec My Country Mon Pays (John Walker, Canada). This 89-minute film in the Canadian feature competition documents the evolution of relations between anglophones and francophones in Quebec, featuring the filmmaker's family as well as interviews with key cultural figures.
"It takes the two solitudes to the screen through Walker's own personal life experiences," says Gourd-Mercado.
The November 16 screening at Concordia will be followed by a debate: "Anglophone Quebec and its Discontents."
Lorraine O'Donnell, affiliate assistant professor with the School of Community and Public Affairs, and a coordinator and researcher with the Quebec English-Speaking Communities Research Network (QUESCREN), will join the panel debate following the film's screening. This event is reserved for ticket holders.
And, says RIDM's director, "it promises to be lively."
Consult the full RIDM schedule and purchase tickets for screenings.
Find out more about Concordia's Mel Hoppenheim School of Cinema.
---