'Concordia grads are among the most grounded and best-trained journalists'
The Montreal Gazette awards bursaries and scholarships to the university's future star reporters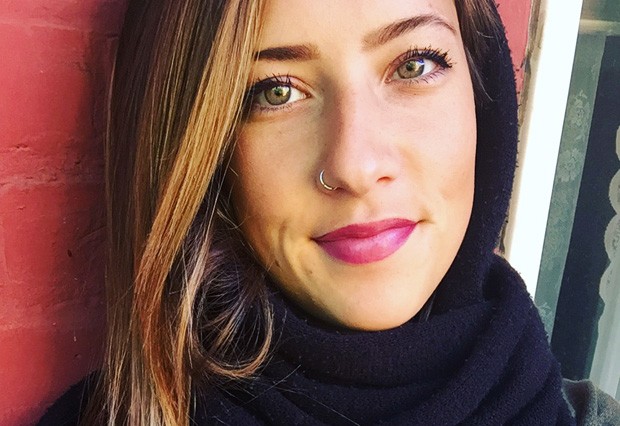 Graduate Diploma student and award-winner Emilee Gilpin: "I have a Métis cultural background, and that's where I work from — that place of accountability." | Photo courtesy of Emilee Gilpin

Writer Matt D'Amours is a journalism undergrad in the Faculty of Arts and Science.

This week, the Montreal Gazette recognized Concordia's reporters of tomorrow at their annual awards ceremony for exceptional journalism students.
The honourees were undergrad Meagan Boisse (Lewis Harris Memorial Award); graduate diploma student Emilee Gilpin (Susan Carson Award); graduate diploma students Stéphane Grasso, Safia Ahmad and Rachel Caron-Delas (Philip Fisher Award); as well as visual journalism diploma student Eleonore Riffe and graduate diploma student Michael Boriero (Enn Raudsepp Award).
The awards take the form of scholarships and bursaries, in a nod to the legacies of Gazette journalists and allies.
Lucinda Chodan, Gazette editor-in-chief and regional vice-president of Postmedia, opened the ceremony on October 17 by acknowledging the challenges inherent to the quickly changing journalism landscape.
However, she said that these disruptions create an opportunity for traditional values to be enhanced — and that Concordia's undergraduate and graduate diploma students are ready for the challenge.
"Many of the people who are now on our staff are graduates of Concordia and they are among the most grounded and best-trained journalists. The university's students are invariably well-trained, familiar with contemporary media practices and innovative."

'This is really affirming'
Emilee Gilpin is a student in the diploma program. She said it was encouraging to receive an award dedicated to the memory of Gazette reporter Susan Carson, who was known for being a champion of the marginalized.
"I have a Métis cultural background, and that's where I work from — that place of accountability," Gilpin said. "This is really affirming for me because it goes to show that I can continue to have my beliefs … I can impact communities and be a part of change."
Another award recipient, undergraduate student Ben Mayer-Goodman, expressed his "utmost gratitude" to the friends, family and colleagues of Mike King who established the scholarship that celebrates the legacy of the 22-year Montreal Gazette veteran reporter. King died in 2010.
Mayer-Goodman was equally grateful to the staff and faculty of Concordia's Department of Journalism for their contribution to his educational track.
"They are truly inspiring and incredibly motivating."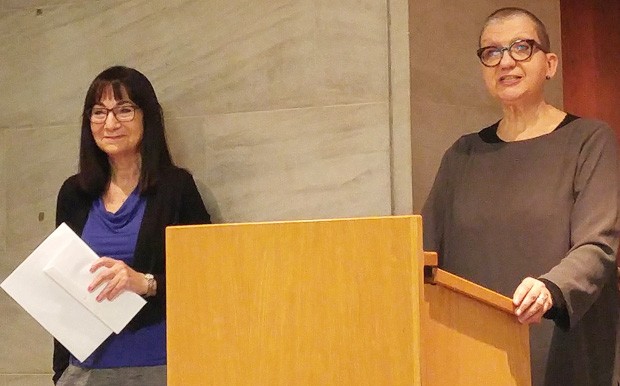 Linda Kay and Lucinda Chodan opened the awards ceremony at the Montreal Gazette offices.

'A lovely environment for networking'
Linda Kay, journalism professor in the Faculty of Arts and Science and graduate diploma director, said it was rewarding to see her students recognized at the annual event. She also pointed out that the evening was a great opportunity for students to come in contact with the journalistic legacy of the Montreal Gazette.
"It's lovely for them to be in this environment — to be mingling, mixing and networking with journalists," Kay said.
After the awards were handed out, Chodan brought the attendees on a tour of the Gazette newsroom where — if past trends are any indication — the award winners may well be working in the years to come.
Find out more about Concordia's Department of Journalism.
---