10 awesome Concordia student-life essentials
Find out about where to print, options for when you're skint, all-you-care-to-eat and places you can meet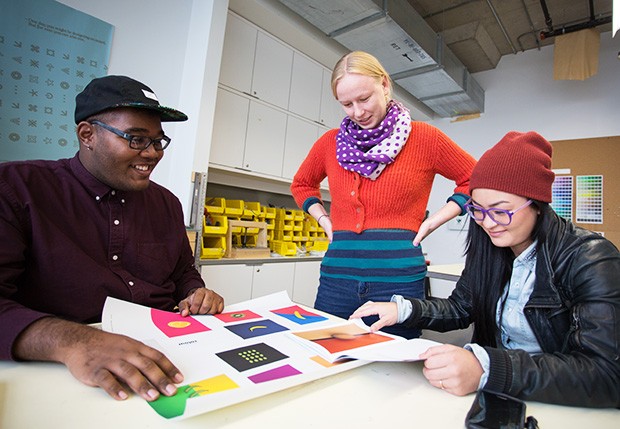 Concordia is a big place, and it can take time to familiarize yourself with all it has to offer.
By now you've found your classes and the über-important Student Services available to you. But have you figured out how to print documents? Do you have a place to chill out? What if you need a little support during a difficult time?
Here are 10 Concordia student life hacks you should know about.

1. Print, copy, scan
Printing on campus is available through DPrint. Load your student ID card at one of two locations: in room LB-119 of the J.W. McConnell (LB) Building on the Sir George Williams Campus, or on the Loyola Campus in room VL-101 of the Vanier Library Building.
Then you can print at any of the 50 self-serve print locations. Check out the DPrint web page for all locations, a user guide, troubleshooting tips and a full price list.
You can even load your card online!

2. Passport photos and more at Campus Corner
If you're planning a trip, know that you can have your passport photo taken at Campus Corner, a mini convenience store in the LB Building. On top of drinks and snacks, they sell everyday supplies and technology products. Plus, it's also where you can get face-to-face help with DPrint.

3. Your OPUS card, in the mail
If you take public transit and have not yet applied for or renewed your reduced-fare OPUS card, remember that eligible Concordia students can order online in My Student Centre. The automated system allows you to skip the line at the STM and have it delivered in the mail.
4. Moodle on your phone
Did you know that the Moodle learning platform has a mobile site? Instead of logging in through your MyConcordia portal, go to moodle.concordia.ca to use all the same features as the desktop interface.

5. Talk, chill, be still
Drop by the Multi-faith and Spirituality Centre, located in the Z Annex (2090 Mackay St.) on the Sir George Williams Campus. They offer guidance, space to study or relax, as well as fun events that can help you connect to other students, such as meditative colouring, drum circle, sacred sites visits and more. Check out all the activities online.

6. Help with your grocery bill
Sometimes life throws you a curveball. If you're having difficulty putting dinner on the table, the Student Emergency and Food Fund can help you bridge the gap with vouchers.

7. 'All-you-care-to-eat'
If you're just hungry all the time, try the Buzz Dining Hall on the Loyola Campus. It offers all-you-care-to-eat meals. Breakfasts only cost $5.99 while lunches and dinners are $8.99.
Choose from a menu with a wide variety of good food.

8. Someone (qualified) to talk to
If your distress is not financial, know that the university offers Counselling and Psychological Services to all students. They're now part of the newly launched Campus Wellness and Support Services at Concordia.

9. Plan for the future
Ready to think about the job market? Career and Planning Services can help you research vocations, connect with employers and find a job or internship.

10. Download the emergency app
It's important to be prepared in case of a security situation on campus. By downloading the Alertus app you'll be among the first to know if there's a security issue on campus. Don't have a smart phone? Learn about other ways to stay informed.

Find out more about Concordia's Student Services.
---