Digital disruption and the new balance of power
This November, Concordia hosts the first-ever North American edition of the Global Diplomacy Lab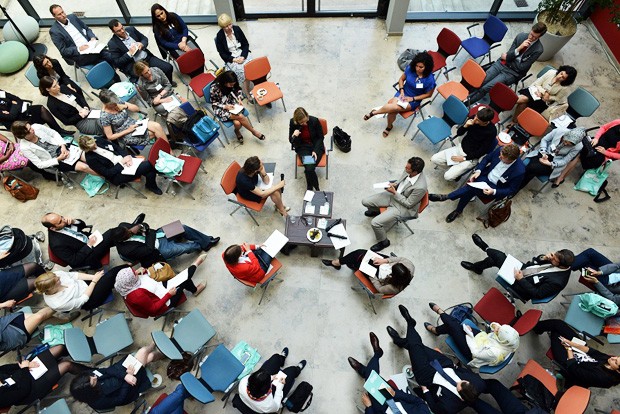 The Global Diplomacy Lab is coming to North America for the first time. | Photo by Oliver Ziebe

Thanks in large part to the explosion of digital communications, more and more individuals are becoming diplomats in their own right.
From November 3 to 6, experts from around the world will gather to explore this new and more inclusive reality during the Fifth Global Diplomacy Lab (GDL).
Normally held in Europe, the event is coming to North America for the first time — courtesy of Concordia's Montreal Institute for Genocide and Human Rights Studies (MIGS) and UQAM.
The theme of this edition of the biannual conference is Decoding Global Diplomacy: Balancing Power through Information Technology.

'New ways of thinking about policy, governance and advocacy for social good'
Kyle Matthews, MIGS senior deputy director, notes that Concordia is a natural fit to host the GDL, since researchers at the university are already part of an international conversation about diplomacy, global governance and human rights.
"Over the past two decades, the widespread digitization of global communication has changed international relations and diplomacy in ways we have yet to fully grasp," he says. "Through the Global Diplomacy Lab, we hope to offer new ways of thinking about policy, governance and advocacy for social good, while allowing universities like Concordia to be part of the conversation."
Matthews explains that the digital revolution has allowed citizens and communities to more freely communicate with policymakers and organizations in other nations, and given rise to more cross-sectoral knowledge exchanges, and the creation of a common language.
GDL activities will include roundtable discussions, workshops and site visits with selected Canadian, American and German scholars, students, policy-makers and more than 50 members of the GDL network.
After the event, lab leaders will publish a project report and make thematic policy recommendations.

Concurrent conference: Global Diplomacy in the Digital Age
For Concordians interested in participating in the discussion, the Department of Political Science is hosting a concurrent conference, Global Diplomacy in the Digital Age: Decoding how Technology is Transforming International Relations, from November 2 to 3.
The event will explore issues around global governance, civic engagement and security in a new era of digital technology.
Elizabeth Bloodgood, an associate professor of political science in the Faculty of Arts and Science, says the goal is to connect experts in the fields of diplomacy, international affairs, information technology and digital innovation from academia, government and the private sector.
"By bringing together a key set of stakeholders, we aim to develop mechanisms to mobilize knowledge and establish a road map for future research and discussions," she says.
"Through outreach activities that confront the political implications of new informational technologies, we'll look at ways to develop more responsive platforms — platforms for diplomacy that solve international problems."
Together with Concordia students and faculty, the visiting experts will participate in two days of workshops exploring changing practices in global diplomacy and strategies to confront new associated security threats.
The conference will include a public panel discussion featuring top officials and academics on Wednesday, November 2 at 5:30 p.m. in the J.A. DeSève Cinema.

Find out more about the Global Diplomacy Lab and how you can participate in Concordia's public discussion, Global Diplomacy in the Digital Age.
---