Centraide 2016 kicks off
From pasta lunches to a talent show, join the fun of Concordia's campaign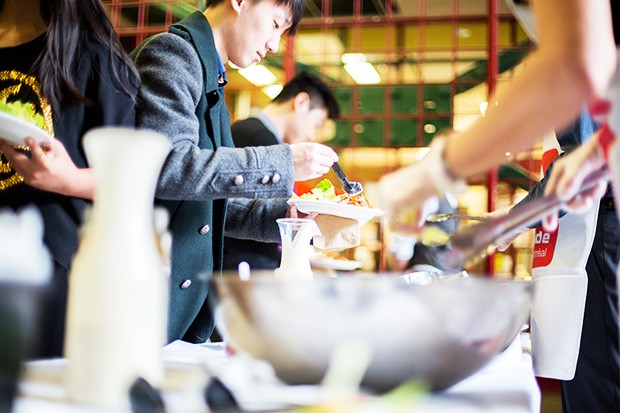 A tribute to Prince? Maybe some Stevie Wonder? These are just some of the choices Fabiola Cacciatore (BFA 07) is mulling over as the musical director of Concordia's Got Talent, an annual campus fundraising concert for the United Way/Centraide.
"It's really gratifying to share my skills and raise money for an organization that does so much good," says the recording artist and executive assistant in the university's Financial Services. Cacciatore was one of 40 volunteers in 2015 who helped Concordia raise $187,174 — 98.5 per cent of last year's campaign goal.
October 18 marks the start of Concordia's United Way/Centraide campaign for 2016.
"Our goal this year is to raise $190,000," says Bram Freedman, Concordia's campaign chair, who explains that there are many ways to give. These include donating via payroll deduction or a one-time donation through Concordia's secure system, volunteering, or attending events.
"There are lots of fun things planned to keep people inspired. If we do it together, this important challenge can be conquered."

Concordia's ongoing contribution
The university has been fundraising for the city-wide charity effort from the beginning. On May 10, 1975, Centraide Montreal was born. A few months later, the umbrella organization, which replaced the Federated Appeal of Greater Montreal, launched its first annual fundraising campaign.
Only one year old at the time, Concordia was a part of it. More than four decades later, the Concordia United Way/Centraide Campaign is still thriving.
This year, the university is including students in its fundraising efforts, so it's a full community campaign.

Food, music and major prizes
Back by popular demand, there will be a $12 pasta lunch on the Sir George Williams Campus on Tuesday, November 1, from 11:30 a.m. to 2 p.m. in the atrium of the Engineering, Computer Science and Visual Arts Integrated Complex (EV Building).
The pasta lunch on the Loyola Campus will be on Wednesday, November 30, from 11:30 a.m. to 2 p.m. in the Loyola Jesuit Hall and Conference Centre (RF Building).
The food is being donated, so all proceeds go to Centraide.
The third annual Concordia's Got Talent fundraising concert will be on Wednesday, November 23, from 12 to 1:30 p.m. in the D.B. Clarke Theatre, located in the Henry F. Hall (H) Building.
Other favourite returning events include the 50/50 draw — last year's winner took home $1,200 in cash. Meanwhile, raffle winners will receive a gift card for Best Buy ($500), Apple ($700) or an espresso machine.
The closing event, raffle and draw will be held on Monday, December 5, in the atrium of the EV Building — check the Concordia United Way/Centraide campaign webpage for further details.

Volunteers are the lifeblood of Concordia United Way/Centraide. Send an email to unitedway@concordia.ca to participate in the following initiatives:
Buy concert, raffle or 50/50 tickets
Buy a voucher to wear jeans on Fridays throughout the campaign
Sign up to volunteer for the campaign
Get a testimonial for your department from a United Way/Centraide agency
Find information about the United Way/Centraide and the agencies they support
Find out more about Concordia's support for the United Way/Centraide
---