When religion meets food
Concordia alumna Katherine Romanow serves up some spirituality in her popular series, The Wandering Chew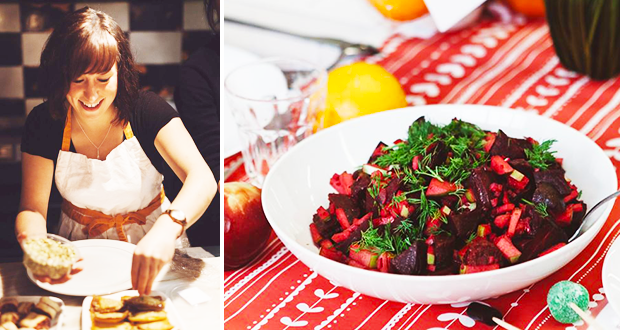 When Katherine Romanow was studying the Jewish ritual of Mimouna for her master's thesis, she asked herself: what happens when religion meets food?
Now she runs The Wandering Chew, a food event series she founded and runs with Sydney Warshaw. Hosted by the Museum of Jewish Montreal, the series explores Jewish history and identity while serving up delicious meals.

From tabernacles to tabarnaks!
Ready to try The Wandering Chew's Jewish food with a twist? Celebrate Sukkot, otherwise known as the Feast of Tabernacles, at their Festin des Tabernaks on October 20.
Sukkot is a Jewish harvest festival similar to Thanksgiving — a time for fun and food after the High Holidays of Rosh Hashanah and Yom Kippur.
You'll be served a mouth-watering meal that takes its cues from both Jewish and Québécois flavours.
This means classic dishes, reimagined. Think pea soup — but with Moroccan-Jewish herbs; tourtière filled with kasha and served with Iraqi-Jewish fruit ketchup; and pouding chômeur made with challah. Then you'll wash it all down with a spruce beer cocktail.

Later this fall
Also be sure to check out The Wandering Chew's upcoming events. They include a pop-up dinner in collaboration with The Gefilteria, a Hanukkah cooking workshop and a Hanukkah party run in collaboration with the museum.
We asked Romanow to tell us more about the series.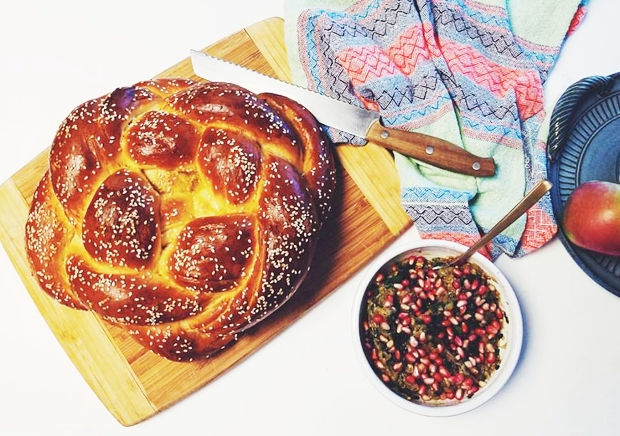 How does your research at Concordia relate to The Wandering Chew?
Katherine Romanow: I did my MA in Judaic Studies with a focus on Jewish food history, and I wrote my thesis on the Mimouna. Through my research I came to use food as the lens to understand Jewish culture and identity.
I've carried on doing this through all the programs I run, with The Wandering Chew as well as the work I'm doing as director of food programming at the Museum of Jewish Montreal.
Also, while writing about the Mimouna and the Moroccan Jews in Montreal I became interested in the food traditions of lesser-known Jewish communities. Sydney and I have been able to explore lesser-known Jewish food traditions through our events.


Can you tell us a bit about The Wandering Chew's current collaboration with the Museum of Jewish Montreal?
KR: Sydney and I have been running The Wandering Chew for three years, and I've been working at the Museum of Jewish Montreal for the past two-and-a-half. Over this time we've collaborated on a variety of events.
The Wandering Chew is now hosting all its own events at Fletchers – Espace Culinaire, the museum's food space that I created and run. So The Wandering Chew has a home to do all its programming now.

What do you love most about the Jewish New Year?
KR: I love that it's a time to reflect, both on the past year and the new one that we're ushering in. It gives me time to reflect on what I'm grateful for, what I'd like to leave behind and what I'd like to bring into the New Year.
I really enjoy that we have this special time to stop and do this. I also love coming together with family and friends over wonderful meals!

The Wandering Chew's Festin des Tabernaks is on Thursday, October 20 at Fletchers – Espace Culinaire (4040 St. Laurent Blvd.). Sign up for the event.
Find out more about Concordia's Department of Religion.
---