Space Concordia gears up for another year of rocketry, robotics and more
The student society is looking for talented teammates — no outer-space experience required...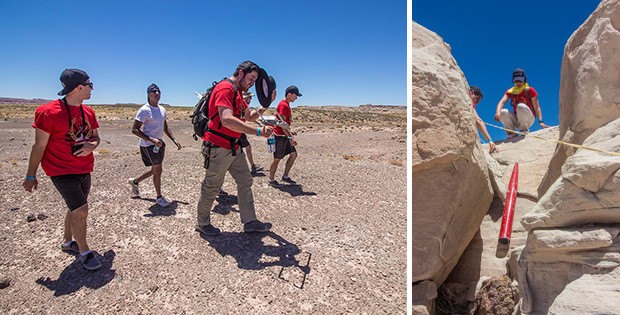 Space Concordia's rocketry division retrieve its fuselage after a perfect launch. | Photo: Ryan Maurer

In celebration of Science Literacy Week (Sept. 19-25), the Concordia news desk is highlighting a related activity every day. See Monday's Wiki for women in STEM! and Tuesday's 6 cool Concordia science courses for non-scientists.

Satellites, rockets, robots and balloons — all in a day's work for Space Concordia.
The award-winning multidisciplinary society is made up of more than 200 students from a variety of fields. Each year, it provides a platform for members to work on projects and inform the next generation of engineers about the aerospace industry.
Moreover, many of Space Concordia's current projects, which test things like the use of self-healing materials on satellites, have the potential to contribute significantly to aerospace research and future design.
Jan Clarence Dee is the team lead for Space Concordia's award-winning satellite Aleksandr, vice-president of marketing and member of the Payload Division,
He says that the group is looking for anyone with the passion to learn more about space.
"It's extremely multidisciplinary and there are so many things people can do. Whether you're an undergraduate student, graduate student, business major or art major, we can use your help!"
The team stresses that commitment is more important than technical know-how, and that many of their current members started out as first-year students who were simply eager to learn.

If you're interested in joining the space race, check out one of Space Concordia's many upcoming events.
---