The historical significance of Duck Hunt and Super Mario Bros.
This summer at Concordia, international Applied Media Archaeology students dug into gaming's past, present and future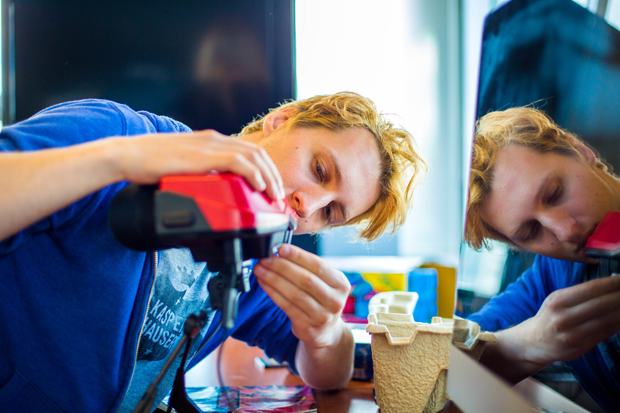 Darren Wershler: "To understand where we are going we need to understand the past of gaming."

Are you hooked on Pokémon Go? Does the thought of the soon-to-be-released Nintendo Classic Edition game console fill you with nostalgia for a simpler time, when Italian plumbers ate mushrooms to gain super powers and save a princess from a fire-breathing demon king?

Whether you're a die-hard gamer or only play free apps on your mobile device, you're contributing to a billion-dollar industry — with deep roots in Montreal — that is surpassing the traditional film and television industry in revenue, production and cultural relevance.

This summer, a transdisciplinary group of 10 students from Concordia and the United States took part in an intensive graduate summer school meant to critically examine the history of video game culture through what is known as "media archaeology."


'Gaming lacks a historical perspective'
Media archaeology is part of the larger multi-disciplinary field of media history, which brings together communications studies, literary studies, anthropology and science and technology studies.
"The field is unique because it looks at things that have been forgotten or suppressed and have been relegated to the trash heap of history," says Darren Wershler, Concordia Research Chair in Media and Contemporary Literature and lead instructor and creator of the summer school. "It unearths these old forms of media and asks what possibilities they present for understanding contemporary society."

The focus of the Applied Media Archaeology summer school was video games from the early 1970s to 2002, housed in the Residual Media Depot at the Milieux Institute, Wershler's research collection of old-school games, consoles, boxes and manuals.

"There are lots of reasons to study these kinds of media artifacts through the lens of media archaeology," says Wershler. "Gaming is a massive industry that changes rapidly, but it lacks the historical perspective that other forms of media have received. To fully understand where we're going we need to understand the past of gaming."

Laboratory culture for the humanities
Working manually with equipment found in the Residual Media Depot was key in getting the support of the Faculty of Arts and Science (FAS) for the creation of the class.
"One of the defining features of our faculty is our rich laboratory culture," explains André Roy, FAS dean. "This project goes beyond disciplines normally associated with traditional laboratories, such as biology and chemistry, and demonstrates how the humanities can use the laboratory model to emphasize hands-on approaches to collaborative research."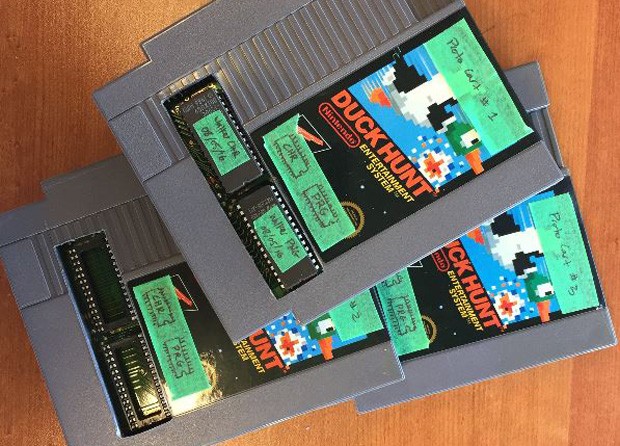 New takes on beloved classics
One very popular seminar got students to physically take apart the cartridge of Nintendo classic Duck Hunt, released in North America in 1985. Students then pulled out the game chip, reprogrammed its data and physically soldered it back to the original cartridge to produce a new version of the game.
The session, led by Stephanie Boluk and Patrick LeMieux, professors visiting from the University of California, Davis, demonstrated the different elements that make digital media work and how it can be manipulated.

"The goal of the exercise, and really the whole summer seminar, is to slow down and examine the various features of how these games work and how they relate to cultural, political and historical contexts," explains LeMieux.

The two professors believe this critical reading of video games is essential for shedding light on current practices in the gaming industry and creating a more sustainable future.
"We live in a culture that is constantly consuming," says Boluk. "We need to understand who profits from games as well as the impact of game production on those who physically assemble them, not to mention the environmental footprint such consumption leaves."

The importance of getting your hands dirty
Visiting student Bailey Kelley, a PhD candidate in communications from the University of Iowa, was particularly impressed with the multitude of voices and expertise that informed the seminars of the summer school.
Her research focuses mainly on television, the internet and domestic interactions with media. "I was able to impart my knowledge on the connections between audience, producers and theoretical texts and how this relates to gaming," Kelley says.
"What this week gave me was a way of physically interacting with a form of digital media, something that I had never done and that gave me a whole new perspective."

Find out more about the Applied Media Archaeology summer school.
Read student writings from the class.
If you are interested in laboratory culture, consider attending OpenLivingLab Days, taking place at Concordia, August 23 to 26.
---