Stories of mental illness 'through the eyes of caregivers'
Concordia professor Stephen Snow receives an award from AMI-Quebec for his latest dramatic innovation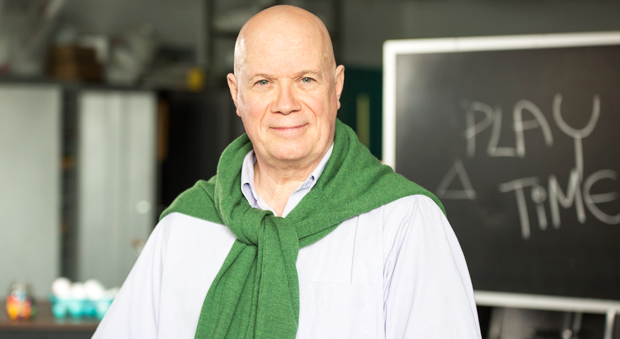 Stephen Snow has found "a new way to dramatize the stories of caregivers." | Photo by Concordia University

Stephen Snow has spent much of his career telling the stories of people with mental illnesses and developmental and intellectual disabilities. Now, the drama therapy professor in Concordia's Department of Creative Arts Therapies has been honoured for his most recent project, an ethnodrama focused on caregivers.
On June 7, Snow received the Ella Amir Award for Innovations in Mental Health from AMI-Quebec, a community organization that supports caregivers as well as people with mental illnesses such as schizophrenia, depression and eating disorders.
Ethnodrama is a form of theatre in which people are interviewed about their lived experiences, and the transcriptions are turned into a play. Sometimes the interviewees act in the plays themselves; other times actors portray them.
Snow's award-winning play, Through the Eyes of Caregivers: An Ethnodrama on Mental Illness in the Family, tells the stories of several individuals tasked with the responsibility of caring for mentally ill relatives.
Over the course of his career, Snow has combined his backgrounds in drama therapy, theatre arts and performance ethnography to develop the ethnodrama model and use it as a form of education.
"You're taking the theatre as a tool to embody the information and present it as a research report, through a theatrical performance," he says.


Receiving the AMI-Quebec award was a special moment for Snow.
"My father had bipolar disorder and sometimes it was quite disruptive in terms of being in a psychological crisis, so I'm actually the narrator of the play and the thematic weave is based on that personal experience," he says.
Carol Plathan, an AMI-Quebec board member who has known Snow for 20 years, presented him with the award. In her introduction, she remarked that his work has been a powerful force in changing perceptions about mental-health caregiving.
"He has found a new way to dramatize the stories of caregivers so that others can visualize their situations and imagine the feelings and emotions​, ups and downs, and complexities ​behind them," Plathan said.
Snow received funding for his project from Concordia's Office of the Vice-President, Research and Graduate Studies. The grant will allow him to take Through the Eyes of Caregivers on tour around southern Quebec.
If he receives additional grant money, Snow plans to use it to expand the play, and eventually create a new ethnodrama. He's considering writing one on mental health issues among transgender people to be created in collaboration with the Centre for Arts in Human Development, which he co-founded at Concordia in 1996.
Through the Eyes of Caregivers is the fifth ethnodrama Snow has produced. Previous plays focused on the place of culture and of sexuality and relationships in people with developmental and intellectual disabilities.
The educational potential of the ethnodrama therapy model is largely untapped when it comes to representing mental health and intellectual and developmental disabilities. Dramatic productions that touch on issues such as suicide and self-harm not only teach people about mental illness, but also about the resources available to help, Snow says.
Caregivers in particular are a group of people who are frequently neglected when speaking about mental health. Snow says he received messages of gratitude from people who had finally had an opportunity to meaningfully share their experiences.
"They haven't had a lot of focus on the trials and tribulations that they go through," Snow says.

Discover more about Concordia's Department of Creative Art Therapies.
---