Sculptor Andréanne Abbondanza-Bergeron's adventures in space
The Concordia MFA student wins the $15,000 Yvonne L. Bombardier Graduate Scholarship in Visual Arts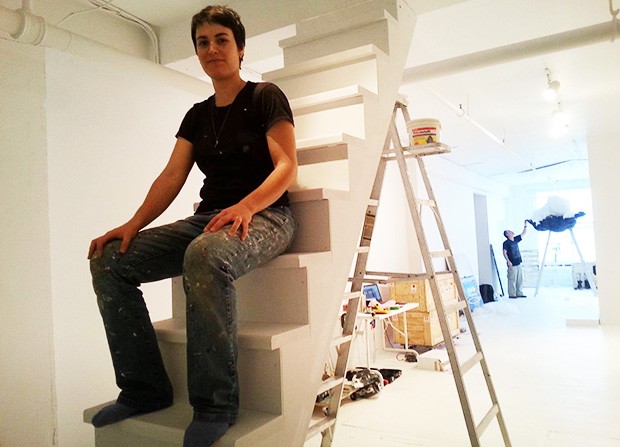 "My creations are dependent on me having a space to think in, and to plan the idea that's going to form," says Andréanne Abbondanza-Bergeron, an MFA student at Concordia. Photo by Geneviève Goyer-Ouimette

For the second time in its three-year existence, the Yvonne L. Bombardier Graduate Scholarship in Visual Arts, valued at $15,000, has been awarded to a student from Concordia's Faculty of Fine Arts.
This year's winner is sculptor Andréanne Abbondanza-Bergeron. Multidisciplinary artist Sara Tremblay, who holds an MFA in photography from Concordia, won in 2013.
Abbondanza-Bergeron says the goal of her practice is to reignite a more conscious awareness among viewers of their surroundings. "I am bringing their attention to the space using references to the urban and digital structures we inhabit in our everyday lives."
Before coming to Concordia for her BFA, Abbondanza-Bergeron enrolled in architecture at Université de Montréal. But something was missing — namely the promise of being able to work independently on creative endeavours and see them through to the end.
"The idea of the completion of a project, is something I love about art," she says. "You're thinking about it, you're planning it, you're making it, you're involved in the material process and then you see it finished."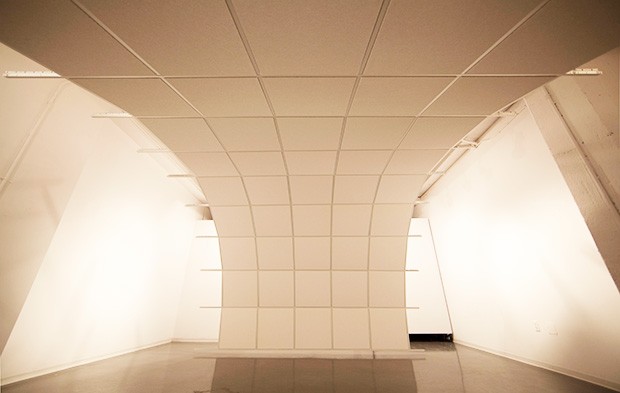 "The installation's form creates the illusion of a distortion, as if bending the space itself," Abbondanza-Bergeron says in her description of Suspensus (above).

Before she begins working on a piece, Abbondanza-Bergeron visits its future home — sitting quietly for hours, absorbing every detail of the space.
"Some installation art is site specific. I usually say mine is more site dependent," she says. "The creation is dependent on me having a space to think in, and to plan the idea that's going to form. But then, once it's created, I can actually move it into other spaces and adapt it."
A $5,000 portion of the scholarship is earmarked for an exhibition at the Yvonne L. Bombardier Cultural Centre in Valcourt. Abbondanza-Bergeron plans to visit the space soon, to begin her creative process.
In the meantime she's finishing up her most recent piece, Suspensus, which will be on display in the Leonard and Bina Ellen Art Gallery between May 5 and June 4, during the graduate exhibition, IGNITION 12.
Constructed of suspended ceiling tiles, Suspensus is imposing and disruptive, which is the point.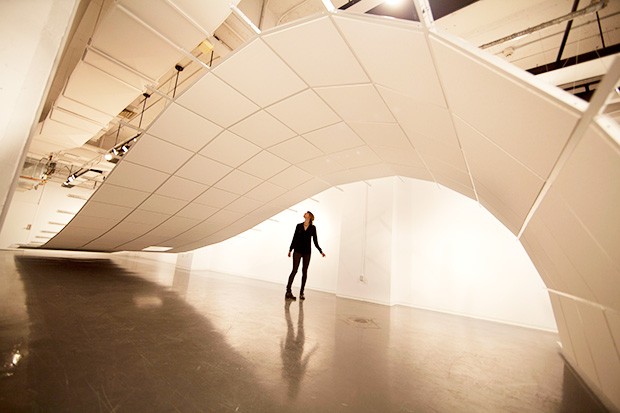 "The installation's form creates the illusion of a distortion, as if bending the space itself," Abbondanza-Bergeron says in her description of the piece. "Simultaneously, as it is completely suspended and seemingly floating in space, the installation loses all sense of weight. It is perfectly balanced, frozen in a moment of grace before the inevitable collapse."
When she's not working on her own art, Abbondanza-Bergeron is busy passing on her knowledge and expertise as an instructor at Vanier College and Concordia.
"Teaching is a nice continuation of my practice," she says. "It allows me to share my field. At the university it's interesting because of the exchange."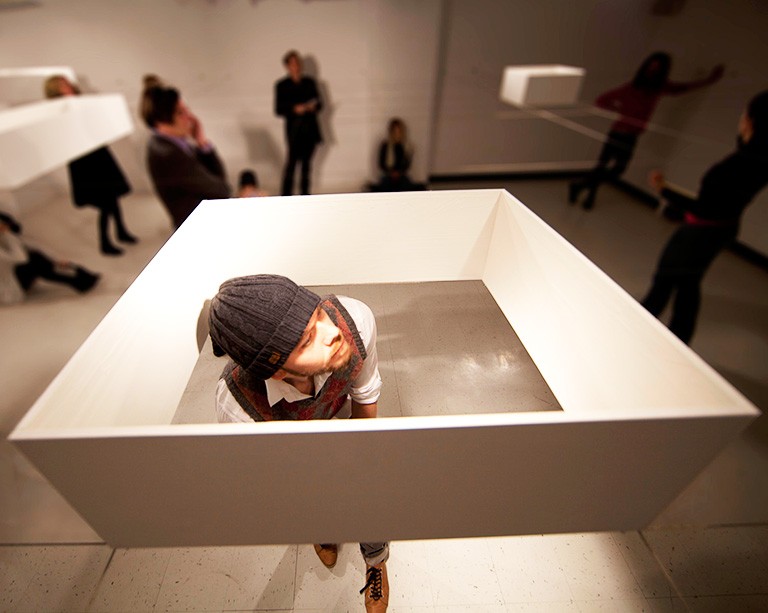 Abbondanza-Bergeron is presenting her thesis in September and expects to graduate with her MFA in November. She also holds an MA in Art Education and a BFA from Concordia.
What did she appreciate the most about her time at the university? Time and space to work on her art, and the invaluable feedback from faculty members and her peer group.
"It's one of the things I've been telling my own students at Concordia: form meaningful contacts with your peers," she says.
"The people who you're going to grow artistically with, who you're going to work alongside your whole career, are the people you went to school with, that you developed your work with. In that sense, creating meaningful bonds with those people is important. Take advantage of this time, it goes fast!"

Find out more about the upcoming IGNITION 12 exhibition at the Leonard and Bina Ellen Art Gallery (1400 De Maisonneuve Blvd. W.), from May 5 to June 4.

---