CEO for a Day: 'It taught me a lot about myself'
Four Concordians reflect on their experience at the national semi-finals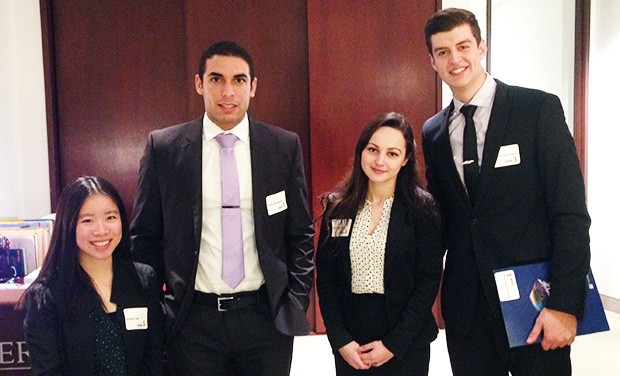 Concordia's CEO for a Day semi-finalists. Left to right: Virginia Law, Jason Azzoparde, Sarah Caraman and Mark-Yves Zwanenburg. | Photo courtesy of Virginia Law

Ever year, executive search firm Odgers Berndtson holds a competition that matches a handful of third- and fourth-year university students with the country's leading chief executives.
This year's CEO for a Day finalists have yet to be announced, but four Concordians made it to the semi-final round: Jason Azzoparde, Sarah Caraman, Virginia Law and Mark-Yves Zwanenburg.
Yesterday, along with six other students, they were invited to attend a special event at the firm's Montreal office. Here's how it all went down, in their words.
The search for tomorrow's leaders
Virginia Law: The selection process for CEO for a Day was much different than what I had experienced in the past when applying for intern positions. It consisted of an online application, a leadership assessment, a phone interview and finally a half-day evaluation.
Sarah Caraman: Each round tests various aspects of a student's skillset, from leadership potential, to writing, to interpersonal and public speaking skills.
At the semi-finals, there were four main components of the day. Firstly, an Odgers Berndtson specialist debriefed participants on their Hogan personality assessment results from the second round.
Jason Azzoparde: I particularly enjoyed this portion because we got to genuinely understand our personality and the effect it would have on our leadership potential.
VL: We got to see what our specific strengths and shortcomings were, and more importantly, how to effectively apply them in our future endeavours.

Inside Odgers Berndtson
SC: Next, we sat in on a discussion with a partner at Odgers regarding what the executive search industry is all about.
JA: We got some valuable insight about the sought-after qualities the firm is looking for.
Mark-Yves Zwanenburg: Over the course of the CEO for a Day event, we were fortunate enough to meet with many Odgers Berndtson staff, from search consultants to the managing director of the Montreal office.

Rapid-fire interviews
SC: The next step entailed speed networking, where all contestants met with various members of the firm to determine the fit between the contestants and the potential CEO matches.
VL: This was the most exciting yet nerve-wracking part of the day. Each semi-finalist was drilled with a range of questions as we rotated interviewers every five minutes.
M-YZ: We had the chance to discuss our ambitions, goals, personalities, and future professional endeavours with a range of experienced individuals.

The McKinsey factor
SC: Finally, as a first-time collaboration with McKinsey, representatives of the firm briefed participants about its problem-solving process.
VL: They taught us how to properly analyze and solve a case, and then gave us the challenge of cracking one ourselves. Throughout the whole process, we were observed by partners and consultants who were assessing not only our solutions, but also how we were coming up with them.
JA: We were taught how to apply the scientific method to real world consulting scenarios.

'A win for everyone'
SC: Overall, the CEO for a Day experience taught me a lot about myself. It was a good investment of my time, regardless of the outcome of the final round.
M-YZ: It was a very positive experience where we were able to network and gain valuable insights both personally and professionally. Much of what was presented and learned was especially useful considering we will soon be facing life after university.
JA: It was an unbelievable experience to be considered as one of Canada's most promising future leaders. The opportunity to network with Odgers Berndtson, McKinsey and other accomplished semi-finalists was in itself a win for everyone.
VL: I feel privileged to have been chosen as one of the 10 Montreal semi-finalists out of hundreds of applicants. The selection process allowed me to discover much about my skills and leadership potential and was a great recruitment experience.

Read about the experiences of Concordia's three finalists from last year's CEO for a Day competition.
---