Introducing FOYER: Concordia's new space — and grant — for graduate student collaboration
This fall, researchers are gathering to explore new inter-faculty ideas and partnerships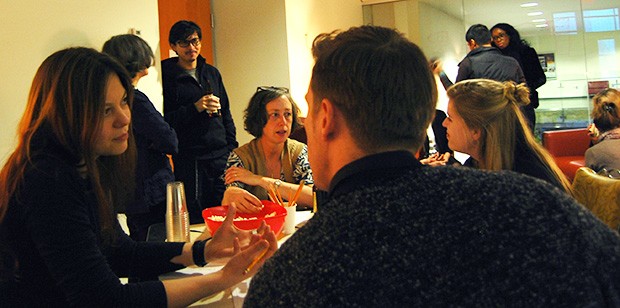 In November, graduate students from across Concordia's four faculties congregated at the FOYER, a cozy nook that more closely resembles a living room than a university space.
About 25 students, with expertise ranging from thermodynamics to site-specific art installations, exchanged introductions over chips and beer.
Initiated by the Office of the Dean of the Faculty of Fine Arts, FOYER refers to a physical space — a lounge furnished with couches, rugs and lamps in the Engineering, Computer Science and Visual Arts Integrated Complex — as well as a new research grant that aims to support inter-faculty collaborations.
The meet-and-greet was one of two opportunities for graduate students to get together and form research partnerships. The next takes place on November 30, at 4 p.m.
The Office of the Provost and Vice-President, Academic Affairs will support four FOYER research teams during the winter semester by offering funding of up to $2,500. Each team must represent at least two faculties.
"The important thing to know about FOYER is that, unlike many granting programs, there are no expected outcomes," says Rebecca Duclos, dean of Fine Arts.
"You aren't going to be under pressure to come up with a perfect solution," she adds. "Combined research teams will use FOYER to explore ideas, cross methodologies and let the possibilities reign in terms of what can be envisioned when coming together."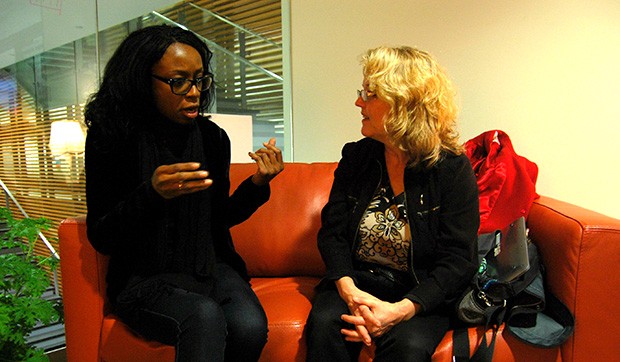 Some students came to the meet up armed with a project in mind. Michelle Savard is a PhD candidate in the Department of Education, who researches the reintegration of formally abducted young mothers in Northern Uganda. She came to FOYER looking for a filmmaker.
"I'm hoping to find someone with a similar interest who might be willing to go to Uganda to shoot a trailer. I have the stories, but the technical aspects involved in making a film are lost on me, so I need that kind of expertise."
Other came with a blank slate, hoping for inspiration.
"I'm always interested in opportunities to connect with people from different disciplines, and to work on interdisciplinary projects," says Shea Wood, a PhD candidate in the Individualized Program (INDI).
Duclos points out that, across Canada most aesthetic-related disciplines are taught in independent colleges of art and design. Concordia is an exception.
"We have the good fortune of having an arts school nestled into a research university. It is one of our greatest strengths, and we've yet to fully appreciate it," she says.
The idea behind FOYER is to work across graduate platforms in order to incubate new research ideas, while giving graduate students access to facilities normally reserved for those outside their discipline.
"Each faculty has its own extraordinary facilities, but there's never been a way for graduate students in computer science to hang out in the wood shops, or for a ceramic engineer to collaborate with someone in political science," says Duclos.
"We're trying to let grad students use each other in order to gain access to new spaces, methodologies and intellectual platforms. So it's about intellectualism and conceptual ideas as much as it is about physical access to each other's areas."
Those accepted as FOYER fellows will be given keys and 24/7 access to the lounge, which will serve as their workspace throughout the semester.

Find out more about the next FOYER meet-and-greet, which takes place on December 17 from 4 to 6 p.m. in Room EV Junction — the atrium space outside Room 2.785 — in the Engineering, Computer Science and Visual Arts Integrated Complex (1515 St. Catherine W.) on the Sir George Williams Campus.
---