'When we go to theme parks, what are we trying to escape?'
Concordia professor Stephanie Bolster deconstructs Dismaland, Banksy's controversial new art project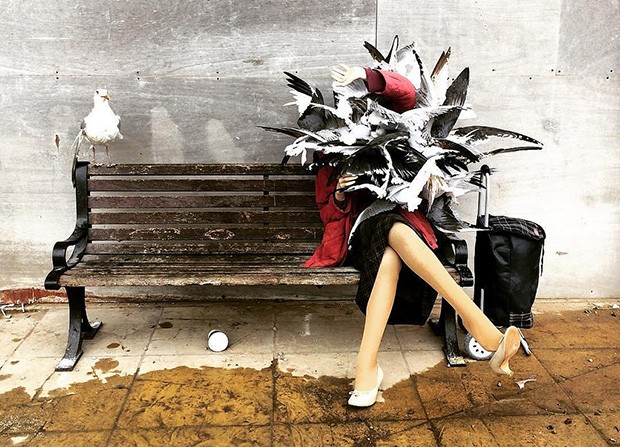 Banksy's Dismaland: "Theme parks are all about experience." | Photo by Florent Darrault (Flickr CC)

A new video trailer for Banksy's Dismaland shows a dour British family visiting the anonymous artist's sprawling "Bemusement Park" project, located in Weston-Super-Mare, a resort town in the Bristol Channel in Somerset, England.
"This is a theme park like no other," claims the narrator's voice as we follow the foursome through Dismaland's tantalizingly frightful and challenging art. From a killer whale jumping out of a toilet to migrants sitting in a remote-controlled boat, Banksy's ambitious reimagining brings together a collection of work by 58 global artists, including Damien Hirst and Canadian Maskull Lasserre.
Theme parks are among the spaces that inspire Concordia English professor and poet Stephanie Bolster's fascination with perception and representations. Here are her thoughts on the Dismaland project.

Stephanie Bolster on Banksy's Dismaland
As the title of the exhibition and the imagery suggest, Banksy is clearly riffing off the Disney parks.
The most potent image for me was that of Cinderella's wrecked coach surrounded by paparazzi, an image which underscores the gap between the public ideal of the princess — one which the Disney empire in particular inculcates in young girls — and the potentially brutal nature of the reality. I can't imagine anyone seeing this without recalling Princess Diana's death.
But Banksy's critique extends to such things as the security inspections one undergoes when entering a theme park — any experience, no matter how contrived, can be exploded literally and figuratively. And it extends to the commercialism of the parks themselves: the merchandise they sell and the beliefs they're selling along with it. What are we trying to escape when we go to theme parks?
That Banksy's invited other artists to participate is particularly interesting, and makes the show transcend the monolithic vision of most parks, in which many conspire to create a single vision.


I'll confess that part of my own interest in theme parks is nostalgic; Disneyland was the site of many family vacations during my childhood and adolescence, at a time when I took "the happiest place on earth" at face value. Even then, though, I was fascinated by the artifice; I spent much time in shopping centres while growing up, but Disneyland was by far the most controlled environment I'd experienced.
Now, I remain interested in the notion of the simulacrum, in the contrived, immersive experience, and in what it took to get there. This, both on the part of the park's designers and architects who transformed orange groves, swamps and other "real" sites into a self-contained world, and on the part of the employees who work there and the park visitors, each of whom has come with a vision — based on advertising and private wishes, among other things — of what s/he hopes to experience and who s/he wants to be during that experience.
I've been working on "Long Exposure," a poem which examines many subjects, including post-disaster photographs of New Orleans and Chernobyl. Theme parks are part of my interest in place and displacement, in the difference between a peopled and unpeopled site. (There are actually a number of websites devoted to images of abandoned theme parks.)
How do we shape our spaces and what do they say about us? How much do we control them and how much are we controlled by them?
Theme parks are all about experience; I'd love to actually join the crowds in Dismaland rather than simply viewing images on a screen. During my theme park experiences as an adult, I've been interested in observing the other park-goers, and obviously those at Dismaland would differ significantly from typical crowds at Disneyland. I'd be interested to see how immersive the experience is — whether it's mediated by music, fragrance and selective viewpoints as the Disney parks are.
It's hard not to be critical of the commercial aspects of theme parks, but Banksy's critique strikes me as more sophisticated, more complex, than that. And the secrecy beforehand — as I understand it, even locals didn't know what was in the works — is fascinating, too. Perhaps the attention drawn to this show will attract new viewers to the work of Banksy and the invited artists.
I remain fascinated by the vague border between the popular and the rarefied; I'm interested in what gets called "art" and what's seen as a more commercial endeavour. By creating an art exhibition that's itself a theme park, Banksy asks important questions about intentions and expectations. Although his means of exploration are more dramatic than mine, we're asking a lot of the same questions.

Read an excerpt from "Long Exposure," a poem by Stephanie Bolster.

---