'This was not supposed to happen': excerpts from Stephanie Bolster's Long Exposure
On August 21, Poet's Day, take in these lyrical lines by an award-winning professor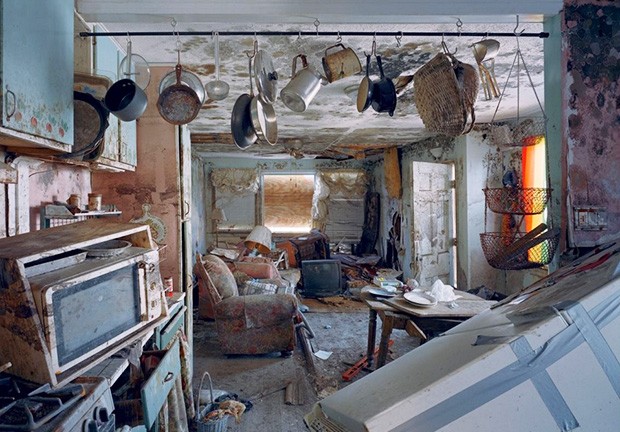 "5417 Marigny Street, New Orleans, LA" by Robert Polidori, 2005 | Courtesy of the artist

As a poet, Concordia professor Stephanie Bolster is interested in perception and representation, with a particular focus on the visual arts, "ruin porn," architecture, domestic spaces, theme parks, and the "middle landscape" of zoos and gardens. Zoos in particular are central to her latest poetry collection, A Page from the Wonders of Life on Earth.
Long Exposure, her current project, is a book-length poem that takes as its starting point Robert Polidori's post-disaster photographs of New Orleans and Chernobyl.

Excerpts from Long Exposure: The Address

(after Robert Polidori's photographs
after Hurricane Katrina)
The red dress a crescendo off-centre,
a Southern Comfort poster, a cloud of feathers on a wheelchair.


. . .

Someone hung a mirror.
Someone bought a shoe tree.
Someone did not go to the French Quarter
unless visitors were visiting, which didn't happen often.
Someone suspended a trio of baskets from the ceiling.
Someone thought: this will be useful.

. . .

This was not supposed to happen.
There are no bodies in the photographs,
no living, no dead.

. . .
Some went to Atlanta.
Many went to Dallas.
Does the man at the Camellia Grill still intone "Swing low"
as he froths the stuff of an omelette in a blender?
The water didn't get that far
but the water got everywhere.
Dogs barked on roofs.
The hospitality of pineapple bedposts darkened.

. . .

All those people in the Superdome while the roof began to lift, screeching one imagines (the roof, the people), those who were meager and those who were hefty, those who were, for the most part, one couldn't not notice, black, whose skin was, who were too poor or stubborn or frail or alone to go.
What's left of there's the part most deemed the best, the Quarter they call French, the part most wanted left and yet the lives that made it live have left.
In their rooms, frames
with nothing left. Or the intention of rooms:
planks held by nails and spaces, what all our houses are, just bones.

. . .

This page may be too long to read and navigate comfortably. Please
consider splitting content into sub-articles and/or condensing it.


. . .


Yes said the man with three sons.
Yes that is my house.
Yes I lived there.
Yes I told them we will never leave.
Then the water came.
Not much we could take but the dog.
The littlest still talks about the book he was reading
left open he thinks on his bed.


. . .


Water did this.
Gathered itself to itself,
breathed fire, breathed water, breathed
a wind that lifted lives and set them down
some other place.
For the one who left, this bed
is a dead link. He's too busy
greeting shoppers in Texas to see it
on a wall or on the web.
This was not decadence, a canopy of ash,
it was where he fell at the end of the day
or fucked when lucky. The image
vanished from the frame was tacky.


. . .


Who said that? Who's to say
what anyone would say? What anyone
would say after that. Words show how flat
they always were. What's the point.
What's left is not what was minus what's gone.


. . .


The room you spent a lifetime setting up and settling into
settles a little more daily without you. You have fled to a wind-whipped stadium,
to a suit inside a shelter, to higher ground, to where
the jobs are, to a you-sized space to lie in,
to a flame that makes you ash enough to fill a coffee can, if that.
Just the other day this was all yours, you tossed your jacket
on the chairback, winced into a plum.


. . .


Google Polidori images. The screen fills.
Pick one, click.
Make it bigger.
Two matching frames, baroque corners.
A chandelier, the bulbs lifted like wicks.
A sandal, a car mat, the debris black.
The caption is an address.


. . .


Around the corner, someone might still live.
Or might again live. In between:
a banishment, another place, another kind
of time. No place
like home.


. . .


Before appears in Technicolor: a girl home from school
slams the door, angry in a minor way
the future won't permit her.
No one notices the wallpaper,
the 70s flock thick as mildew
(as if in ironic foreshadowing of what water will do).
Only after is this called Before.


. . .


After walking past the wreck
enough times, walking past the gap,
what's left to remember? This becomes
what life is, not
what it was.


. . .


Google Maps.
Enter the address.
Click on the little orange man.
Drag me to the map.
Lift – it feels like lifting,
all in the wrist. Set him down
there. There is a field
and a bridge. The letter A in a red bulb
in the field. Then black.
Wait a bit. The image changes.
A sidewalk, a driveway in hot grass.
Where a house was, a patch barren of grass.
A shadow of a tree across the barren patch.
Some times of year there might be chicory.
This might have been a dream
they never finished.
The pavement cracked. The long grass.
It all comes back except what doesn't.


. . .


Except a year passes or more and next time
next door there's a house with a fence. A fresh
driveway. Beside it, the pavement
still cracked. Numerals that were
the address sprayed across the cracks.
An A in a bulb in the field.
Floating there above the lawn.
(Not grass; lawn's back again.)
It even casts a shadow.
(This is where the room sank into itself
for months until he came
to take the shot. It didn't
wait. He waited. Ate, slept, lived
a life. By then the walls
alive with what came after. All the things
we do not see grown large enough
to lace the walls. The brown, the grey,
the black still in his lungs. His pace still
slowed by where he was.)


. . .


Next door, iron screens across the doors
and on the pole out front a bent sign,
DRUG FREE. Zone is the word
you can't see. A black bin left out.
Once a week a truck picks up what's in there
and continues down the road.
Where someone had the trust
to set a life down here, it stops
to take what they didn't want.
Not far off, a tall wall. Behind it
the water.


. . .


When you pull out and out
the A is still there, the bulb
as large as New Orleans.


. . .


It must be quiet, nights, with all
the space around.
Find out more about Stephanie Bolster and Concordia's Creative Writing Programme.

Keen to celebrate Poet's Day in more than one way? Try out PoEMM, a series of eight interactive apps.
---